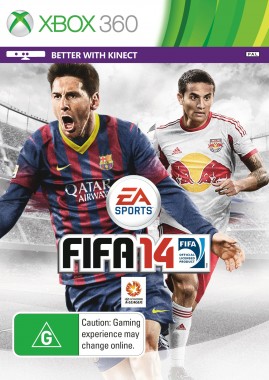 FIFA 14
Developer: EA Canada
Publisher: EA (EA Sports)
Platforms: Xbox 360 (Reviewed), PlayStation 3, PC
Release Date: Out Now
Price: $59.99 – Available Here
Overview
Another year, another FIFA. In 2014, there are more versions of the soccer title than ever before, with a Mobile Edition that is now free-to-play, a Legacy Edition for handhelds, the Wii and the PlayStation 2, current-gen entries and next-gen releases planned in November, which will take advantage of the newly developed EA Sports Ignite engine for exclusive features and tweaks. That doesn't mean you should wait almost another two whole months to quench your thirst for the "beautiful game". FIFA 14 for Xbox 360 is here right now… but PES 2014 has shown its mettle, resurrecting the brand in many's eyes as a potential challenger, once again. Does FIFA 14 keep its clean sheet against its rivals?…
Gameplay
When you start up FIFA 14, first thing that'll happen is your pre-existing data from previous titles – if any – will carry over and inform your supported club, play-style, etc., just like in the last few iterations. Your social media accounts can also be linked, namely Facebook and YouTube (for achievement/video replay sharing). Once you're out of the title screen, prepare to be greeted by a new, slick user interface. Front page is your Home tab, which collates key modes, statistics and updates for quick access. Then you have the Play tab where you can initiate any mode, the Football Club tab allows you to check in on your supported club's progress and leaderboards and the Customisation tab where you can configure various settings, change your default kit or practice arena player, plus more.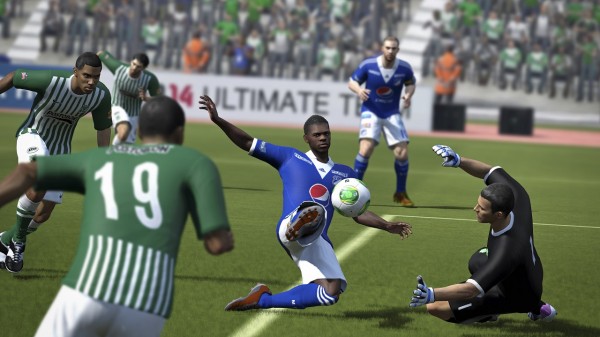 All familiar modes make a return. 'Be A Pro' and 'Tournaments' have been relegated to the "More" sub-menu, so it is clear the developer has an acute understanding of which modes are less popular. I've always appreciated the attention to detail in the fact that every tournament has their real-life counterpart trophy represented in-game. Seasons is spotlighted, and pressing the 'Start' button brings up your friends list – whose achievements you are constantly reminded of and compared to throughout. Skill Games are playable from the 'Play' tab, as is the Practice Arena. Of course, where the fun really is at is Career and FIFA Ultimate Team (FUT).
FUT is addictive as ever, and if you do have data to carry over from FIFA 13, you may find a nice reward to kick-start your team building campaign in the form of special Card Packs. In terms of what's new for the mode, Player Styles is an addition that affects team chemistry. They dictate a player's specialties based on their tendencies and develop through playing matches. In all likelihood, you'll be spending a large chunk of your time in FUT or Career, either as a player or Manager. In Player Career, choosing someone as skilful as Robben from a highly ranked team such as Bayern Muchen, for example's sake, puts higher expectations on your performance. If you ever get frustrated, it is possible to request your own transfer or loan. Perhaps your character is getting older and you decide to call it quits, transitioning to become a Manager.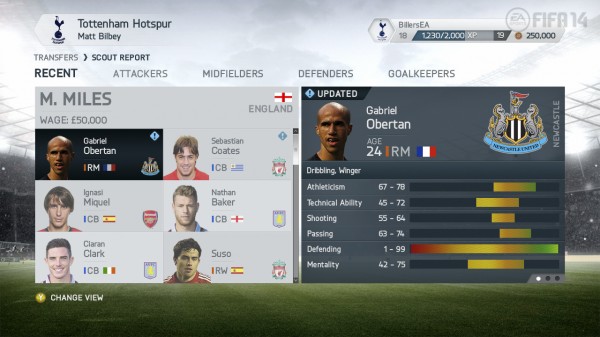 Manager Career is more involved this year. Need more funds to buy a certain player, whose purchase you deem imperative to the team's success? You can request funds from the commission with specific stipulations (e.g., "We will attain first place in the league table"). Your agent will keep you informed of opportunities to coach national squads, and you can also manage the youth squad. Through scouting, you are able to specify conditions for your region-specific or global transfer network search and make a contractual offer to desired players. Each player can be scouted further for a more detailed report on their skills and abilities, with each scout having a judgment rating and able to handle up to 6 reports at any one time.
FIFA 14 features some fundamental changes to its core, mostly relating to engine/technical advancements. Pure Shot now allows you to adjust your stride and shoot from more positions and footings (whether intentional or not). Knuckle shots as well as other techniques can now be executed, although they aren't initiated like a finesse shot, for instance, which requires holding the 'RB' button and pressing 'B' for shoot. They happen depending on your player's skill level, positioning, and other factors. Bolstered by the new Real Ball Physics, striking is much more satisfying – no longer will the ball's trajectory seem like a coded, key-framed finish, but an organic, dynamic outcome. In regards to other gameplay alterations, protecting the ball has never been easier, and can now be done whilst dribbling at any speed. And formation/team fatigue is displayed on the match pause/half-time screen, which is extremely helpful. You can even flick the right thumbstick for an instantaneous formation change from here.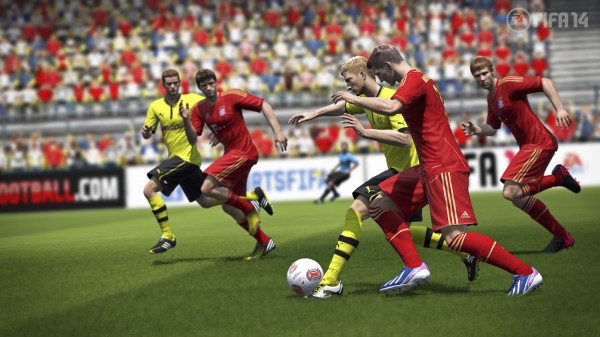 Also, the majority of tricks are now delegated to the right thumbstick alone, becoming easily accessible when it was once daunting to attempt. This doesn't mean the harder manoeuvres are any easier to achieve, but the configuration change is definitely more convenient and approachable. Teammate Intelligence is another hyped advancement; your fellow team members now make more clever runs on the offensive, and pro-actively recognise ideal opportunities for defensive support. It's just a shame I couldn't test my skills online as EA's servers prevented me from doing so at every turn. I was disconnected and dropped out from 10 attempts in a row before I plainly gave up. Another aggravation stems from the removal of popular and successful national teams such as Serbia, Costa Rica, Croatia, Japan and more, whilst terrible footballers like India remain. Why was this done? Hopefully they are added – free of charge – in future updates.
Visual and Audio
Character models are slightly improved title-to-title, and in FIFA 14, managers are now making their presence known on the sidelines. Managers can be seen standing at the front of the 'team box', although they are about as detailed as the 3D members of the crowds. The biggest visual difference from FIFA 13 is the completely revamped U.I. Its modular, metro-like layout is crisp and easily read, with no traditional menus and lists to scroll through, and less lag. I liken it closely to the Xbox 360 dashboard layout. Some might not like hearing that, but I'm confident the majority of players should prefer this interface style.
Martin Tyler and Alan Smith return as familiar voices on commentary. It's very hard to prevent any sort of repetition in commentary for a sports title… in fact, it's nigh impossible. The sheer amount of lines that would have to be written and recorded in order for even a few matches in a row to have 100% unique commentary is daunting. But, that doesn't change the fact that hearing the same, singular line stated over and over again begins to aggravate the player, especially when they're not particular tailored to the situation at hand, but just cycled through. Nonetheless, there is a lot of new dialogue implemented to stay current with the product/sport.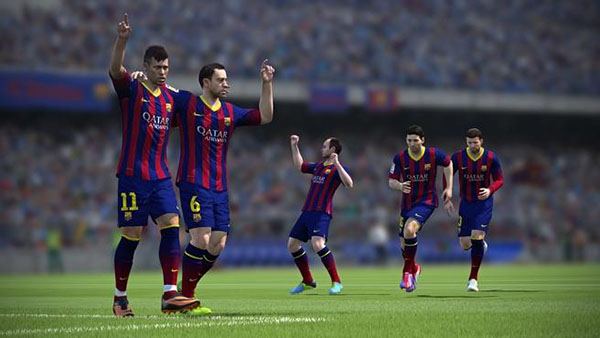 Jeff Stelling has joined the team as the pre-match and stadium announcer, although I'm not sure how much he actually adds to the experience. Was his inclusion necessary? Probably not, but hey, no harm, no foul really. In-match, the deafening boos and vehement jeers of my bitter rival's supporters when I beat them in their home town is a greatly appreciated touch. FIFA always has a good selection of music on-hand for your menu-surfing listening pleasure, with this year's line-up including 'Copy Of A' from juggernaut NIN, tracks from popular bands such as Empire of the Sun and Vampire Weekend, and the particularly catchy 'We Sink' by CHVRCHES. Pro Tip: Press the 'Back' button to skip songs.
Overall
EA Canada find ways of fine-tuning the FIFA gameplay experience with every instalment, and this year is no different. The combination of Pure Shot and Real Ball Physics results in more varied and realistic strikes; Teammate Intelligence is substantially higher as they make appropriate more runs and are not just reactive, but pro-active, and Precision Movement brings a great sense of momentum to play. The new U.I. is cleaner and the Career mode – in particular the Manager's Career – has seen significant additions and enhancements, creating a decidedly deeper affair.
Unfortunately, persistent, yearly-issues relating to repetitive commentary and EA's unstable servers still have not been answered, the latter of which becoming a major obstacle in enjoying or even accessing, for that matter, many online components. Numerous teams have also been inexplicably omitted… and not smaller teams either – Asia champions Japan and previously consistent top 10 in the world Croatia being two prime examples. Thankfully, the more notable improvements came in the most important department – the gameplay (which is hard to gauge just by watching) – and this is why FIFA 14 retains its crown.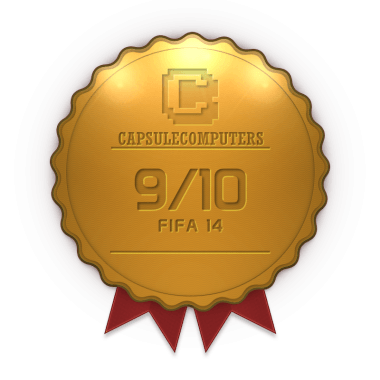 Capsule Computers review guidelines can be found here.