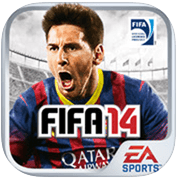 FIFA 14
Developer: EA Romania
Publisher: EA Sports
Platforms: iPhone (Reviewed), iPod Touch, iPad, Android
Release Date: Out Now
Price: Free/$5.49 for Premium Modes – Available Here
Overview
FIFA 14 by EA Sports has stepped foot onto the pitch, and this time it is free-to-play. That's right, for the first time in the series' history, you can download FIFA 14 for your mobile, free-of-charge. That doesn't mean there isn't a paid component or micro-transactions, although they are completely optional. Barring premium modes, players will be able to experience FIFA Ultimate Team, FUT Seasons (offline), EA Sports Football Club Match Day, Online Quick Matches and Friendlies and Penalty Shoot-outs. That is a lot of content, but without responsive, accommodating controls, they are nothing… so, does FIFA 14 on Mobile have that golden goal touch?…
Gameplay 

Understandably, FIFA 14 on Mobile is stripped down across almost all facets, but doesn't lose too much functionality. Due to things like through-ball and lob options being lumped into the all encompassing pass button, shot-making may not be as technical. Thankfully, the A.I. takes distance – among other things – and appropriately adapts in the style of delivery, although when using the new Touch Flow control scheme, conditions change. i.e., through-balls can be purposely executed by tapping in front of a squad-mate. The issue with the touch-based controls is that sometimes gestures can get muddled and misinterpreted, and that run you wanted to make may just turn into a wasted ball, mistakenly kicked out of play.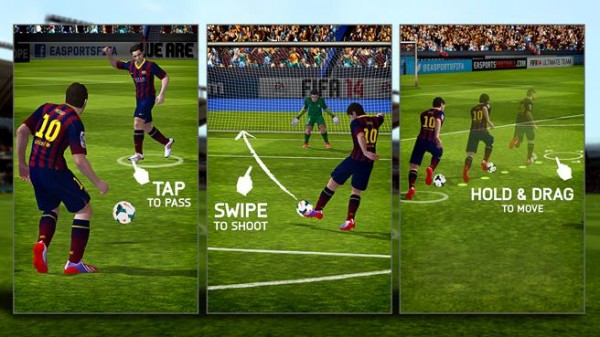 The above mistake, specifically, arises from not holding on a character that half-a-second long enough to select them, but continuing with the drag action that then becomes a strike instead. It can be learnt to be avoided. Also, for iPhone or iPod Touch users, keeping your finger pressed on the screen can be obstructive in itself. So, when choosing a player, drag your finger right to the end of the screen in the direction of play so it does not get in the way. If it becomes a problem for you, the floating joystick control scheme is available for you to use in its place. Aside from control options, there are numerous settings that affect gameplay, camera angles, audio and more. Want to turn off handballs and first-touch for instance? You can easily do that.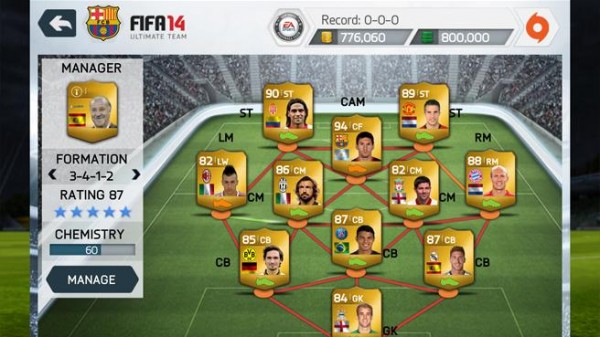 The only disappointment I had presentation/settings-wise pertains to the restriction on camera when using Touch Flow controls. The camera height/angle can not be modified and is substantially pulled back in this case. In regards to modes, along with those listed in the Overview section of the review – which function in largely the same manner as their console counterpart – Manager Mode, Tournament Mode and Kick-Off can be "unlocked" with a $5.49 purchase. I came across an inconsistent bug where the game would crash upon an attempt to play my own matches in Manager Mode instead of simulating them, although this can surely be rectified in an update. On a side note, how smoothly an Online Match (which is free, mind you) runs obviously relies on the Wi-Fi connection of both participants, so you are bound to get fluctuating stability.
Visuals and Audio
FIFA 14 on mobile adopts a form of the series-wide revamped user interface, which is easily navigable. Being a mobile title, there is no use comparing visuals to the console versions; the quality of character models, stadiums, crowds and all the other smaller details will always be sacrificed due to the platform's technical limitations. The important thing is, that it doesn't get in the way of your enjoyment. Visual cues and representations of your swipes and selections are also clear, even on a smaller screen like the iPod Touch's compared to the iPad's. Just remember the tip I mentioned in the Gameplay section to avoid obstructing your own view of the gameplay.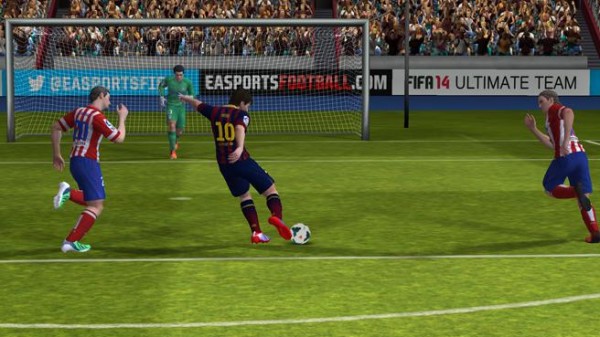 After you've played through the opening tutorial, you will be asked to download an audio track from five languages: English, French, German, Italian and Spanish. I have only listened to the English track because, well, I can only speak and understand English, and disappointingly, I've encountered instances where the commentators would speak the wrong lines at the end of a match, as if it was only the end of the first half instead. It's also worth noting that the crowd is generally more quiet than you'd expect. The soundtrack features a good selection of 12 songs from the overall 37 included on console iterations that maintains the signature up-beat FIFA energy.
Overall
There will be a multitude of players happy solely with the F2P modes available here. Overall, the new Touch Flow control scheme works well, although gestures can sometimes be confused and result in unwanted actions. FIFA Ultimate Team is almost as addictive as its big brother console edition, and if you choose to pay the $5.49, Manager Mode – alongside Tournament Mode and Kick-Off Mode – should occupy quite a sizeable chunk of your playtime and make the purchase worthwhile. It's not perfect, and although I've pointed out multiple flaws, they are nothing but nitpicks. You can't ask for much more from FIFA 14 on mobile, especially when considering just how plentiful the free offerings are; definitely the best sports game on the platform.

Capsule Computers review guidelines can be found here.