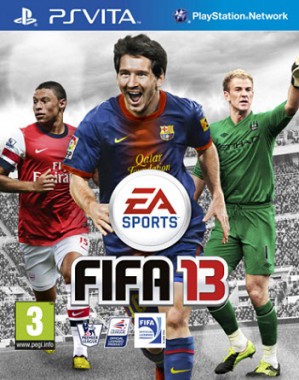 FIFA 13
Developers: EA Canada
Publishers: EA Sports
Platforms: PlayStation 3 (reviewed), Xbox 360, PC, PlayStation 2, PlayStation Vita, PlayStation Portable, Wii U, Wii, Nintendo 3DS, iOS, Mac OS X
Release Date: 25/09/2012
Price:  $39.96 (Available Here)
Overview
Another year, another season of football is upon us. It also means another iteration of FIFA. Yes, even though the Vita is only eight months old (in the West), EA has released a second iteration in the series, after the launch title FIFA Football. Back then, I gave FIFA Football an 8, as it brought a solid footballing experience on the portable front. FIFA 13 does bring a solid footballing experience because it is a carbon copy of FIFA Football, right down from the now year old FIFA 12 engine and the basic Career Mode. No Attacking Intelligence, no international duty in Career Mode, no Football Club. Instead, we get FIFA Football repackaged as FIFA 13.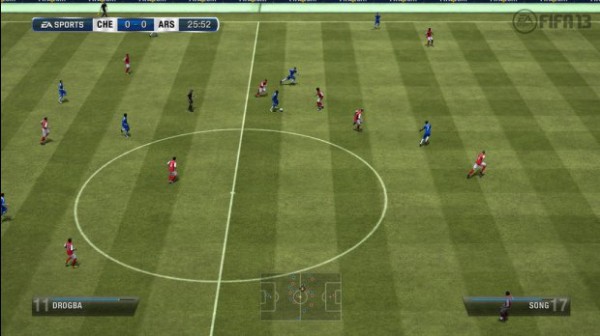 Gameplay
Usually I will break down the gameplay, but I would be repeating my words from my FIFA Football review. Yes, the gameplay is solid, but it is a recycle of gameplay from a previous FIFA Vita game. Considering I also possess the Playstation 3 version, going back and forth between the versions is quite hard. The Vita can handle console experiences; a few games (such as Uncharted: Golden Abyss) are out there that prove this point. I suggest you read my review of FIFA Football for more details on gameplay. Vita owners should have been treated to some Attacking Intelligence. The Player Impact Engine should have made an appearance.  Even Complete Dribbling would have been something. To top off the laziness that EA blatantly showed off in FIFA 13 Vita, the statistics of each player comes from FIFA Football. Take Wayne Rooney, for example. The console version rates Rooney with an Overall of 88. In the Vita version, he is only rated 85. The databases are not even updated to today's statistics.
Game modes are the exact same as FIFA Football. There is Career Mode, where you can take the reigns of a player, manager and a player manager. If you expect international duty and a fierce transfer market, then walk away. All the features in this iteration's Career Mode are found in FIFA Football/FIFA 12. Transfers are superficial as it is all about matching (or going above) the transfer value, tweaking your team and just simulating to the next match day. This makes the Career Mode redundant and repetitive and that's disappointing. Being a manager is a highlight in FIFA and for EA to achieve redundancy to that is an achievement in its own right. However, unlike winning the UEFA Champions League, this is one achievement that no one should be proud of.
Then there is the lack of game modes that could work and this is where EA really dropped the ball. Ultimate Team is picking up steam as a favourite game mode in the FIFA series. Taking Ultimate Team on the go would have been fantastic. So would have taking Football Club on the go. Better yet, this is where the connectivity of the Playstation 3 and Playstation Vita could have been heralded. If Ultimate Team was included and allowed connectivity with the PS3, that would help bring more people into the mode. Imagine being able to manage and play Ultimate Team on the bus or train. Same thing could be said with EA Football Club. Players should be earning points on the go as well as playing at home. This was a missed opportunity that EA seemed to overlook. Maybe FIFA 14 will incorporate these features, but if this year's iteration is anything to go bye, I wouldn't count on it.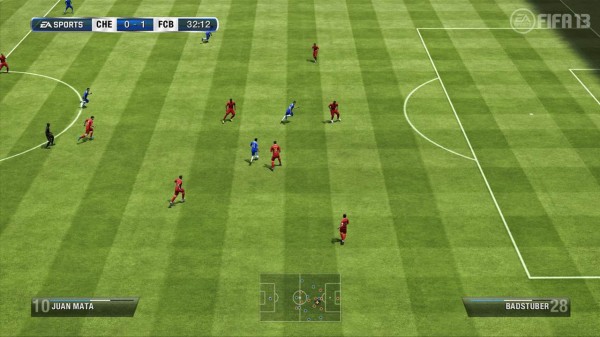 Visuals
There isn't much to say when it comes to the visuals for FIFA 13. Not much has changed, just like the rest of the game. I would say that the animation is a little sharper and the character models do look slightly cleaner compared to FIFA Football. Of course, the visuals are the best for any portable FIFA iteration. There is no denying how impressive the stadiums, the players and their kits do look. Some menus do scream FIFA 13 as they do look like the console counterparts (the main menu bar is the perfect example).  Nonetheless, every single aspect of visuals, such as the overall presentation and the animations all come from FIFA Football.
Audio
The audio department also suffered. Martin Tyler and Alan Smith return to the commentary box, but they are alone. Once again, the option to choose them or the team of Clive Tyldesley and Andy Townsend is not present. The additional commentary for Career Mode, where you are updated on results during the game and any injury updates, are missing entirely. Even the specific Career Mode commentary from Tyler and Smith didn't make the cut. To be fair, the Career Mode specific commentary can be hit or miss. The EA soundtrack is only eight tracks, compared to the console versions with at least 50 tracks. The option to use custom music is not available in game either. With that said, the Vita does allow users to play their own tracks via the Music application. Still, it would have been nice to add the option to blast out some music after scoring a spectacular goal.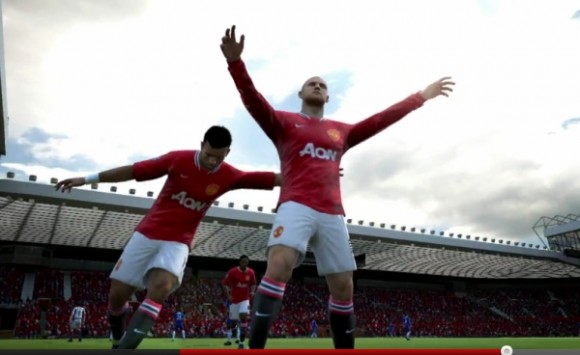 Overall
This is EA saying that they don't think the Vita is a viable platform to really focus development on. If it was, then this review would be more positive as it would be taking elements from the console versions. Instead, we get an inexcusable excuse that is FIFA 13 Vita. Everything, right down from the menus, visuals, commentary and gameplay, comes from FIFA Football. Mind you, this is still the best FIFA experience on the go, but, in this case, this is not saying much. Vote with your wallets and do not give in. If you have FIFA Football, keep it and update the rosters yourselves. If not, buy FIFA Football anyway. Your wallet will thank you for it.