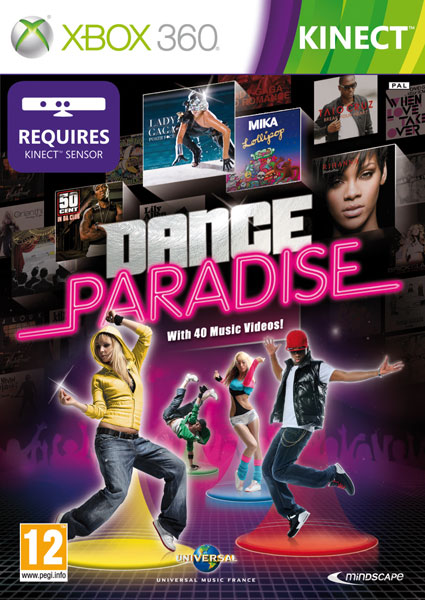 Dance Paradise
Publisher: Mindscape Inc.
Developer: Mindscape Inc.
Format : Xbox 360 – Kinect Required
Genre:Rhythm / Dancing
Release Date: Nov 18, 2010
Rating : PG
Price : $79.99 AU
Everybody can dance (even though some are better than others), so let's get the party started!! If you're a professional dancer you'll have no problems at all getting your groove on and shaking that "thang" all around the living room.  For those who are new to the dancing games out there, and maybe have a little more difficulty than some at moving to the beat, then it may take you a little bit of time to get accustomed.  Those who persevere can have some great fun with this super cool dancing game.
Since XBOX Kinect hit the market, a flood of dancing games seems to have emerged. What better way to test out and teach newcomers on how the Kinect works by getting them up off the couch and waving their hands around and moving their body to the music in front of the tv in their living room. 
In developing Dance Paradise Mindscape have partnered up with Universal Music to bring you a total of 40 International hit songs that also include their original video clips from the world's best-selling music artists such as:
50c – Inda Club
Fallout Boy – Dance Dance 
Gwen Stefani – What you waiting for ?
Lady Gaga – Poker Face
Mika – Lollipop
Rihanna – Disturbia
The Pussycat Dolls – When I Grow Up
MC Hammer – U Can't Touch This
There should be something in this 40 strong hit list to keep everybody happy and dancing their little hearts out.  What is also great is that the video clips to these hit songs play on a screen in the background. Sure, this could be a distraction for some who are keen to feast their eyes on the likes of Lady Gaga or Rihanna instead of concentrating on what dance moves they should be doing next.
Dance Paradise offers a solo career mode which consists of six levels.  Within each level you will need to complete challenges and collect Golden Steps that, once achieved, will unlock the next level(s).  Some of the challenges are easy and some are quite hard yet rewarding –  as once you complete specific challenges, you'll be able to unlock cool new outfits and accessories for your avatar. 
As mentioned, the dance moves might be a little complicated at first to newcomers, but with enough practice you should pick up them up after a few attempts.  One thing I have to mention is that the tutorial in the game does teach you the basics but it's not very thorough so even though you kind of know what you have to do you'll never be taught all the moves in the game. Some of the dance steps will be quite more difficult to pull off as you may not have seen or been taught how to do them.
Gameplay works a little something like this: There are four coloured lines that initiate a specific dance move which begins at the top of the screen and slowly makes its way down to the bottom.  Similar to other Rhythm style games where you need to press the right colour button once it reaches the bottom, this time instead of pressing the button you need to perform the specific dance moves.  The moves are represented by a blocky and sometimes hard to figure out animated character.  Once the figure reaches the bottom of the screen you need to move your body in the same way it does and then prepare yourself for the next dance move that will be making its way down on a different coloured line.  Dance like a superstar and your life bar will continue to rise to a point where you can activate a power dance which allows you to score even more points. If h the other hand, you dance like you have two left feet, your life bar will slowly dwindle away to nothing which will then end the game causing you to lose all self-esteem in your dancing abilities. But it's all good – just dust yourself off and start all over again – not everyone can be a superstar overnight!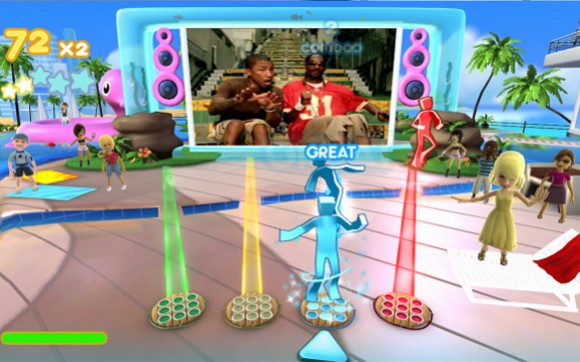 Another cool feature thrown into the Dance Paradise is the inclusion of your Xbox Live Avatar which will mimic your dance moves while standing on a boom box/podium etc.  This is far cooler than seeing a blurry image of yourself that appears in other dancing titles.
Multiplayer mode (both offline and online) is also available.  Multiplayer mode allows you to dance together in Synchro mode, versus and also attack mode.  "Synchro" mode has you and a partner dancing and performing the same moves that appear on the screen trying to score the best possible outcome. In the end the final score is taken from the player with the lowest score.  "Versus" mode pits you against another player where both of you will take two coloured lines each and attempt to obtain the best score to take the win.  The most enjoyable is "Attack" mode – this mode works similar to "versus" mode but with the addition of power ups thrown in for good measure. You can use these on your opponent to throw them off their game and give you that much needed advantage.  Just make sure you dance like a superstar and gain a full energy bar before your opponent does so you can kick off those power attacks and laugh at them while they try and recover.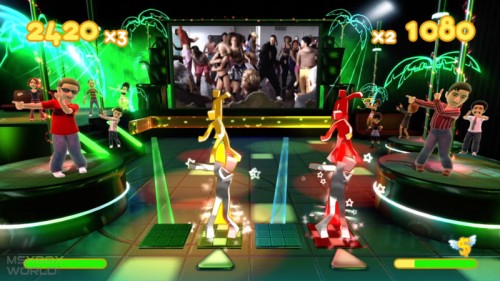 Become the Queen or King of the dance floor in your own living room with Dance Paradise.  It's not one of the easiest games to master and the tutorial does leave you a little in the dark especially if you're new to these types of dancing games.  The solo career is great and will keep you busy and hungry to unlock achievements and your avatar awards.  Multiplayer is also fun with the unique attack mode making sure someone will end up crying by the end of the night.  And don't forget the 40 strong music videos at your disposal.  Dance Paradise is unique in its own special way, and because of that it's certainly worth looking into.