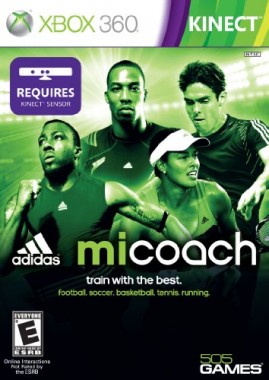 Adidas micoach
Developer: 505 Games
Publisher: 505 Games
Platform: Xbox 360 (Kinect required)
Release Date: 25 July 2012
Price: $39.99 (HERE)
Overview
Adidas miCoach tries to get gamers with Kinect into shape and enlists a slew of celebrity sportsmen and women in order to achieve that objective. With a broad range of motion-tracked exercises to take part in and high profile backing, could this be the game that gets us off our butts and onto the exercise mat?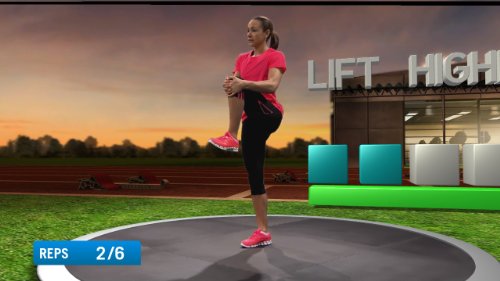 Gameplay
For better and for worse, miCoach uses the Kinect as its one and only gameplay input and menu navigation tool.
The game worked well with the controversial Microsoft peripheral when I was doing what anyone would buy the game for: exercising. It did an excellent job of tracking my movements and reps as I performed one of the many workout routines available, and there are some available for almost any sport you can think of.
Interested in football? Rugby? Basketball, running, American football, tennis, or just general fitness? Well, there's a workout for you. And given that there are over 400 different exercises and stat tracking across the miCoach website and portable app, you're not going to run out of things to do for a long while.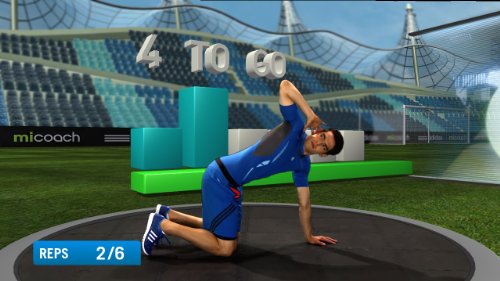 Your coaches on your journey of calorie burning discovery are famous faces from the various sports programs included in the game, such as Gareth Bale, Kaka, Ana Ivanovic. The list goes on, and it is impressive. Jose Mourinho is also thrown in there, though having the Real Madrid manager telling you how to do your workout is a bit odd given he spends the 90 minutes of a football match pacing up and down the sidelines.
Regardless, the athlete's backing of this game really lends some clout to what you're doing, especially as they explain why you're doing certain exercises and how they help strengthen your muscles.
The various training plans vary their routines through sub-classifications such speed, strength, and general training. miCoach will tell you how long each program will take, as well as the equipment you might need, such as fitness balls or dumbbells. While it's odd that you need equipment that you might not have readily available at home, it pays off when you're actually doing the exercises. If an exercise is giving you trouble, or if the Kinect sensor is having a bit of trouble picking up your movements for a particular set, you can always skip it or remove it from the routine altogether. miCoach isn't a game with a lack of ways to play it.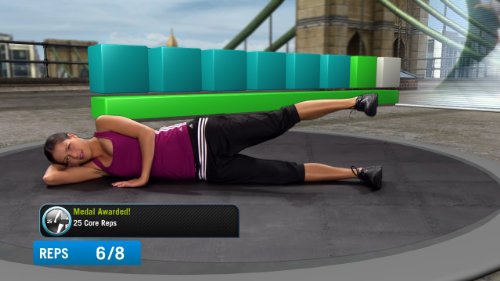 Nor is it a game that was made to make housewives feel better about being home all day. You will actually work up a sweat while playing (if it indeed can be called playing) through the game. Good luck trying to keep your eyes on the screen while exercising though, it's a task of Herculean difficulty.
Where the game fails in its use of Kinect is in the menu navigation. You'll wing your arms wildly, approving annoying "are you sure you want to do this?" messages that are probably only in there because the developers realised people would accidentally select incorrect exercises given the shodiness of the menu navigation. This really just feels horrible. It'll be half a work out just getting from menu to menu, before you've even begun your fitness routine. Unfortunately, this severely hampers the game's otherwise good use of the Xbox peripheral.
Audio & Visual
The graphical design of the game is a generally sterile pallet of whites and greens in the menus, with gyms and training houses serving as the backdrop. The exercises are presented by filmed athletes, no graphical renditions here, and they take place in stadiums, gyms, etc. But honestly, once you begin working out, you won't be looking at the screen much, you'll primarily be focused on (you guessed it) working out. The game's art design never takes you out of the fitness mentality, and the colour scheme of the menus actually make up what could be called a "fit aesthetic".
The audio consists mainly of the celebrity athletes talking to you about your current exercise routine, though there are also bios in which the players will talk about themselves and their careers. And that's about all you really need in a game made not to blow you away with its presentation, but to make you get up and move.
Overall
miCoach is a fitness game that will make you get off the couch and genuinely strengthen your body and improve your fitness. In that it succeeds. Where the game fails is in what most games have mastered: navigation. The frustration of not being able to get to the work out you want, or having one of the exercises fail to be picked up by the Kinect borders on hysteria. Wild, arm-flapping hysteria.
You'll work up a sweat, but half of it will come from maddeningly waving your hands as you try to reach your fitness routine.