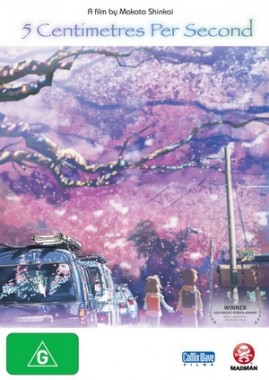 5 Centimetres Pere Second
Studio: Comix Wave Films
Publisher: Madman Entertainment
Format: DVD
Release Date: August 19, 2009
Price: $24.95 – Available Here
Overview
It is no secret that Makoto Shinkai is a special film-maker. He worked tirelessly for many years with small project like Voices of a Distant Star and She and Her Cat, it wasn't until one fateful film that he would finally receive the recognition he truly deserved. That film is none other than the modern anime classic 5 Centimetres Per Second.
5 Centimetres Per Second is a short yet remarkable film that provokes both deep thought and emotion. This is about as tragically real as anime gets and Shinkai puts a spotlight on the painful distance that inevitable grows between us all. He has gone on to top himself with masterpieces like Children Who Chase Lost Voices, but 5 Centimetres Per Second was the film that laid the foundations for his future works. It is a brilliant film in every regard and one that is truly timeless.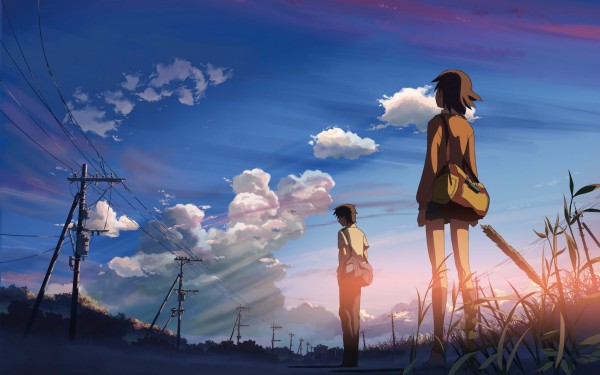 Story
5 Centimetres Per Second, much like Shinkai's other works, heavily focuses on the theme of distance. Shinkai is quite clearly a man who knows this all too well. He writes about distance with such vivid detail and emotion, it is hard to escape the feeling that there isn't a little bit of Shinkai in all of his films. Such is the case with 5 Centimetres Per Second, with the film's protagonist Takaki feeling almost like Shinkai wrote himself into the film.
Takaki is a young man who forms a close bond with a girl named Akari, as time goes on and they both grow older, circumstances cause them to go there separate ways, the distance growing further and further as they grow older and older.
Over time Takaki meets new people, but he still can never escape the sadness that distance leaves him with. It all builds up and soon enough everywhere he turns there is a little bit of sadness piled up around him. This is the nature of life and Shinkai portrays it with unflinching accuracy.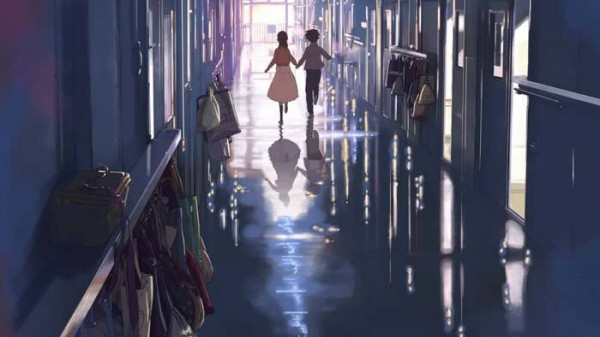 Shinkai uses his trademark motif of trains to great effect in this film, with several crucial scenes playing at with a train passing by, taking its passengers to some place far away. It really embodies the distance the film is so heavily focused on quite nicely.
The film is split into three acts. The first focusing solely on Takaki and Akari as they try to deal with the growing distance between them. The second act revolves around a now high-school aged Takaki and a girl named Kanae who loves him all the while knowing that he will never love her back. The third and final act, the shortest of them all, features Takaki now an adult with an ex-girlfriend and a crappy job that he hates, wondering when the sadness around him will stop piling up.
While 5 Centimetres Per Second is undoubtedly a sad film, it ends on a hopeful note with a rather ambiguous ending. Ultimately Shinkai isn't telling a tale of loss, but a tale of hope. No matter the distance the grows between us all, there is always a chance that one day, just maybe, that distance will grow smaller, even if it is only at 5 centimetres per second.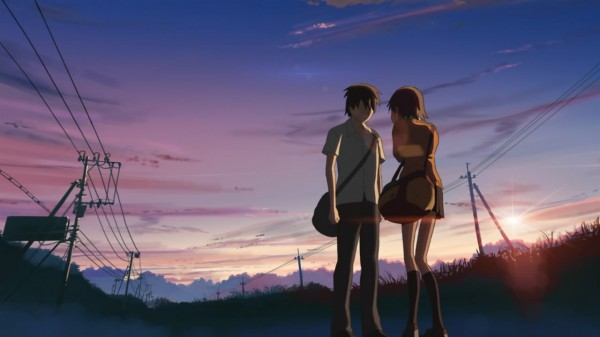 Visuals and Audio
One of the hallmarks of Makoto Shinkai's films is their astonishing aesthetics. 5 Centimetres Per Second is no different, featuring a plethora of unforgettable imagery and animation. Whether it be the country-side buried under snow, the summer heat beating down upon the ocean of a quiet seaside town or even the endless urban sprawl of Tokyo, Shinkai sees beauty in everything and shares a little bit of what he seas with us in this films art. He and his team at Comix Wave are undoubtedly in the highest echelon in terms of animation. There is so much detail in the world that they have created, it is simply incredible.
On top of all that, 5 Centimetres Per Second features a stunning soundtrack filled with beautifully arranged incidental music that add immensely to the emotion on screen. This particular release also happens to feature both a Japanese audio track and English language dub track, both of which are truly great with splendid performances from all involved.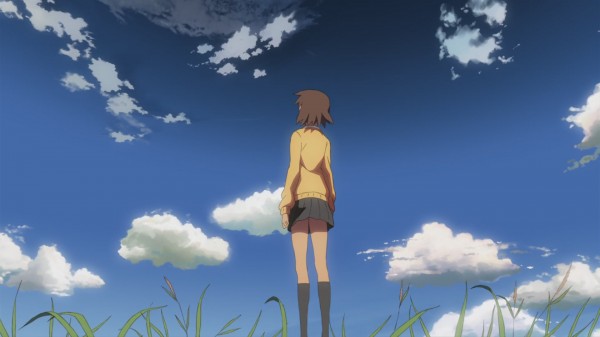 Extras
Madman Entertainment did a particular good job on this release of 5 Centimetres Per Second. The amount of bonus content on disc here is truly delightful. Included is an interview with Makoto Shinkai himself, an interview with the Japanese cast of the film, a making of featurette and the film's original trailer. As an added bonus the release comes with a reversible cover featuring Takaki and Kanae rather than the original cover of Takaki and Akari. Both look great and it is certainly nice to have the option. It all adds up to a great release that is more than worth the asking price.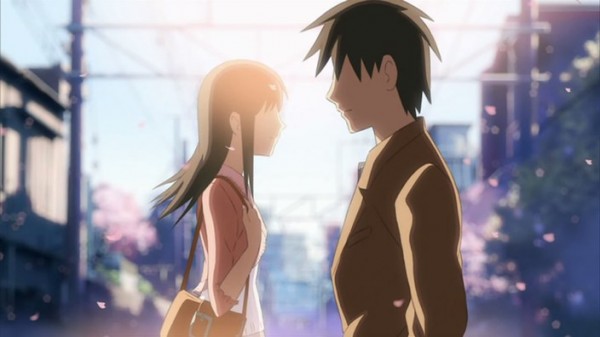 Overall
Sometimes the greatest films are the ones that don't overstay their welcome. While it only totals in at roughly 50 minutes, 5 Centimetres Per Second is a complete package, resonating thematically and reaching true emotional catharsis. It is short but sweet and I wouldn't have it any other way.
At one point or another we all have felt that sadness that comes with distance, whether it be someone moving away or someone passing on from this world. It is that shared understanding of distance and that universal feeling that comes with it, that makes 5 Centimetres Per Second so special. Shinkai balls up all that emotion and lets it all flow out in three beautiful and unrelentingly heartbreaking acts.
5 Centimetres Per Second is proof that Shinkai is the real deal. It is an absolute modern anime classic and essential viewing for all anime fans. If you have never experienced the work of Makoto Shinkai, 5 Centimetres Per Second serves as a perfect entry point to the world of Shinkai.
This is life through Shinkai's eyes and what he sees is often painful, frequently uplifting, put together with some kind of magic, always wearing its heart on its sleeve and it all plays out at 5 centimetres per second.
Capsule Computers review guidelines can be found here.