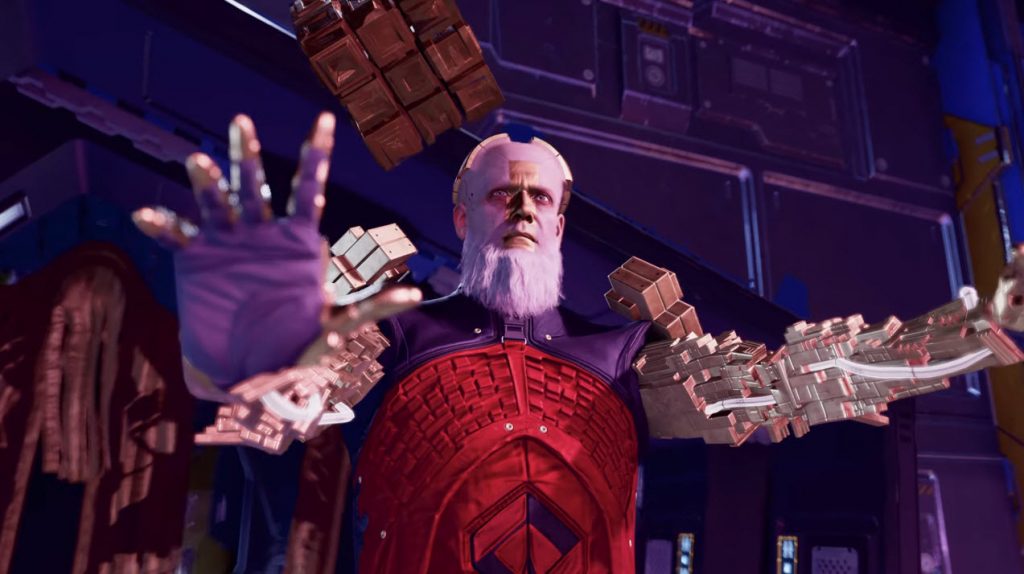 New cinematic from Eidos-Montréal is enhanced with audio commentary from Marvel Games' VP of Creative, Bill Rosemann, giving insight to the lore for a potential new threat
SYDNEY (August 26, 2021): Marvel Games VP of Creative Bill Rosemann lends his expertise to give fans a greater understanding of Grand Unifier Raker and the Universal Church of Truth, both unveiled yesterday in the new Marvel's Guardians of the Galaxy cinematic.In this video, Bill, the former editor of the Guardians of the Galaxy comic book from 2008 – 2010, explains the origins of the cybernetically-enhanced zealot and the enigmatic organization, both intent on bringing the so-called "Promise" to the whole galaxy.
Watch the cinematic with Bill Rosemann here:
This cinematic sees Star-Lord and his crew come face-to-face with the menacing Grand Unifier Raker, flanked by two of his imposing bodyguards, the Inquisitors. Despite being shot at by Rocket, Grand Unifier Raker is (currently) not interested in harming the Guardians, and instead wants to introduce them to the mysterious Matriarch. The dramatic scene closes with the Universal Church of Truth's colossal starship entering the fray, swallowing the Hala's Hope whole and capturing our Guardians.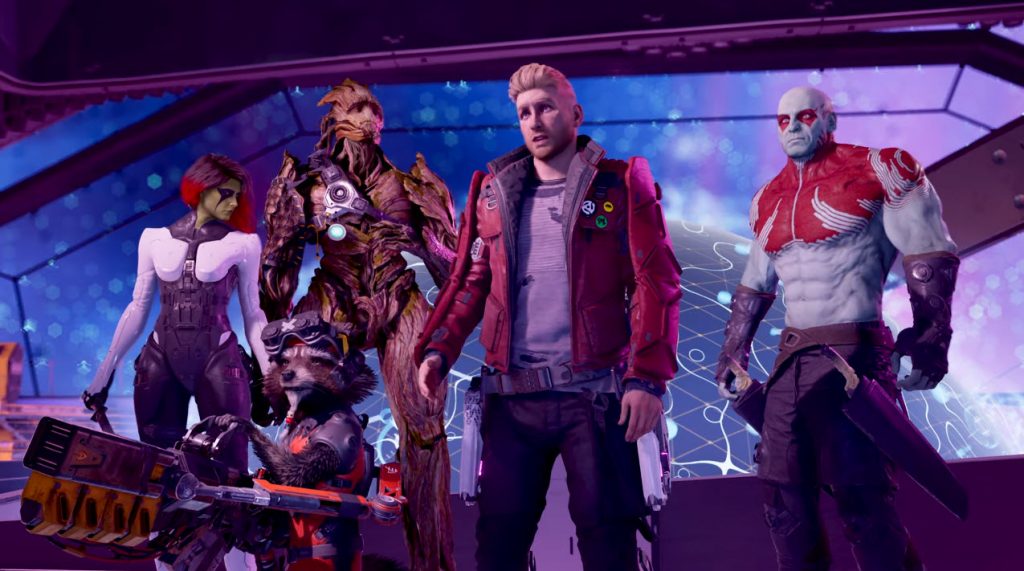 Bill Rosemann says: "Collaborating closely with the team at Eidos-Montréal generated the incredible opportunity to delve into the Marvel archives, tap into some of our deepest cuts, and bring to life characters not previously seen outside the pages of classic comic books. Grand Unifier Raker, the Universal Church of Truth, and previously revealed characters like Lady Hellbender and Cosmo are just a taste of what fans should expect from this game, where decades of Marvel stories shaped this new universe. It's original, it's outlandish, It's 100% Guardians!"
NVIDIA revealed the cutscene with their Gamescom 2021 announcement that Marvel's Guardians of the Galaxy will launch with NVIDIA DLSS and Ray Tracing for PC, and be available to play via GeForce NOW, NVIDIA's cloud gaming service.
Marvel's Guardians of the Galaxy will be available on PlayStation®5 console, PlayStation®4 console, Xbox Series X|S and Xbox One consoles, and PC digital, and streaming via GeForce NOW on October 26, 2021.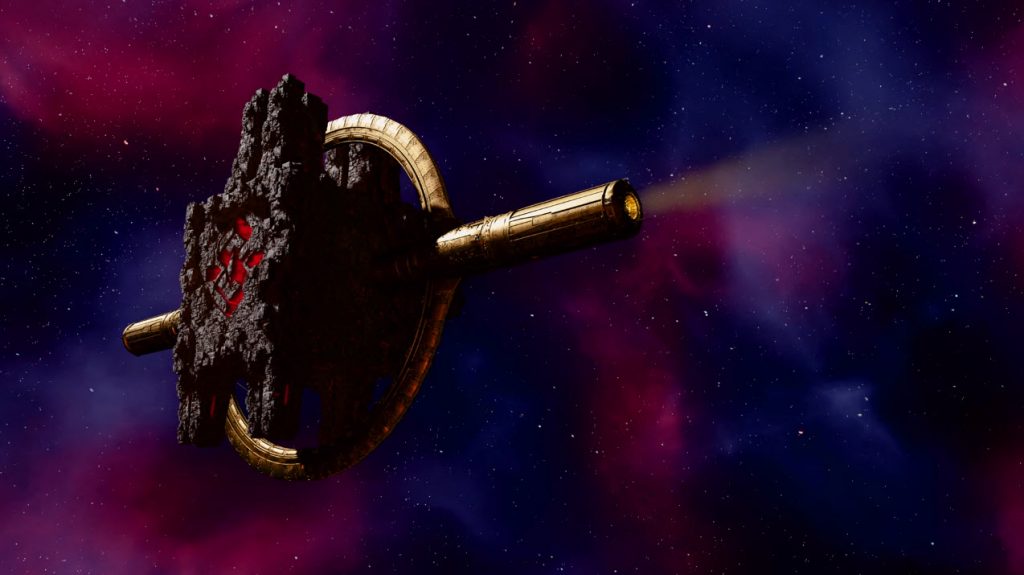 Official Portal: http://www.gotggame.com
Official Facebook Page: http://www.facebook.com/GOTGTheGame
Official Twitter: http://www.twitter.com/GOTGTheGame Official Instagram: http://www.instagram.com/GOTGTheGame
About Marvel Entertainment
Marvel Entertainment, LLC, a wholly-owned subsidiary of The Walt Disney Company, is one of the world's most prominent character-based entertainment companies, built on a proven library of more than 8,000 characters featured in a variety of media for over eighty years. Marvel utilizes its character franchises in entertainment, licensing, publishing, games, and digital media. For more information visit https://www.marvel.com
© 2021 MARVEL

About Eidos-Montréal
Established in 2007, Eidos-Montréal™ is a premiere developer of interactive entertainment based on new intellectual properties and beloved franchises including the acclaimed Tomb Raider® and Deus Ex® series. Renowned as master storytellers, the studio builds immersive worlds and adventures that create lasting memories for players across the globe. Eidos-Montréal crafts its multiple interactive projects with close-knit teams in a hybrid work environment, keeping their focus on creativity and technological innovation.
Eidos-Montréal and its network of studios, Eidos-Sherbrooke™ and Eidos-Shanghai™, are part of the Square Enix® group of companies.

More information on Eidos-Montréal can be found at https://eidosmontreal.com.

About Square Enix Ltd.
Square Enix Ltd. develops, publishes, distributes and licenses SQUARE ENIX®, EIDOS® and TAITO® branded entertainment content in Europe and other PAL territories as part of the Square Enix group of companies. Square Enix Ltd. also has a global network of leading development studios such as Crystal Dynamics® and Eidos Montréal®. The Square Enix group of companies boasts a valuable portfolio of intellectual property including: FINAL FANTASY®, which has sold over 163 million units worldwide; DRAGON QUEST®, which has sold over 83 million units worldwide; TOMB RAIDER®, which has sold over 84 million units worldwide; and the legendary SPACE INVADERS®. Square Enix Ltd. is a London-based, wholly owned subsidiary of Square Enix Holdings Co., Ltd.
More information on Square Enix Ltd. can be found at https://square-enix-games.com
© 2021 MARVEL. Developed by Eidos Montréal.
EIDOS and EIDOS MONTRÉAL are trademarks or registered trademarks of Square Enix Limited. SQUARE ENIX and the SQUARE ENIX logo are registered trademarks or trademarks of Square Enix Holdings Co., Ltd.

"PlayStation," "PS4" and "PS5" are registered trademarks or trademarks of Sony Interactive Entertainment Inc.