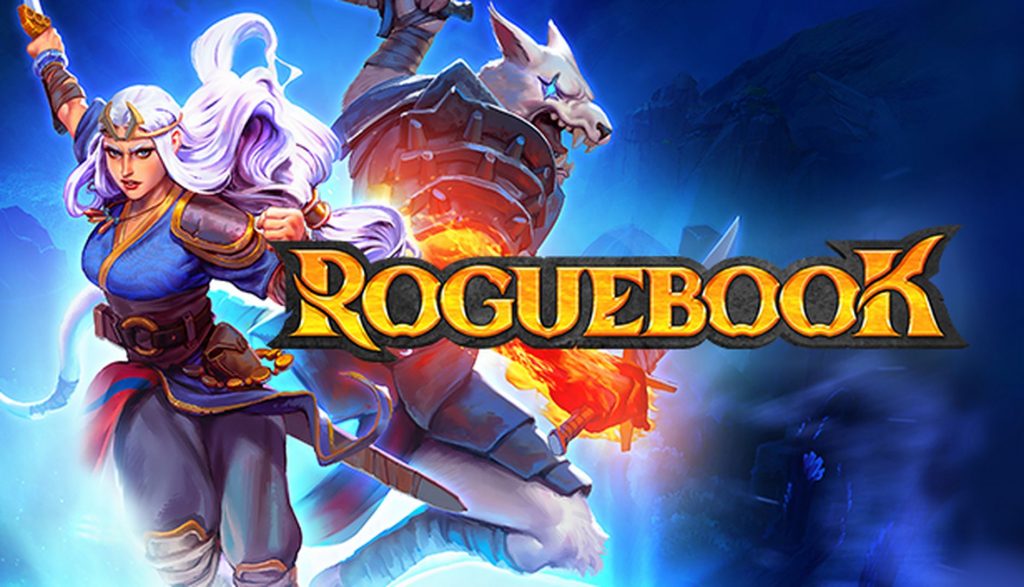 Lesquin, France, June 17, 2021 – The time has come for adventurers to play their trump card! Roguebook, the roguelike deckbuilder developed by Abrakam Entertainment and co-designed by Richard Garfield, creator of Magic: The GatheringTM, is now available on Steam.
Check out our video review for Roguebook here:
Roguebook takes place in the fantasy world of Faeria. You must build a team of two heroes and battle the legends of the Roguebook in tactical turn-based combat. The Roguebook is a cursed book whose existence threatens all living beings.

Build a team of two heroes: each of the four heroes available has their own special cards. You must develop your strategy and play your cards at the best moment and in the right order to create devastating combos or protect your weaker hero.

Upgrade your deck: you can boost the effects of cards by adding gems. You can also transmute your cards to create completely new effects!

Collect as many cards as possible: unlike other games of this type where refining your deck is one of the most common strategies, Roguebook encourages players to build as big a deck as possible to unlock unique skills for your heroes. These skills can be crucial to the success of your quest!

Explore the world in your own way: the chapters of Roguebook are told in a non-linear way. Reveal areas of the map with the ingenious ink system and explore as much of the map as possible to unearth all its treasures!

Every run counts: in true roguelike fashion, you must start from the beginning after a defeat. But you become more powerful with each run thanks to the new cards, skills and permanent upgrades you have unlocked! 
Check out the first 30 minutes of gameplay below:
Roguebook is now available on Steam
The game will arrive later on PlayStation®4, PlayStation®5, Xbox One, Xbox Series X|S and Nintendo SwitchTM
Check Roguebook Steam page
 
Roguebook is on Facebook, Twitter, Discord and YouTube. 
All NACON Games and accessories are here: nacongaming.com
About  Abrakam Entertainment
ABRAKAM ENTERTAINMENT is the AA Video Game Developer of the successful PC strategy game 'Faeria,' which launched in 2017 to 85% positive Steam reviews and praise from critics and major influencers. With their own tools and a very dedicated team, ABRAKAM has the ability to develop innovative strategy games efficiently. Roguebook, a roguelike card game, is their next next major title to be launched on PC and Consoles.

About NACON
NACON is a company of the BIGBEN Group founded in 2019 to optimize its know-how through strong synergies in the video game market. By bringing together its 10 development studios, the publishing of AA video games, the design and distribution of premium gaming devices, NACON focuses 20 years of expertise at the service of players. This new unified business unit strengthens NACON's position in the market, enables it to innovate by creating new unique competitive advantages and achieve its ambition to become one of the world's leading players in gaming. https://www.nacongaming.com/