High action original driving game takes players through exotic locales undertaking international espionage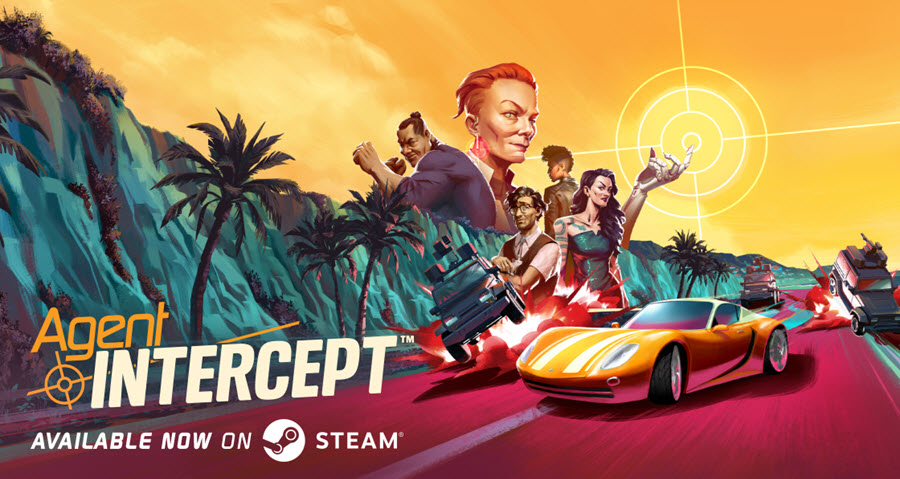 Wellington, New Zealand – 17 June  2021 – Leading games publisher PikPok® today announced that the PC version of the successful Apple Arcade game, Agent Intercept, launched worldwide on Steam for US$20. The release of Agent Intercept on Steam joins PikPok's growing portfolio of original premium PC games which includes Rival Stars Horse Racing, Breakneck, and Shatter.
The Steam release of Agent Intercept includes the near two years' worth of additional development including a full narrative campaign, Side Missions, and Score Attack game modes, with new vehicle transformations enabling the player to drive, drift, and defy death across land, air, and sea to fulfil their superspy fantasies.
In Agent Intercept, players leap into the driver's seat of an epic narrative of intrigue, betrayal, and outrageous set-pieces. The mission is to stop the nefarious criminal organization CLAW and save the world from total destruction. To thwart this imminent annihilation, players must take control of the Sceptre: a slick, souped-up, transforming vehicle outfitted with the latest spy gadgets.
Brimming with spy-genre nostalgia, this fully-loaded edition of Agent Intercept includes full voice acting and stunning graphics optimized for PC. There will also be the opportunity to purchase the Soundtrack bundle that features 36 original spy-themed tunes including brand new remixes of previously released fan favourites.
"Agent Intercept is a fantastic addition to the titles that we have already released for PC on Steam," said Mario Wynands, CEO of PikPok. "and we are really excited to be able to offer our Steam Arcade Action bundle which delivers a fantastic variety of games at a price that represents really good value for our fans. This is definitely not the end of the road for Agent Intercept either, as we have some exciting content drops planned for the future."
Agent Intercept game features include:
Campaign – Leap into the driver's seat of an epic narrative adventure, taking you through 3 chapters spanning across the globe.
Score Attack – Refine your skills to top the leaderboards in Highscore Chase, Time Trial, and Target Practice.
Side missions – Save the world from CLAW's plots across different environments in these self-contained story missions.
High-octane action complete with daring stunts and high-tech gadgets against deadly vehicles and maniacal bosses.
Gorgeous, vibrant art and graphics.
Fully voiced story featuring a diverse cast of characters.
Exciting missions across all terrain – transform your car into off-road, boat, and snowmobile modes and take the action across land, sea, snow and more!
Energetic original songs inspired by beloved soundtracks of the spy genre.
ABOUT PIKPOK
PikPok is a leading publisher of great games across mobile, tablet and desktop. With a portfolio of original, licensed, and third party developed properties, PikPok delivers games that appeal to all consumers with pick-up-and-play gameplay, high-quality art, and immersive audio design which provide rich game experiences. PikPok has released multiple critically and commercially successful games including the popular Flick Kick® series, BAFTA nominated Super Monsters Ate My Condo™, Into the Dead®, Shatter®, and more. Steal a moment and play a game from PikPok.
For more information on PikPok, please visit www.pikpok.com and www.facebook.com/pikpokgames