Patrol the Unfriendly Waters in the Nagasaki Weaponized Dinghy
Available in GTA Online This Week, Plus Numerous Double Rewards Opportunities, and More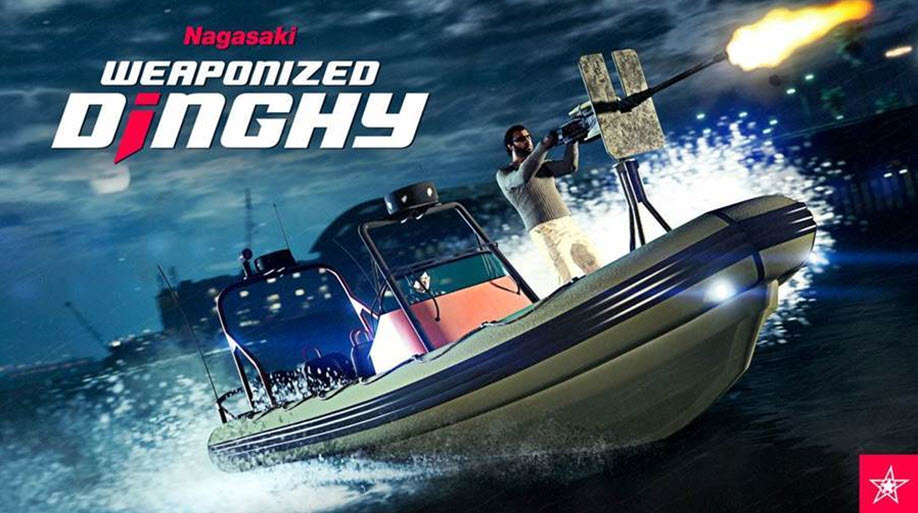 Looking to mount an amphibious assault on a militarized border or defend your humble seaside home? With a .50 cal gun at the front, this little dinghy will send a clear message to trespassers.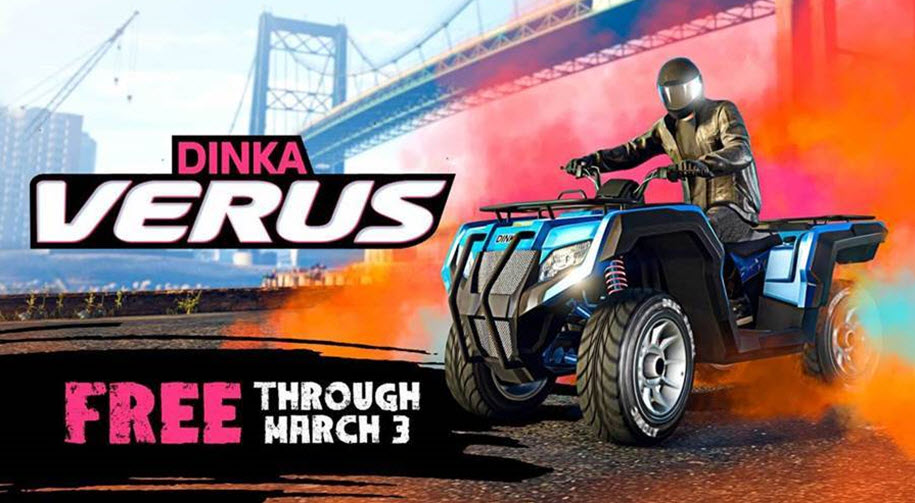 Bullets and inflatables, do they really go together? You tell us! The Nagasaki Weaponized Dinghy is now available for civilian purchase from Warstock Cache & Carry. Plus, don't forget to claim the Dinka Verus from Warstock Cache & Carry, free until March 3rd.
If you're not too busy relishing the open bar at The Diamond Casino & Resort that's part of the ongoing GTA Online celebration, there are a ton of other ways to celebrate, including earning Double Rewards across a variety of modes.
Double Pay on Special Cargo Sales
Established CEOs shifting crates in Special Cargo Sell Missions will earn a pretty penny this week, taking home 2X GTA$ & RP for their work.
2X GTA$ and RP on Stunt Races
Competition and adrenaline are fun on their own, but the two make a dangerous cocktail when blended at high speed. Stunt Races allow you to mainline both while white-knuckling a steering wheel mid-air — plus there's the added bonus of taking home double the usual cash & RP. Now you can write off reckless abandon as part of your business model.
2X GTA$ and RP on Simeon Missions
In the world of boosted luxury vehicles with sketchy origins, Simeon Yetarian is king. And like any king, Simeon needs some help — not only in the psychiatric sense. Give your old pal a call or be sure to pick up when he contacts you, as he's paying double for undertaking any of his missions, including Premium Deluxe Repo Work.
2X GTA$ and RP for DJ Request Missions
Speaking of people who have your number on speed-dial, English Dave and Tom Connors need help keeping the talent happy. Should you receive word from either, all DJ Request Missions are doling out double the usual cash and RP. Whether it's pizza or crystals, merch or bubbly, heed their beck and call and you'll be rewarded handsomely to the tune of 2X GTA$ and RP.
2X GTA$ and RP in Sumo
Sumo and Sumo (Remix), the beloved Adversary Modes that pit players against each other in a high-stakes vehicular shoving match, are paying out double to all until March 3rd. Get behind the wheel and start muscling.

Free Glow Shades Unlock
Become an instant rave legend — successfully complete an Import/Export Sell Mission from your Special Vehicle Warehouse to earn the Blue and Magenta Glow Shades. Come back after March 8th to receive your award (all awards should be delivered within 72 hours).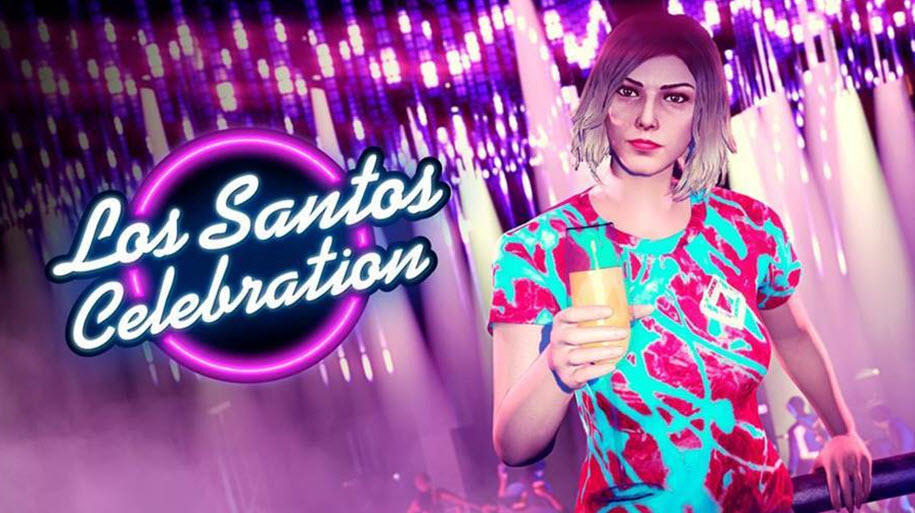 The Diamond Casino & Resort is showing its appreciation to all its guests by offering up open bars in both the lobby and The Music Locker, plus all parties being thrown in the Penthouse can be written off your bill. Go wild and order a shot of the top-shelf stuff. If you wake up in a trashed Penthouse or bathroom stall, don't worry — it was free, remember? No harm, no foul.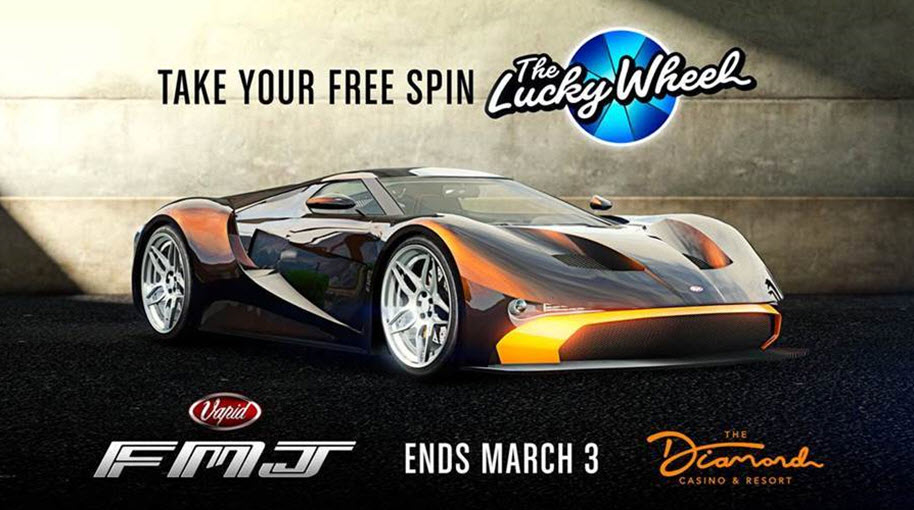 On the Podium This Week: Vapid FMJ
Swing by the lobby of The Diamond Casino & Resort anytime to give the Lucky Wheel a spin and walk away with GTA$, RP, clothing, and more. This week's top prize on the podium is a miracle of modern engineering, an ode to the virtues of carbon fiber: the Vapid FMJ.
Discounts
If you're looking for a way into the many industries and illicit affairs listed above, you'll be happy to hear you can take 60% off the cost of all Executive Office properties, as well as all respective Customizations and Add-Ons. Special Cargo Warehouses and Garages are half off, while Vehicle Warehouses are 25% off.
Executive Offices — 60% Off
All Executive Office Customizations and Add-ons — 60% Off
Special Cargo Warehouses — 50% Off
Vehicle Warehouses — 25% Off
Garages — 50% Off
Vehicles:
Grotti Furia — 40% Off
Progen GP1 — 40% Off
Truffade Adder — 40% Off
Annis S80RR — 40% Off
Pegassi Zentorno — 40% Off
Prime Gaming Bonuses & Benefits
GTA Online players who successfully connect their Rockstar Games Social Club account with Prime Gaming will receive the Kosatka submarine's Sonar Station for free, along with GTA$200K just for playing any time this week.
In addition, Prime Gaming members receive exclusive discounts, including 80% off the Dewbauchee Vagner and 70% off the jet-powered Coil Rocket Voltic.
To ensure access to future benefits, make sure to visit Prime Gaming and sign up.
Check Rockstar Support for details and limitations.