For Honor Celebrates Fourth Anniversary Releases Shovel Knight Content & Announces Year 5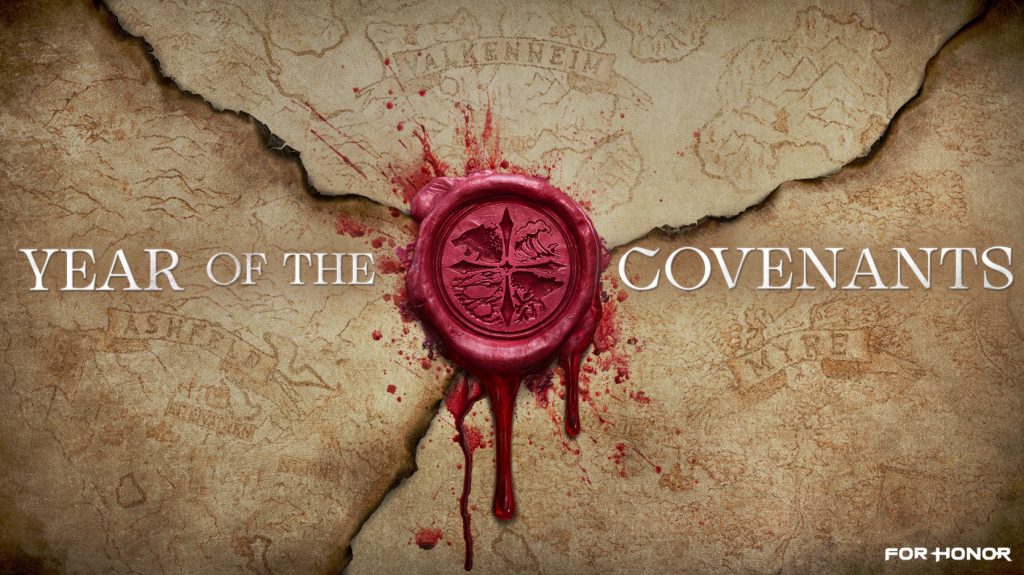 Sydney, Australia — February 19, 2021 — This week, Ubisoft celebrates For Honor's fourth anniversary by announcing For Honor's Year 5: Year of the Covenants. Following four years of continuous content updates and improvements, Year 5 brings an additional year of content to the game while continuing the narrative arc that began in Year 4. The Year of the Covenants will officially kick off on March 11, and more information on Year 5 Season 1 will come at a later date.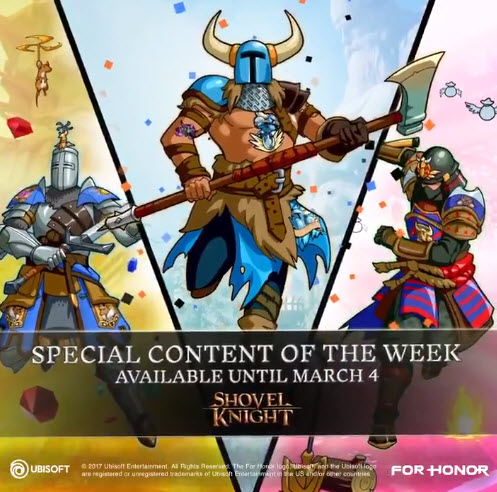 The content roadmap for the upcoming year includes four themed seasons bringing new customization items, two new Heroes – with one Hero to be released during Year 5 Season 2 and another to be released during Year 5 Season 4 – as well as in-game events offering players new ways to enjoy the game and a Battle Pass for each season.
In addition, For Honor introduces an in-game crossover with Yacht Club Games' Shovel Knight ™, available now for all players. Players can dig into Shovel Knight-themed content including a Shovel Drop Emote and 3 Illustrious Outfits, each featuring Ornaments, Mood Effects, Symbols, and more. The Emote will be available for 10,000 Steel, and the Outfits will be available for 15,000 to 20,000 Steel each; all items can be purchased via the in-game store from now until March 4.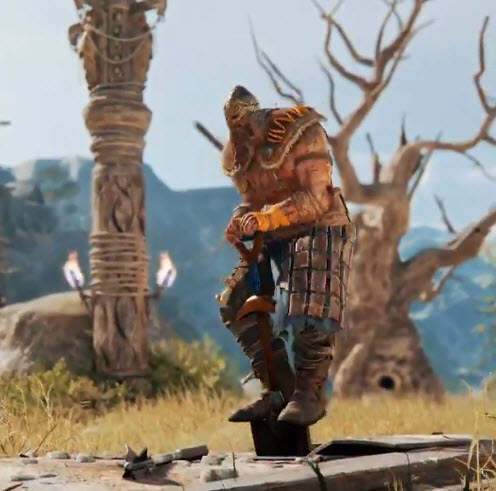 Launched in February 2017, For Honor will now enter its fifth year of post-launch support. With a roster of 28 Heroes – including the recently launched Gryphon – as well as seven multiplayer modes, a story campaign and an unlimited PvE mode, For Honor offers a variety of content for those looking to storm the battlefield. With more than 25 million players, For Honor is available on PlayStation®4, Xbox One consoles, Windows PC, and Ubisoft's subscription service, Ubisoft+*. For Honor is playable on PlayStation®5 and Xbox Series X|S through backward compatibility.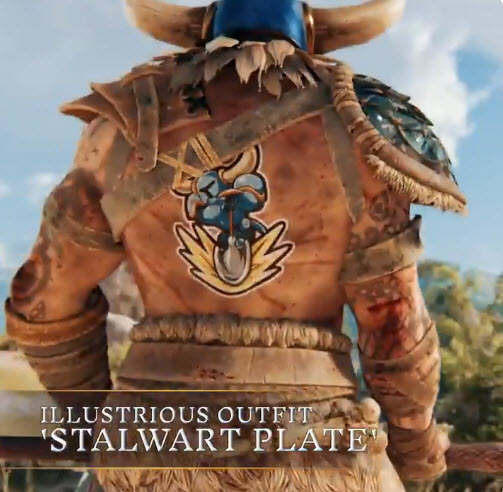 For more information about For Honor, please visit forhonorgame.com and follow us on Facebook at facebook.com/forhonorgame and on Twitter at twitter.com/forhonorgame.
For the latest about For Honor and other Ubisoft games, please visit news.ubisoft.com.
*$19.95 AUD per month. Cancel anytime. More information at ubisoft-plus.com.
About For Honor
Developed by Ubisoft Montreal in collaboration with other Ubisoft studios,** For Honor offers an engaging campaign and thrilling multiplayer modes. Players embody warriors of the four great factions – the bold Knights, the brutal Vikings, the deadly Samurai and the fearsome Wu Lin – fighting to the death on intense and believable melee battlefields. The Art of Battle, the game's innovative combat system that puts players in total control of their warriors, allows them to utilize the unique skills and combat style of each hero to vanquish all enemies who stand in their way.
**Associate Ubisoft studios include Quebec, Toronto and Blue Byte. Additional development from Studio Gobo.
About Ubisoft
Ubisoft is a leading creator, publisher and distributor of interactive entertainment and services, with a rich portfolio of world-renowned brands, including Assassin's Creed, Far Cry, For Honor, Just Dance, Watch Dogs, Tom Clancy's video game series including Ghost Recon, Rainbow Six and The Division. The teams throughout Ubisoft's worldwide network of studios and business offices are committed to delivering original and memorable gaming experiences across all popular platforms, including consoles, mobile phones, tablets and PCs. For the 2019–20 fiscal year, Ubisoft generated net bookings of €1,534 million. To learn more, please visit: www.ubisoftgroup.com.
About Shovel Knight
Shovel Knight is a sweeping classic action adventure game with awesome gameplay, memorable characters, and an 8-bit retro aesthetic. It's a hot mashup of new and old! You play as the eponymous Shovel Knight, a small knight with a huge quest. Shovel Knight has come to this land with two goals: to defeat the evil Enchantress and quest for his lost beloved. He wields a Shovel Blade: a multipurpose weapon whose techniques have now been lost to the ages. Always honest and helpful, Shovel Knight is a shining example of the code of Shovelry: Slash Mercilessly and Dig Tirelessly!
About Yacht Club Games
Yacht Club Games is an independent game studio composed of fun-loving gaming geniuses who have dedicated their lives to video games. They are committed to creating fun and challenging games that tug at your heartstrings and delight you with levity and charm. Their flagship series, Shovel Knight: Treasure Trove, is a compilation of five pixel-perfect stand-alone adventures: Shovel of Hope, Plague of Shadows, Specter of Torment, King of Cards, and Shovel Knight Showdown. They are also known for publishing Mechanical Head Studio's 2D ninja action platformer, Cyber Shadow. Founded in 2013, Yacht Club Games' headquarters is located in Los Angeles, California.
© 2021 Ubisoft Entertainment. All Rights Reserved. Ubisoft and the Ubisoft logo are registered or unregistered trademarks of Ubisoft Entertainment in the US and/or other countries. Shovel Knight™, the Shovel Knight logo, and the Shovel Knight characters are trademarks of Yacht Club Games™ and are registered in certain jurisdictions, including in the United States. © 2021 Yacht Club Games L.L.C. All Rights Reserved.