The BF Weevil: An Automotive and Countercultural Icon
Plus Bonuses on Motor Wars, Smuggler Sell Missions, Air Races and More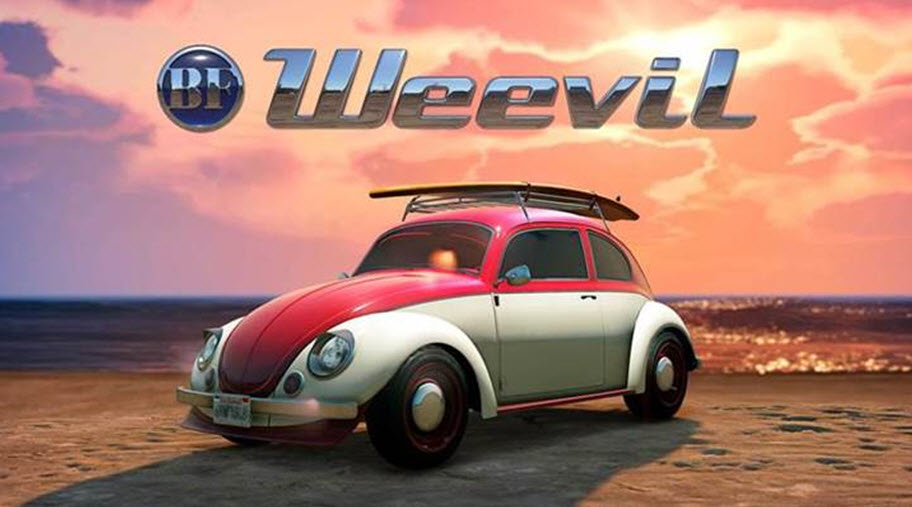 The BF Weevil was once a marvel of midcentury design and economic efficiency, but like a venture capitalist shedding their two-piece suit for a set of prayer beads and tie-dye, the Weevil has since become a symbol of free love and other high-minded ideals. Whether you're using it to move your cult up into the foothills of the Tataviam Mountains or schlepping your red-eyed pals down to a party at Vespucci Beach, the Weevil can help get you there.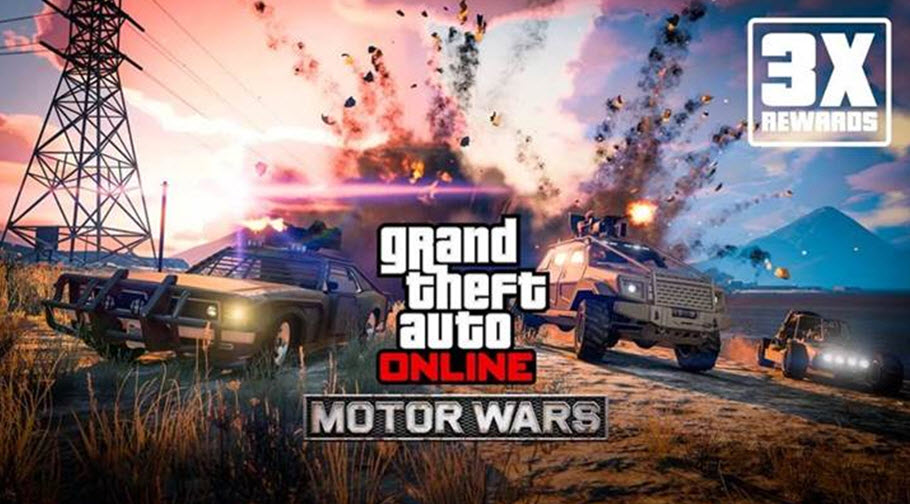 3X GTA$ and RP in Motor Wars
Earn Triple Rewards this week as you parachute into the shrinking kill-zone of Motor Wars with nothing but a sidearm to your name. Work together with your teammates to find a vehicle and some substantial weaponry, then blow your foes away to make it out as the last team alive.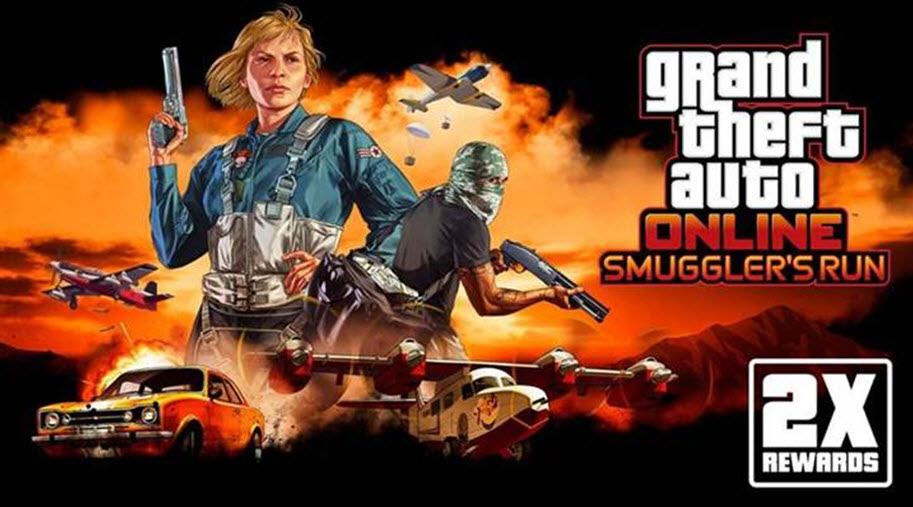 2X GTA$ and RP on Smuggler Sell Missions
It's dangerous to let contraband sit dormant in your Warehouses, but it's also financially irresponsible, especially when Smuggler Sell Missions are paying back 2X GTA$ & RP this week. Load up and move your stock across the map, but stay frosty, lest marauders try to intercept your delivery.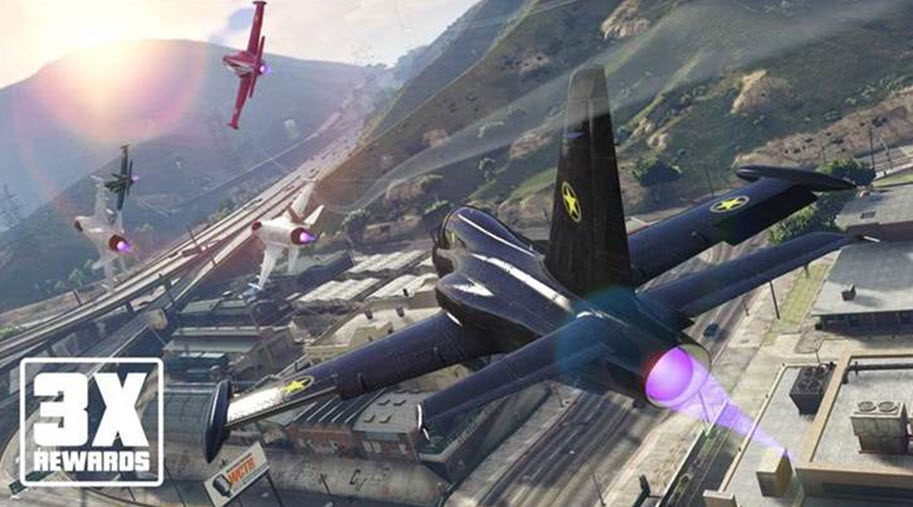 3X GTA$ & RP in Air Races
Hop behind the controls of any number of airborne vehicles and maneuver betwixt the skyscrapers of Downtown Los Santos and the peaks and valleys of Blaine County in any and all Rockstar Created Air Races, which are dishing out triple the usual prize purse through January 13th.
Special Bonuses
Everyone who plays GTA Online this week will receive the limited-edition Güffy Double Logo Hat, free of charge.
Should you manage to find and steal contraband from a Secondary Target – be it cash, gold, drugs or art – during the Cayo Perico Heist finale, you will receive the bright and brash Bigness Faces Sweater as an added bonus on top of the boost to your bottom line.
This is also the final week to get in and collect:
The Manor Tie-dye Tee for completing a Cayo Perico Scoping Mission
The Rockstar Grey Pattern Tee for completing a Cayo Perico Prep Mission
The Panther Tour Jacket for completing the Cayo Perico Heist Finale
The Panther Varsity Jacket – awarded as a badge of honor to those who participated in the November Heist Challenge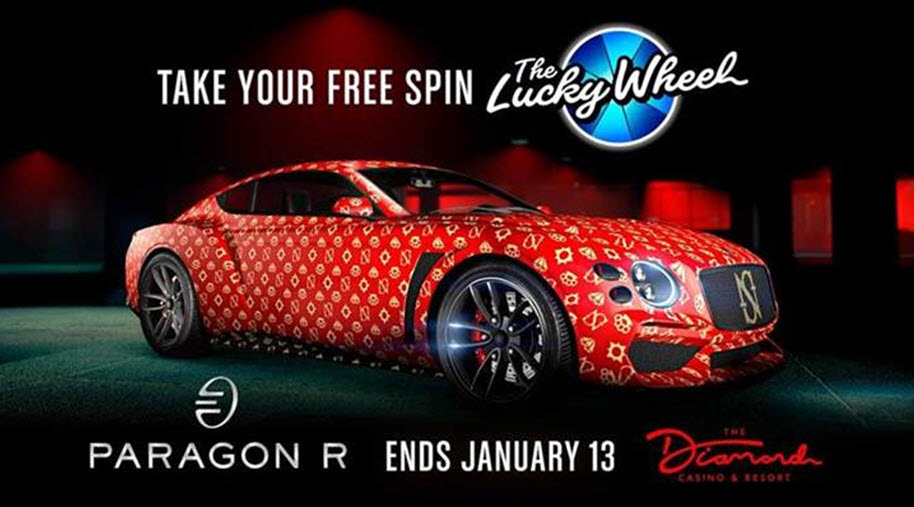 On the Podium This Week: Enus Paragon R
As soon as you get back to the mainland and wash the sand out of your hair, swing by The Diamond Casino & Resort and give the Lucky Wheel a spin for the opportunity to walk away with GTA$, RP, clothing and a range of mystery items. This week's top prize is the Enus Paragon R, a suave sportscar that embodies the refinement of an elder statesman with the muscle of a young warlord.
Discounts
There are many ways to take to the skies this week in GTA Online – if you need help getting airborne, feel free to peruse the following deals on planes, helicopters, and Hangars, as well as a selection of high-powered cars, too. See below for the complete list.
Vehicles:
RO-86 Alkanost – 25% off
Annihilator (Stealth) – 25% off
Buckingham Valkyrie – 40% off
Nagasaki Havok – 40% off
Grotti Visione – 40% off
Coil Cyclone – 40% off
Hangars – 30% off:
LSIA Hangar A17
LSIA Hangar 1
Fort Zancudo Hangar 3499
Fort Zancudo Hangar 3497
Fort Zancudo Hangar A2
Hangar Customizations and Add-Ons – 30% off:
Hangar Style
Lighting
Floor Graphics
Office Furniture
Living Quarters
Workshop
PRIME GAMING
GTA Online players who successfully connect their Rockstar Games Social Club account with Prime Gaming will receive the Kosatka submarine's Sonar Station for free, along with GTA$200K just for playing any time this week.
In addition, Prime Gaming members receive exclusive discounts: this week it's 35% off the Kurtz 31 Patrol Boat and Shitzu Longfin.
To ensure access to future benefits, make sure to visit Prime Gaming and sign up.
Check Rockstar Support for details and limitations.