PUBG MOBILE TEAMS WITH METRO EXODUS FOR FIRST EVER CO-BRANDED ROYALE PASS SEASON 16
Royale Pass Season 16: Metro Royale is now available with Metro Exodus themed characters outfits
Details released for Cyber Week events with Thanksgiving spirit
LOS ANGELES – Nov. 17, 2020 – Earlier in November, PUBG MOBILE revealed the version 1.1 update, with an unprecedented collaboration with Metro Exodus, the latest video game in the acclaimed Metro series – an atmospheric, story-driven first-person-shooter set in post-apocalyptic Russia, published by Deep Silver and inspired by the novels of Dmitry Glukhovsky. Beginning today, the "Metro Royale" themed update brings all-new Royale Pass Season 16, the first ever crossover Royale Pass for PUBG MOBILE. New outfits of Metro-themed characters, crossover adventures and rewards are now available for players to get.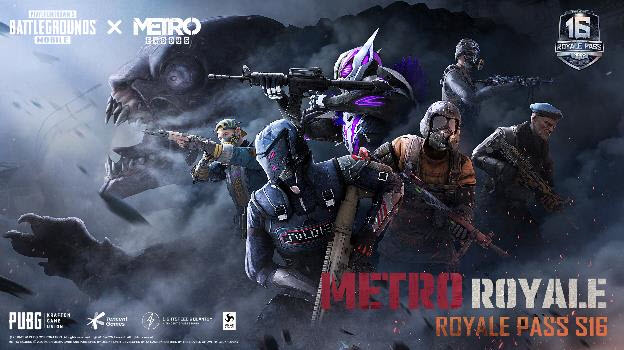 Today's Royale Pass Season 16 content update delivers beloved characters outfits and other recognizable content from Metro Exodus. Upon obtaining the Royale Pass Season 16 subscription, players will immediately unlock themed outfits of Metro characters Artyom or Anna in Rank 1. Colonel Miller Outfit or Casual Miller Outfit can be unlocked from the challenges in the exclusive Royale Pass event Metro Adventure. Players can use the Metro Badges in the event to start their adventure and reach various stations to get supplies which can be used to get great deals for outfits and item finishes.
By upgrading the rank of Royale Pass, players can unlock more premium outfits, including Cyber Enforcer Outfit in Rank 50, Mythic Night Terror Outfit in Rank 100. Players can even rank up their Royale Pass with the new RP Team feature. By joining an RP Team with friends, the whole team can unlock rewards when their rank increased to specified number.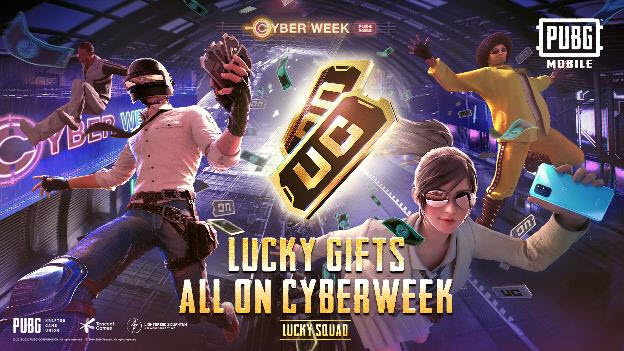 Besides the new Royale Pass update, to thank players and community members for their continued support, the team behind PUBG MOBILE also reveals today several Cyber Week events for the Thanksgiving season. From now until Sunday, Dec. 6, all players that log into the game will be entered a draw for $2,500 USD reward, a full return of all UC spent during the event, and a OnePlus 8T, with four winners being selected. Similarly, from Monday, Nov. 23 to Sunday, Dec. 6, players can complete daily missions to earn Cyber Week Discount Coupons, which can be used to unlock rewards such as surprise Emoji Gift Packs. The top 100 players will also receive an exclusive Cyber Week 2020 title.
More discounts and rewards can be earned from additional Cyber Week activities and celebrations with Thanksgiving spirit, including 70% to 90% off new outfits and firearms, 30% to 70% off classic encores, and a return of spent UC on purchasing and spending.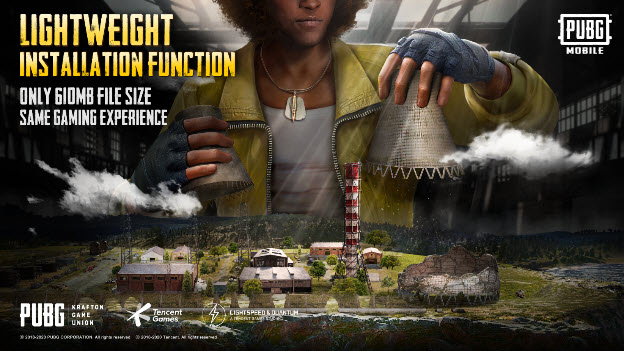 Today's update arrives in the latest version 1.1 of PUBG MOBILE. Thenew version introduces a new lightweight installation function to Android players with 70% smaller file size with the same gaming experience. The initial download package is only 610MB and more game content can be downloaded in segments to speed up updates and reduce waiting time. The new lightweight installation function enables players to customize their own game, add or remove sections according to their preference. Based on the resource management technology, the system pushes cleanup suggestions or the most suitable updates for download. Additionally, the overall performance is optimized with 10% lag reduction in a single match and smoother gameplay.
PUBG MOBILE is available to download for free on the App Store and Google Play.
ABOUT PUBG MOBILE
PUBG MOBILE is based on PLAYERUNKNOWN'S BATTLEGROUNDS, the phenomenon that took the world of interactive entertainment by storm in 2017. Up to 100 players parachute onto a remote island to battle in a winner-takes-all showdown. Players must locate and scavenge their own weapons, vehicles and supplies, and defeat every player in a visually and tactically rich battleground that forces players into a shrinking play zone.
Visit the official PUBG MOBILEaccounts on Facebook, Twitter and YouTube for more information.
ABOUT METRO EXODUS
Metro Exodus is an epic, story-driven first person shooter from 4A Games that blends deadly combat and stealth with exploration and survival horror in one of the most immersive game worlds ever created.
Explore the Russian wilderness across vast, non-linear levels and follow a thrilling story-line that spans an entire year through spring, summer and autumn to the depths of nuclear winter.
Inspired by the novels of Dmitry Glukhovsky, Metro Exodus continues Artyom's story in the greatest Metro adventure yet.
Released in February 2019, Metro Exodus is available for Xbox One, the all-in one games and entertainment system from Microsoft, the PlayStation® 4 computer entertainment system, Stadia, Amazon Luna, and PC.
Learn more about Metro Exodus by visiting MetroTheGame.com, following us on Twitter and Instagram @MetroVideoGame or on Facebook at Facebook.com/MetroVideoGame.
ABOUT DEEP SILVER
Deep Silver develops and distributes interactive games for all platforms. The Deep Silver label means to captivate all gamers who have a passion for thrilling gameplay in exciting game worlds by creating products of the highest possible quality, always focusing on what the customer desires.
Deep Silver has published more than 200 games since 2003, including its own brands like the open world extravaganza Saints Row, the zombie action franchise Dead Island, and the gritty, post-apocalyptic Metro series. Upcoming highlights from Deep Silver include the next entries into the Saints Row, TimeSplitters and Dead Island franchises. Deep Silver also owns the development studios Deep Silver Dambuster Studios in Nottingham, UK; Deep Silver Fishlabs in Hamburg, Germany, and Deep Silver Volition based in Champaign, IL, USA. For more information please visit www.deepsilver.com
Koch Media is a leading producer and distributor of digital entertainment products (software, games and films). The company's own publishing activities, marketing and distribution extend throughout Europe and the USA. The Koch Media group has more than 20 years of experience in the digital media business, and has risen to become the number one distributor in Europe. It has also formed strategic alliances with numerous games and software publishers: Bethesda, Capcom, Kaspersky Labs, NC SOFT, Sega, Square Enix and Tecmo-Koei, etc. in various European countries. With Headquarters in Höfen, Austria Koch Media owns branches in Germany, England, France, Austria, Switzerland, Italy, Spain, the Nordic regions, Benelux, Australia, Czech Republic and the United States.
All product titles, publisher names, trademarks, artwork and associated imagery are trademarks, registered trademarks and/or copyright material of the respective owners. All rights reserved.
# # #