Newest expansion provides new portraits, civics, ship sets and other cosmetics in time for Halloween
STOCKHOLM – October 29, 2020 – Paradox Interactive, a publisher of games that go bump in the night, today released a new species pack for Stellaris, the 4x sci-fi grand strategy game from Paradox Development Studio. The Necroids Species Pack summons a brand new selection of portraits, civics, ship sets and other cosmetics from beyond the grave- no ouija board required! This pack is for players who don't have a problem tangling with the intergalactic Grim Reaper and living their undeath to the fullest.
The Necroids Species Pack is available now for Windows, MacOS, and Linux PCs for a suggested retail price of $7.99/ €5.79/ £7.99. Purchase Necroids at the links below: 
Prepare to meet the Necroids, an intelligent species who believe that death is not the end, but rather the beginning of their journey. Necroids are known to spend their days excitedly studying in preparation for their eventual "transformation" in the Elevation Chamber. New cosmetic changes will reincarnate playthroughs of Stellaris for long time players, while also bringing new life to killer type empires. In total, the Necroids Species Pack includes:
1 New Origin – Necrophage

The brand new Necrophage Origin positions gamer-martyrs as a powerful primary species which consumes others within its grasp, blurring the line between cult and empire with three brand new civics:

Death Cult: Enables powerful edicts which require the sacrificing of pops
Reanimated Armies: Allows the deployment of morality-immune, undead armies
Memorialists: Erects monuments to the galaxy's past, improving planetary stability and honouring tomb worlds

16 new portraits (15 organic, 1 robotic)
New ship set
New advisor voiceover
New city set & diplomacy room
New Name lists
New building cosmetics
Enter the atmosphere of Stellaris today: https://www.stellaris.com/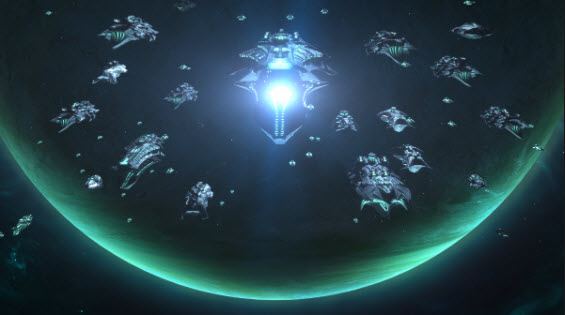 Paradox Interactive is a leading global publisher of strategy games for PC and console. The company has developed and published a world-renowned catalog stretching back to 1999, with players hailing from all around the world.
The publisher's steadily-growing portfolio includes firmly established franchises such as the critically acclaimed Europa Universalis, Crusader Kings, Hearts of Iron, and Stellaris series created by Paradox Development Studio, the Age of Wonders series created by Triumph Studios, as well as award-winning titles such as Cities: Skylines, Pillars of Eternity, and more from a network of partner studios. Paradox is the owner of the World of Darkness IPs and is publishing Vampire: The Masquerade – Bloodlines 2. Today, over four million people play a Paradox game each month, and the number of registered Paradox users is over twelve million.
Paradox's head offices are located in Stockholm, Sweden. Our development studios are located in Stockholm, Malmö and Umeå, Sweden, in Delft, The Netherlands, in Seattle, Washington, and in Berkeley, California. We share a passion for gaming and gamers, and our goal is to provide deep and challenging games with hours of gameplay and endless variety to our ever-growing community.
For more information, please visit our forums and follow us on Facebook, Twitter and Instagram.
Comet sighted!