New U.S. battleships set sail in World of Warships with new update
World of Warships sees the arrival of the new powerful U.S. battleships subbranch in early access today with Update 0.9.9, including the Tier VIII Kansas and the Tier IX Minnesota. They form part of a new U.S. Battleships event. The update also includes new Directives, an upgraded Naval Base Port, and a new season of Clan Battles.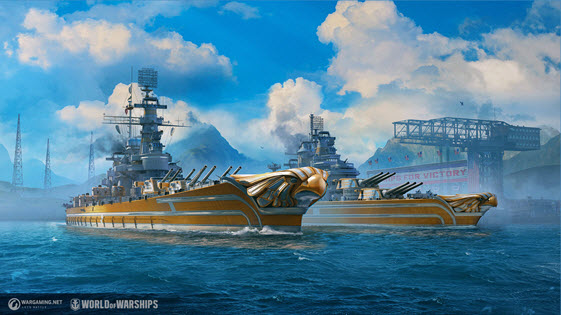 The new US Battleships feature powerful main armaments, good anti-torpedo protection, and great maneuverability. However, while their rudder is very responsive, the ships are rather slow for their type. Numerous main battery guns with a solid salvo weight and decent firing range, which comes at the expense of longer gun reload times. Rounding out the battleships are their decent AA defenses which can be reinforced with the Defensive AA Fire consumable. 
Players can obtain the VIII Kansas by completing Directives, and the IX Minnesota by opening random bundles in the Armoury in exchange for Doubloons. By completing Directives players can get American Tokens, a new temporary resource that can be exchanged for bundles and other rewards in the Armoury, including Gold Eagle permanent camouflages for US Battleships.
The new update also starts a new Clan Battles Season in 7 vs 7 format for Tier X ships. Furthermore, Division Commanders will now have additional options to invite mercenaries – players outside their Clan to join their Divisions for Clan Battles.
With the release of Update 0.9.9, players will also be able to play on all World of Warships servers within one game client, without the need to install separate game instances for each region. The game server will be determined by the currently selected account in the Wargaming Game Center.
Update 0.9.9 also brings new visual and general improvements to World of Warships, follow this link for more details.
About World of Warships
World of Warships is a free, historical, online combat PC game from Wargaming. With its massive fleet of most iconic war vessels, including four different ship classes and strategically designed environment, World of Warships provides the ultimate naval warfare gaming experience, suitable for everyone. Thanks to its largest collection of historically accurate ships available to play, World of Warships prides itself as a digital ship museum and a focal point for naval history enthusiasts.
New thematic content and innovative game modes are being added on a regular basis, providing a diverse and exciting gameplay to its broad player base.

One franchise – multiple platforms
After the successful launch of World of Warships on PC, its unique gameplay and design has been adapted to bring free massive naval battles to other platforms with World of Warships: Legends available on PlayStation 4 and Xbox One and World of Warships Blitz on iOS and Android mobile devices.
About Wargaming
Wargaming is an award-winning online game developer and publisher headquartered in Nicosia, Cyprus. Operating since 1998, Wargaming has grown to become one of the leaders in the gaming industry with 4500+ employees and offices spread all over the world. Over 200 million players enjoy Wargaming's titles across all major gaming platforms. Their flagship products include the massively popular free-to-play hit World of Tanks and the strategic naval action game World of Warships.
Official website: www.wargaming.com