4000 players have died interrupting the intimate moments of Bug Bears and Ogres, and other learnings – patch 1 releases today
Dublin, Oct 13 – Baldur's Gate 3 launched on Steam Tuesday the 6th on Stadia, Steam, Mac and GOG. During the launch, Larian faced a flood and one blackout, which is not unusual for a Larian launch. At 10am PT, many players were unable to buy the game as they flooded the store page. So many players signed up to the optional Larian Launcher that its servers had trouble keeping up. With that said, the launch was a huge success surpassing all their expectations, and they head into a lengthy Early Access campaign with an engaged audience providing a solid flow of feedback and reports.
 
Behind the scenes, anonymous data is parsed, which allows Larian to identify areas of interest for further investigation, and to cross-reference against player reports and findings from QA.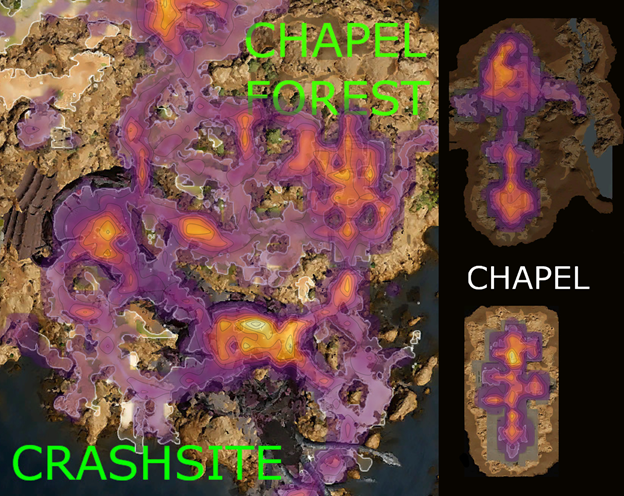 The first heatmap from Baldur's Gate 3 (cut down to avoid spoilers) shows areas where players are dying, which will be presented again at the end of Larian's Early Access campaign to show how the feedback process drives intelligent iteration.

Digging deeper, Larian also today announced a number of interesting statistics on the topic of death.
There's a huge spike in deaths around the area you first meet Gale, suggesting some players don't necessarily like it when a smug wizard appears out of a rock. This is a traditionally non-combat encounter, but of course in Baldur's Gate 3 players can enter into combat with whomever they wish, at almost any moment. This suggests that players are actively engaging in combat with Gale. Is it something he said?
On the topic of Gale, he has died a total of 333757 times.
However, Gale has a party-member kill-rate 4 times higher than any NPC in the game.
Shadowheart is the only companion to die more than the player character; poor Shadowheart.
The Owlbear Cub has killed 5717 players.
Exactly 4000 people died as a result of interrupting the intimate moments of Ogres and Bug Bears.
If you died at the crash site in your encounter with the fallen Mind Flayer, don't fret, you're with 3753 others.
Behind the scenes is a feedback process consisting of parsing anonymous data, correlating that data with reviews, feedback, and bug reports, and using the output to make intelligent decisions about what to improve, where to improve, and how to iterate. The results of which so far have been 3 hotfixes and the game's first last patch, which released October 13th.
The patch notes for the game's first big patch (entitled 'Launch') can be found in the latest Community Update, along with other anecdotes, on Steam: https://store.steampowered.com/newshub/app/1086940/view/2896336186753128622
Baldur's Gate 3 is currently in Early Access on Stadia, Steam, and GOG. It's also available on Mac from Steam and GOG. Cross-save functionality will come later.
About Larian Studios
Founded in 1996, Ghent, Belgium, Larian Studios has been creating games for 24 years. In 2014 we released the isometric CRPG Divinity: Original Sin to critical acclaim, establishing a reputation for the development and publication of expansive, player-driven RPG adventures with great depth. 2017 saw the release of Divinity: Original Sin 2, which launched with a 93 Metacritic rating, as well as over 160 awards (Including the Bafta for Best Multiplayer Game) and counting. Larian launched DOS2 with a team of 120 people. Upon the release of Baldur's Gate 3's Early Access, Larian will have grown to 300 people internationally, across 5 offices all over the world. Since DOS2, Larian has heavily invested in new departments and specialties to bring the isometric camera down, and push the boundaries of emotion in an RPG, whilst expanding on the depth, player options, permutations and scale. Baldur's Gate 3 will be their biggest and most ambitious game yet.
© 2019 LARIAN STUDIOS. ALL RIGHTS RESERVED. LARIAN STUDIOS IS A REGISTERED TRADEMARK OF ARRAKIS NV, AFFILIATE OF LARIAN STUDIOS GAMES LTD.
ALL COMPANY NAMES, BRAND NAMES, TRADEMARKS AND LOGOS ARE THE PROPERTY OF THEIR RESPECTIVE OWNERS.
About Wizards of the Coast
Wizards of the Coast, a subsidiary of Hasbro, Inc., is an award-winning developer and publisher of tabletop and digital games that ignite a sense of adventure in passionate players around the globe. Best known for publishing groundbreaking fantasy franchises, MAGIC: THE GATHERING® and DUNGEONS & DRAGONS®, Wizards is dedicated to bringing together world-class talent to create unforgettable play experiences at its headquarters in Washington and studios in Austin and Montreal. Learn more at www.wizards.com.
© 2019 WIZARDS OF THE COAST. ALL RIGHTS RESERVED. WIZARDS OF THE COAST, BALDUR'S GATE, DUNGEONS & DRAGONS, AND THEIR RESPECTIVE LOGOS ARE REGISTERED TRADEMARKS OF WIZARDS OF THE COAST LLC