HYPER SCAPE™'S HALLOWEEN EVENT STARTS TOMORROW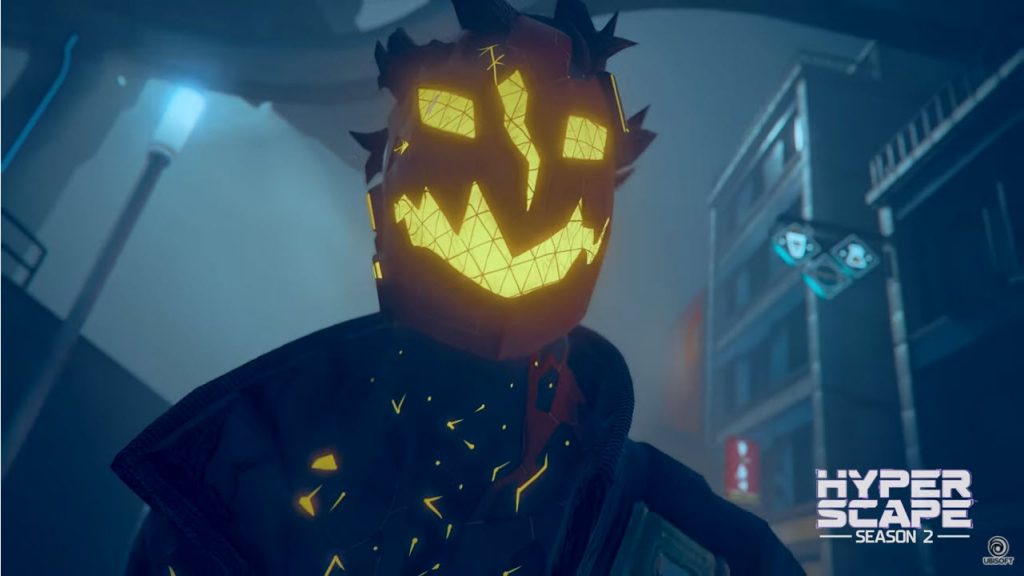 SYDNEY, AUSTRALIA — October 20, 2020 —Halloween is coming to the Hyper Scape™, taking over Neo Arcadia from tomorrow, October 21, until November 4 across all platforms. The Hyper Scape™ Halloween Event is the first major seasonal celebration coming to the game: it includes exclusive new cosmetics, a full Halloween night dress-up for Neo Arcadia and two limited-time game modes starting with Crown Rush Solo and continuing later with Dark Haze Squad. The Crown Rush Squad game mode will be also playable during the entirety of the event.
Players will be able to try out Crown Rush Solo in a brand new, exclusive environment since the full map will be in night mode. Additionally, Crown Rush Solo is receiving a major twist with the introduction of the Second Chance – a new game feature allowing players to come back from the dead. During the first few minutes of the match, players who are knocked out in combat will be sent back to deployment pods instead of being eliminated, earning themselves a Second Chance.
In the event's second week starting on October 27, things will get extra spooky as a thick Halloween fog will also be covering the city in the brand-new Dark Haze Squad mode. With limited visibility, no Crown and an arsenal reduced to a selection of weapons and hacks, players will have to work together with their squad to track and eliminate all opposition to get victorious.
During the event players will also have the opportunity to purchase a selection of new exclusive Halloween-themed cosmetics available in the game's store, including new Champion outfits, new deployment pods, new weapon skins and more.
Hyper Scape is an urban, fast-paced, free-to-play Battle Royale game developed by Ubisoft Montreal and now available on PC, PlayStation 4, and Xbox One. Hyper Scape's Season Two 'The Aftermath' introduced a new weapon, a new landmark on the map, new game modes and updated Hyper Scape Crowncast features as well as new story elements. Set in the virtual city of Neo Arcadia, up to 100 players face each other to become champion of the Hyper Scape.
For more information about Hyper Scape, please visit: https://www.ubisoft.com/en-au/game/hyper-scape
About Hyper Scape
Hyper Scape is an urban, fast-paced, free-to-play battle royale game developed by Ubisoft Montreal. Set in the virtual city of Neo-Arcadia, up to 100 players face each other to become champion of the Hyper Scape. Bringing a fresh take on the battle royale genre, Hyper Scape is a fast-paced experience that introduces innovative gameplay mechanics such as Hacks, the Fusion, the Decay, the Showdown and many others. Through Hyper Scape Crowncast, a Twitch extension developed in partnership with Twitch, Hyper Scape offers a unique viewing experience, but also offers new tools for streamers to interact with their community. Hyper Scape is available on PC, PlayStation®4 and Xbox One. It supports cross-progression across platforms.
About Ubisoft
Ubisoft is a leading creator, publisher and distributor of interactive entertainment and services, with a rich portfolio of world-renowned brands, including Assassin's Creed, Far Cry, For Honor, Just Dance, Watch Dogs, Tom Clancy's video game series including Ghost Recon, Rainbow Six and The Division. The teams throughout Ubisoft's worldwide network of studios and business offices are committed to delivering original and memorable gaming experiences across all popular platforms, including consoles, mobile phones, tablets and PCs. For the 2019–20 fiscal year, Ubisoft generated net bookings of €1,534 million. To learn more, please visit: www.ubisoftgroup.com.
© 2020 Ubisoft Entertainment. All Rights Reserved. Ubisoft and the Ubisoft logo are registered or unregistered trademarks of Ubisoft Entertainment in the US and/or other countries.