BLACKPINK "THE ALBUM" TITLE – LOVESICK GIRLS RELEASES IN PUBG MOBILE AS SPECIAL COLLABORATION
Los Angeles – Oct. 2, 2020 – As world-renowned K-pop female group BLACKPINK releases the highly anticipated first full album "The Album" today to hundreds of millions of fans around the world, PUBG MOBILE drops in more collaboration update with BLACKPINK-themed content for worldwide players and BLINKS. From now through Monday, Nov. 2, players can check out the latest title song "LOVESICK GIRLS" from BLACKPINK's new album in PUBG MOBILE, as well as more collaborative content in game.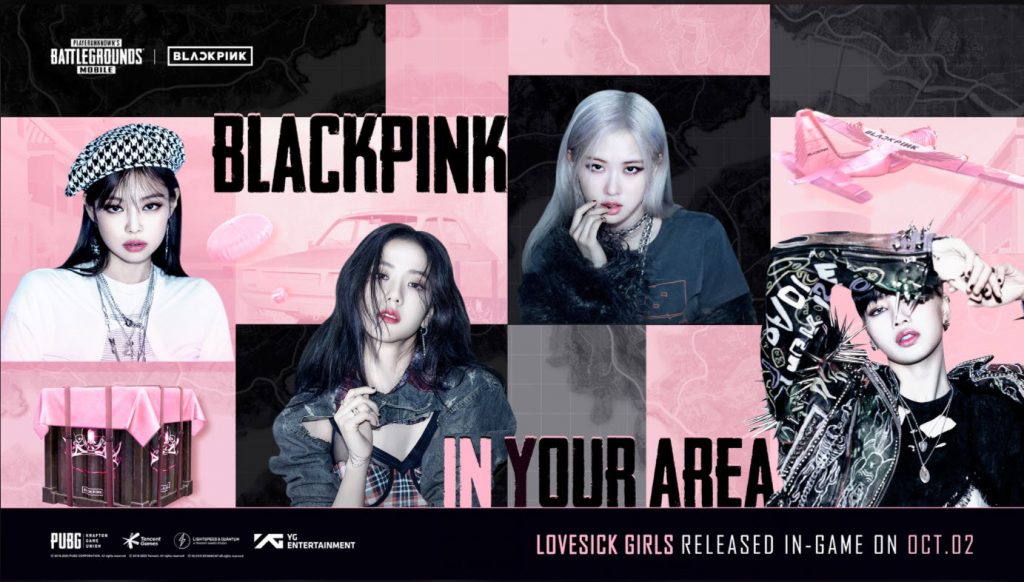 Upon logging into PUBG MOBILE, players can listen to the title song "LOVESICK GIRLS" from "The Album" via the in-game lobby music. Earlier, players were able to tune into "How You Like That," the first single from the new album. Similarly, there will be special themed content and visuals in game to celebrate BLACKPINK's new album release and also the collaboration. From Oct. 2 to Oct. 8, players can witness the special collaboration billboards in the New Erangel. From Oct. 2 to Nov. 2, PUBG MOBILE's airdrop plane will be painted pink with the BLACKPINK logo. Exclusive airdrop with themed color and "The Album" icon, releases pink smoke as it appears in the popular battlefields. Players can enjoy BLACKPINK's iconic style and music while playing in PUBG MOBILE.
From Sept. 24, PUBG MOBILE has revealed multiple collaboration content and event for players to experience, including themed lobby visuals, loading pages and in-game support event for fans to win exclusive rewards. Players can still check out the themed collaborative features and participate in the event to support the BLACKPINK collaboration.
More details about the BLACKPINK collaboration event are available through PUBG MOBILE's official Facebook, Twitter, Instagram account.
PUBG MOBILE is available to download for free on the App Store and Google Play.
About BLACKPINK
After making debut back in 2016 with 'SQUARE ONE', BLACKPINK heralded the birth of a major rookie group by captivating the public. The group then grew as global artists by releasing mini albums 'SQUARE UP' and 'Kill This Love', and proved their global popularity by completing their world tour in success. The group also verified their influence by performing at 'Coachella', the biggest music festival in the United States. After proving their global presence through 'How You Like That', a song full of charismatic Hip-hop sounds, released back in June, the group is now ready to renew their own best record with 'Ice Cream', collaborated with Selena Gomez, prior to the upcoming release of their first studio album on October 2nd.
About PUBG MOBILE
PUBG MOBILE is based on PLAYERUNKNOWN'S BATTLEGROUNDS, the phenomenon that took the world of interactive entertainment by storm in 2017. Up to 100 players parachute onto a remote island to battle in a winner-takes-all showdown. Players must locate and scavenge their own weapons, vehicles and supplies, and defeat every player in a visually and tactically rich battleground that forces players into a shrinking play zone.
For more information, please visit the official PUBG MOBILEaccounts on Facebook, Twitter and YouTube.
# # #