Two weeks prior to the release of the 9 Monkeys of Shaolin its creators from Sobaka Studio has revealed the new gameplay trailer detailing all the key features of the incoming game: narrative, combat and progression systems, weapons, enemies and co-op mode.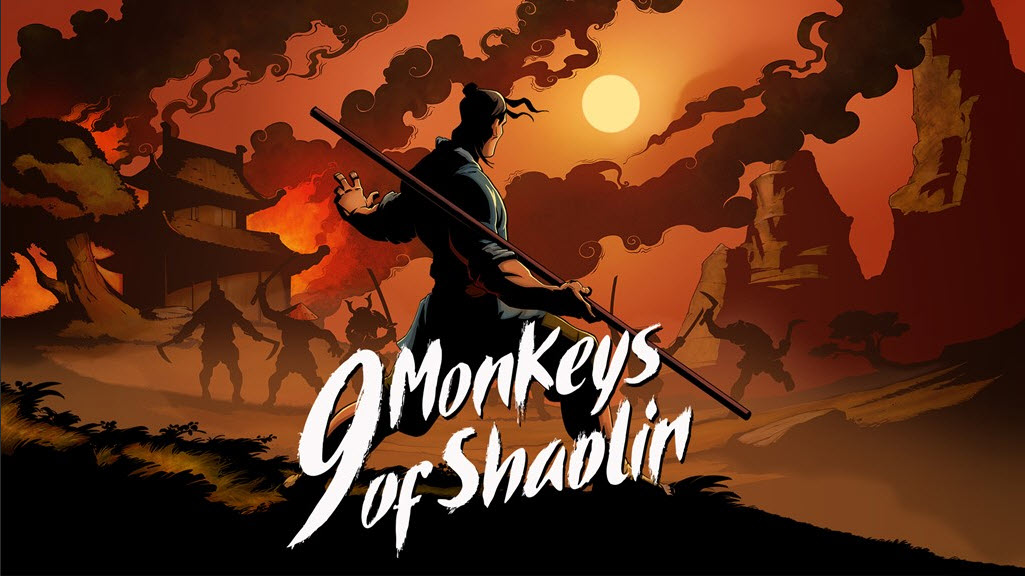 Furthermore, Sobaka Studio has launched the expanded free demo version of the game on Steam – "Prologue", so players can experience all these features in a real combat. The complete first chapter of the game's campaign offers both single player and co-op (online or split-screen mode for 2 players) options.
9 Monkeys of Shaolin: Prologue – https://store.steampowered.com/app/1425880/9_Monkeys_of_Shaolin_Prologue/
9 Monkeys of Shaolin is launching worldwide on Windows PC (via Steam), PlayStation®4 computer entertainment system, the Xbox One family of devices including the Xbox One X and Nintendo Switch on Friday 16th October.
About 9 Monkeys of Shaolin
"If you know the enemy and know yourself, you need not fear the result of a hundred battles. If you know yourself but not the enemy, for every victory gained you will also suffer a defeat. If you know neither the enemy nor yourself, you will succumb in every battle".
– Sun Tzu, The Art of War
9 Monkeys of Shaolin marks a true rebirth of the iconic beat 'em up genre in vein of old-school video games. If you had fun playing beat em up videogames for hours as a kid, crushing foes left and right then this new title from the creators of hardcore brawler REDEEMER is definitely for you!
As a mere Chinese fisherman Wei Cheng you have to avenge the death of your friends and family slaughtered in a pirate raid at your peaceful village. Game protagonist is quite a tough nut to crack as he knows the basics of ancient martial arts only mastered by legendary Shaolin monks. Get your trusty battle staff ready for a challenging adventure in Medieval China and for merciless fights with hordes of various enemies.
Action-packed battles, user friendly controls and incredible atmosphere of great kung-fu movies of 70s – all this makes 9 Monkeys of Shaolin a perfect choice for every true fan of really hardcore brawlers.
Key Features
3 unique fighting styles: fight on earth, in the air or use mysterious magic seals. Combine these elements to defeat every enemy on your way.
Captivating narrative: discover the fascinating story of Wei Cheng and follow him as he rises from a simple fisherman to the master of Shaolin martial arts.
Stunning visual style: unlikely combination of historical and mystical elements gives you an exciting experience from every scene appears on screen.
Extensive character development system: you learn a great deal of ways to victory as you discover various unlockable perks, items and fighting styles.
More than 25 different levels: Chinese villages, pirate ship, Buddhist monasteries, Japanese mansions, ancient ruins and many more.
10 types of Chinese and Japanese polearms, each with its unique traits. Discover the landscapes to find new items!
Co-op play: invite your friend to help you fight through growing waves of enemies and complete the game together.
About Koch Media
Koch Media is a global developer, publisher and distributor of computer and videogames, gaming hardware and merchandise.

The company's publishing activities, marketing and distribution extend throughout Europe, America and Australia. Koch Media has more than 25 years of experience in the digital media business and has risen to become a leading games publishing partner. Koch Media runs a multi-label strategy with fully owned content providers, including the labels Deep Silver, Milestone and Ravenscourt which publish games for consoles and PC across all physical and digital channels.

Koch Media has formed long-term multi-national publishing collaborations with numerous game publishers including Bethesda, Capcom, Codemasters, Konami, Koei Tecmo, NC Soft, Sega, Square Enix, Warner and many others. With its parent company in Höfen, Austria and the Publishing HQ in Munich, Germany, Koch Media owns local publishing companies in Germany, UK, France, Spain, Italy, Sweden, the Netherlands, Austria, Switzerland, Poland, Australia and the United States.

The Koch Media group owns six game development studios: Deep Silver Volition (Champaign, IL / USA), Deep Silver Dambuster Studios (Nottingham / UK), Deep Silver Fishlabs (Hamburg / Germany), Warhorse Studios (Prague / Czech Republic), Milestone (Milan / Italy) and Voxler (Paris / France). Additionally Koch Media collaborates with numerous independent development studios around the world.

Koch Media also owns Gaya Entertainment, a leading games merchandise company in Langenfeld, Germany and the Quality Assurance Facility in Olomuc, Czech Republic. Furthermore, with Koch Films the Koch Media Group runs an established film business. Koch Films is a European independent film distributor with business primarily in Germany, Switzerland, Austria and Italy as a cinema, TV, online and Home Entertainment distributor.

Koch Media is an Embracer Group company.
About Buka Entertainment
Buka Entertainment was founded in 1994 as video game and console distributor. Since 1996 Buka has also been known as a publisher. Over the years of successful publishing Buka released dozens of projects onto the world market, such as Hard Truck, Pacific Storm, Ex Machina, Pathologic, Collapse and others, many of which have rightly become classics.
Today Buka Entertainment continues to publish video games and support developers from all over the world. Company ports and releases titles for PC, PlayStation 4, Xbox One and Nintendo Switch as well as iOS and Android. Due to the professionalism of its team and comprehensive approach to the video game publishing and marketing Buka Entertainment successfully develops relations with international partners and will continue to bring exciting high-quality projects to the players in the nearest future.