Boosted Profits in All Business Battles This Week
Plus Rumored Cache of Diamonds in the Casino Vault, Clothing Unlocks and More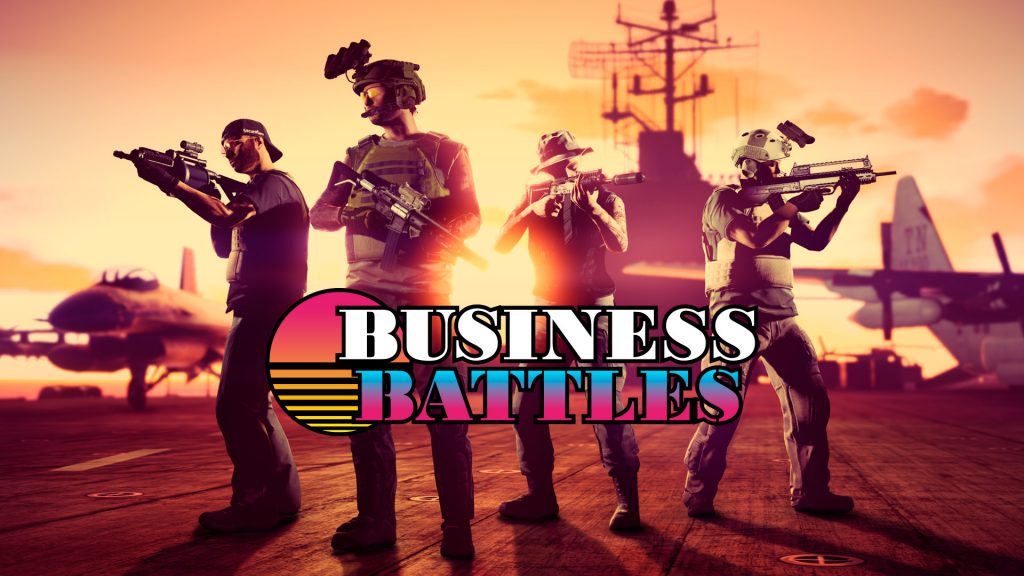 The revamped Business Battles featured as part of the Los Santos Summer Special are even more lucrative this week. Stage a cooperative assault on an idling aircraft carrier and fight your way through one of several factories to earn hefty pay-days. If your Warehouse is so empty you can hear your own breath echoing in the halls, it might be time to restock the shelves. Keep an eye out for various forms of vulnerable cargo around Los Santos and be sure to complete a Business Battle anytime over the next seven days to receive double rewards.
There's chatter (and grainy security camera footage floating around the dark web) suggesting that The Diamond's vault may have received a shipment of gems this week. Once you've finished setting up the Casino Heist, make your way into the belly of the beast for an opportunity to walk away with a windfall of pressurized carbon.
Play any game of Land Grab and receive 2X GTA$ & RP, all week long. In this brutal cyber-space, every minute counts: occupy as many zones as you can before the clock runs down. Armed opposition will resist, though – so keep your wits about you and your finger on the trigger.
All GTA Online players who play this week will receive the dashing Lemon Sports Tracksuit – both Pants and Top – for free.
On the Podium This Week: The Invetero Coquette D10
Once you're done stashing your take from the vault, return to The Diamond and give the Lucky Wheel a spin. This week's top prize is the Coquette D10, an American sports car whose accomplishments are all accompanied by various disclaimers, asterisks, and explanatory footnotes. Don't mind the fine print though, just listen to that engine hum.
DISCOUNTS
Expand your subterranean holdings with discounts on Bunkers and Bunker Modifications, plus earn Double Rewards on Gunrunning Sell Missions this week for some quick ROI. There are also deals on a selection of luxurious vehicles to escape from the prying eyes of the authorities.
40% Off Bunkers
Paleto Forest Bunker, Raton Canyon Bunker, Lago Zancudo Bunker, Chumash Bunker, Grapeseed Bunker, Route 68 Bunker, Grand Senora Desert Bunker, Smoke Tree Road Bunker, Thomson Scrapyard Bunker, Farmhouse Bunker
30% Off Bunker Modifications
Bunker Style, Personal Quarters, Shooting Range, Gun Locker, Transportation, MOC Weaponized Vehicle Workshop
Vehicles:
25% Off Dundreary Landstalker XL
30% Off Pegassi Zentorno
25% Off Youga Classic 4×4
Plus take 40% off the Ocelot Ardent and Declasse Weaponized Tampa through September 16th.
PRIME GAMING
GTA Online players who connect their Rockstar Games Social Club account with Prime Gaming will receive:
GTA$200K for playing any time this week
The FREE Vespucci Canals Nightclub Property
80% off the Progen T20
80% off the Överflöd Tyrant
To ensure access to future benefits, make sure to visit Prime Gaming and sign up.
Head over to the Social Club Events page for a full rundown of all current special events, bonuses and discounts.
Check Rockstar Support for details and limitations.