PORT ROYALE 4 SETS SAIL TOWARD SEPT. 25 LAUNCH
Multiplatform, Single-Player Seafaring Trade Sim is Set to Become the Crown Jewel in the Series' History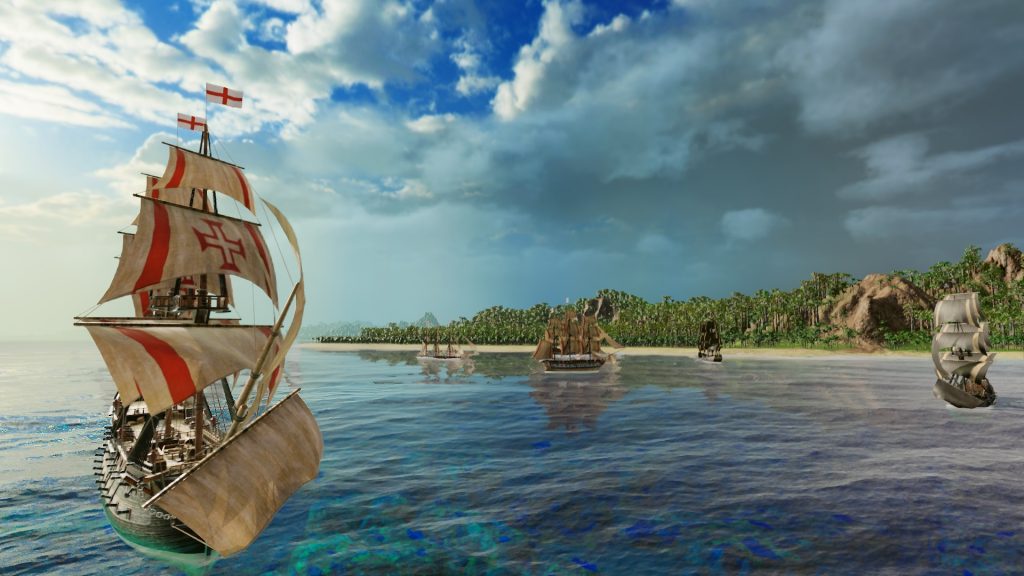 (September 22nd, 2020) – It's almost time to set sail on Port Royale 4 and join the colonial powers of Spain, England, France and the Netherlands to embark in real-time trading in 17th century Caribbean.  Today, publisher Kalypso Media and developer Gaming Minds Studios are unveiling a brand-new game featurette shown below for Port Royale 4's multiplatform launch on September 25.
With a nearly 30-year legacy, Port Royale 4 features the largest game world in the franchise including 12 square kilometres in which you can zoom in from the sky right down to every little hut.  As the most complex and only real-time trading game in the genre, players will make use of the detailed sea map to avoid stormy weather regions, cliffs and shallow waters and create intricate trade routes across the Caribbean.  All the while, they'll keep a keen eye out for pirates and other privateers!

The sheer depth of the trading system, nation perks, captain's traits and the four playable campaigns are all set to deliver a fascinating and multi-layered game.  For many fans, one of the most exciting differences is the new turn-based sea battles that will further enhance the tactical game play.
Information
Title: Port Royale 4
Platforms: Windows PC, PlayStation®4, Xbox One, Nintendo Switch™
Developer: Gaming Minds Studios
Genres: Trading simulation, real time strategy and city building
Release: 9/25/2020, Nintendo Switch™ (TBC)
Hashtag: #PortRoyale4 and #PortRoyale
About the Kalypso Media Group
Kalypso Media Group GmbH is a fully independent publisher, developer and marketer of interactive entertainment software with 100 employees in 8 locations in Germany, England and the United States, including Kasedo Games, Kalypso Media's digital-first label, and three development studios – Realmforge Studios (Munich), Gaming Minds Studios (Gütersloh) and Claymore Game Studios (Darmstadt).

Specializing in developing strategy games for a global audience on all modern platforms, Kalypso Media's IP portfolio includes the full rights to the Tropico series, Commandos, Port Royale, Dungeons, Sudden Strike, and Railway Empire. Kalypso Media's recent releases are Commandos 2 – HD Remaster and Praetorians – HD Remaster on PC, Railway Empire – Nintendo Switch™ Edition, Dungeons 3 – Complete Collection, Immortal Realms: Vampire Wars. Kalypso Media's upcoming titles include Commandos 2 – HD Remaster and Praetorians – HD Remaster on consoles (9/18/2020), Port Royale 4 (9/25/2020) and Spacebase Startopia (Spring 2021).

More information about the Kalypso Media Group is available at www.kalypsomedia.com.