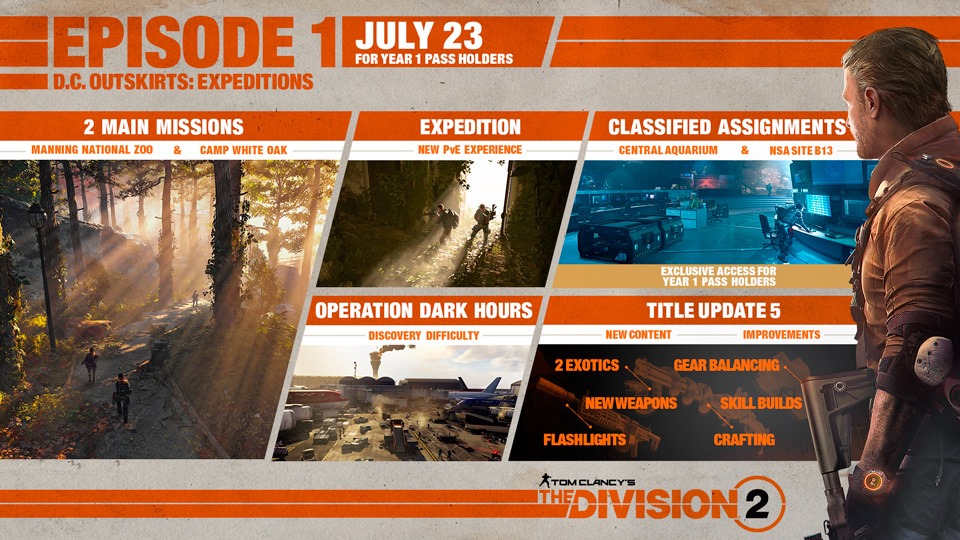 Ubisoft and Massive announced the release date for the first major content drop for Tom Clancy's The Division 2. Episode 1 is titled D.C. Outskirts: Expeditions and will be available for all Year 1 Season Pass holders on July 23rd. Those without the Season Pass will have to wait until July 30th to access the outskirts of DC.
The bulk of the content comes in the form of two new main missions and the Expedition mode. The first mission takes agents to Camp White Oak where President and traitor Andrew Ellis is holed up. The second will see agents raiding the Manning National Zoo where Emmaline Shaw, leader of the Outcasts, is hiding and rebuilding the Outcast's might.
The new expedition mode is set at Kenly College, previously used a military base. Agents will have to conquer three wings to access the trove of loot. The three wings will have three distinctive themes and will change every week.
In addition to the new content, the Diamondback exotic rifle, the exotic BTSU Datagloves, the Stoner LMG, and the Carbine 7 are being added to the game. Weapon crafting will now go up to GS500. The game is also going through a major overhaul, with skills and gear being rebalanced.
Massive is also responding to requests for raid matchmaking and an easier difficulty level. The new Discovery difficulty setting will provide a less challenging fight than the current Normal difficulty, though Dark Hours exotics and sets will remain an exclusive to normal difficulty.