ASSAULT SUIT LEYNOS PC SPECIAL EDITION AND PLAYSTATION®4 RETAIL EDITION AVAILABLE NOW
Rising Star Games Brings Fan Favorite Mech-Action Shooter to Participating Retail Outlets and to Steam
Los Angeles, CA – August 30, 2016 – Videogame publisher Rising Star Games today targets its laser sights on USA retail stores and on digital retailer Steam to announce that the retail box version of Assault Suit Leynos is now available for PlayStation®4 computer entertainment system in USA, Canada, and South America. The game also launches today digitally and globally for PC in both a standalone and Special Edition.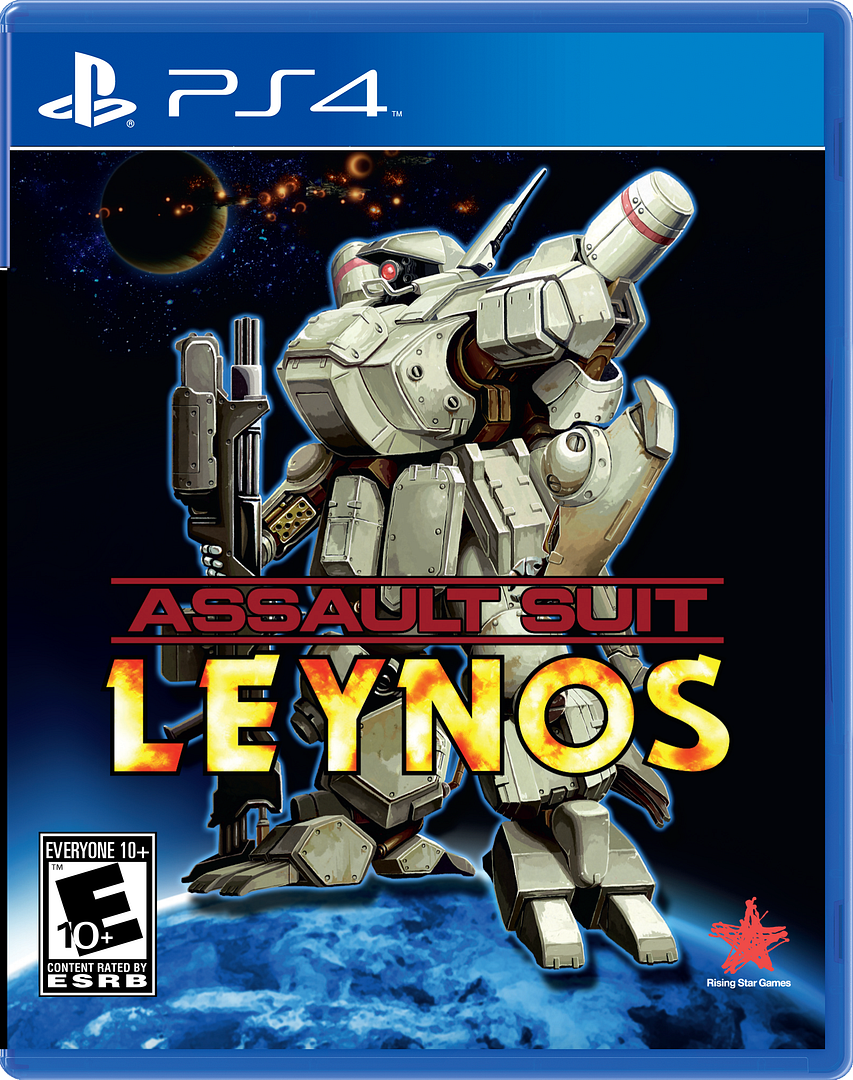 The Special Edition of Assault Suit Leynos on PC includes an exclusively presented 75-page digital book. Featuring a 39-page excerpt from leading videogame historian John Szcepaniak's trilogy of books, The Untold History of Japanese Game Developers, the book offers a glimpse of Japanese game development at the time of the original Assault Suit Leynos's inception, as well as concept art from the game.
Watch the Assault Suit Leynos trailer HERE: youtube.com/watch?v=kbMLyvJyAl8
The chapter presented in the Special Edition offers rare insight into, and recollections from, the creative minds behind the original game series at developer Masaya (also known as NCS) offering a flavor of the place and time of Assault Suit Leynos's creation, and a sense of its standing in the annals of videogame culture and history.
The digital book also features a selection of artwork and visuals from Assault Suit Leynos, which purchasers can enjoy while listening to the game soundtrack that is also included in the Special Edition.
Developed by Dracue Software, the digital PC version of Assault Suit Leynos is now available for $19.99 via Steam in a standalone version and at $24.99 for the Special Edition. The Special Edition content is also available to purchase separately for $4.99.
The physical box version of Assault Suit Leynos on the PlayStation®4 system is now available for $19.99 at participating retailers in USA, Canada and South America, with a release to follow on September 16 in Europe, Australia, New Zealand and Middle East. For more information, follow Rising Star Games on Twitter and visit the official Rising Star Games website.
# # #
ABOUT RISING STAR GAMES
Rising Star Games is a privately held video games publisher with a global reach. With operating offices in Europe and USA the company publishes video game entertainment across all gaming platforms from Sony, Microsoft, Nintendo and via Steam. With decades of combined experience and a genuine passion for interactive entertainment, Rising Star Games is proud of its ever-expanding and enormously diverse catalogue of over 120 titles. www.risingstargames.com