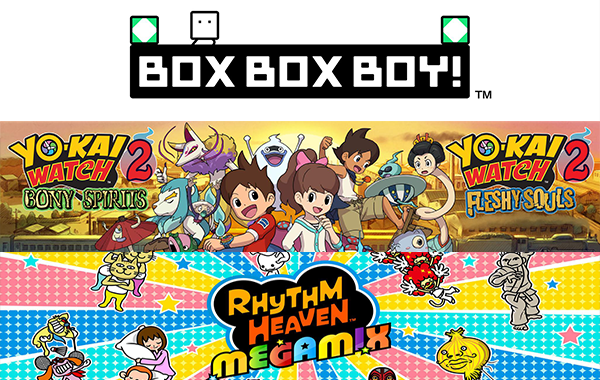 The Wii U might be on the way out but the Nintendo 3DS looks like it still has a strong life ahead of it with a great mix of new games coming to the system including new installments in the Box Boy, Yokai Watch and Rhythm Heaven series.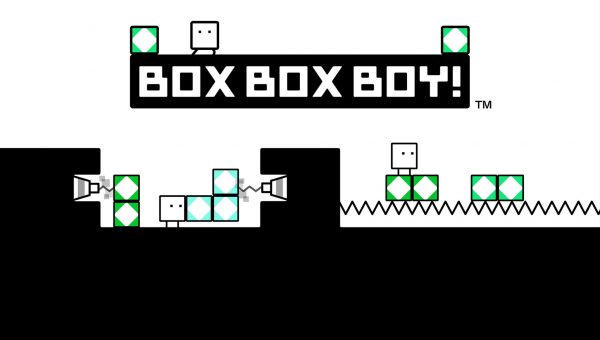 First off, a sequel to BoxBoy! has been announced called Box Box Boy. As you can guess from the title, the game now allows you to make 2 boxes instead of one. Our boxy hero, Qbby, will put every box to use to survive perilous traps across more than 120 puzzling levels. Learn new tricks and box formations to get past obstacles like switches, spikes, and even lasers!
Features:
Put every box to use to beat more than 120 new levels in this boxy sequel.
Take medals, earned by completing stages, to the in-game shop to acquire new costumes like the Robo-Suit, read humorous comics, or listen to the tunes of BOXBOXBOY!
If you've played the critically-acclaimed first game, BOXBOY!, you can unlock many of those costumes too, because every costume earned in BOXBOY! can be carried over into BOXBOXBOY!
Use Qbby's new power to create two sets of boxes.
Discover new ways to use boxes to your advantage to get past obstacles.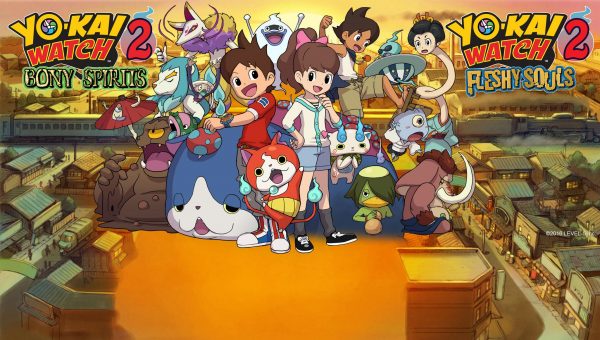 A sequel to Yo-kai Watch has been announced for localisation that will come in two versions similar to the Pokemon games, Yo-kai Watch 2: Fleshy Souls & Yo-kai Watch 2: Bony Spirits. Find, befriend, and battle more than 350 new and returning Yo-kai. Hop on a train to seek out new towns and new Yo-kai. Teaming up with the heroic cat, Hovernyan, travel back in time to save Springdale, and witness the origin of the Yo-kai Watch!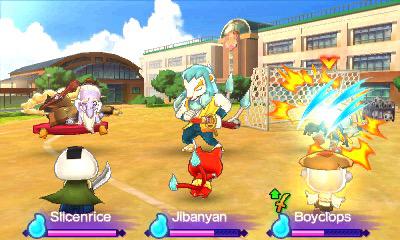 Features:
Embark on an all-new adventure in Springdale with more than 350 new and returning Yo-kai to discover and befriend-each with a unique look, personality, and Soultimate Moves.
Assemble your team of 6 Yo-kai on your Yo-kai Watch to battle troublemaking Yo-kai, solve people's problems, and end a civil war between competing Yo-kai factions.
Touchscreen-based battle actions initiate powerful Soultimate Moves, purify inspirited Yo-kai, and heal your Yo-kai.
Ride trains to new surrounding areas, such as the countryside village Harrisville and seaside town of San Fantastico
Travel back in time to discover the origin of the Yo-kai Watch and meet Classic Yo-kai from 60 years ago, while you ensure the Yo-Kai Watch Model Zero is created and your timeline is preserved.
Team up with up to 4 players in an all-new action-based local multiplayer mode (additional games and systems required for multiplayer mode. Sold separately.).
For the first time, challenge your friend's team over the Internet in addition to local wireless in 2-player multiplayer battles.
Get one of three special Yo-kai (Buchinyan, Noko, or Komasan) by using data from the original YO-KAI WATCH game.
Will launch with two versions – YO-KAI WATCH 2: Bony Spirits and YO-KAI WATCH 2: Fleshy Souls­ each featuring Yo-kai that can only be befriended in their respective games.
Collect, detect, and connect real-world Yo-kai Watch™ YO-MOTION medals (each sold separately, avail­able late 2016), for use with the Hasbro produced Yo-kai Watch Model Zero™ watch (each sold sepa­rately, available late 2016), and scan the codes on the back of the medals to get in-game content, like new Yo-kai, items, or other bonuses.
In addition to the games, Disney XD has acquired a second season of the YO-KAI WATCH animated TV show, which will premiere this summer.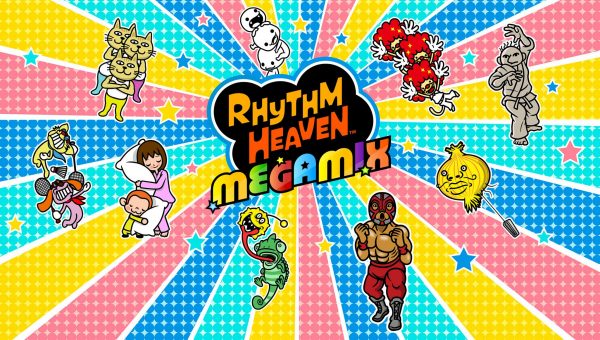 Lastly, in a surprise announcement Rhythm Heaven Megamix was released today for the North American audiences (sorry Europeans and Australians, still no set release date there). Test your rhythm by chopping wood, sticking speeding viruses with forks and playing badminton while flying an airplane, all in time to catchy tunes in this deceptively challenging rhythm game. The accessible controls and catchy music, combined with the new visual feedback system, make this a great entry in the Rhythm Heaven series.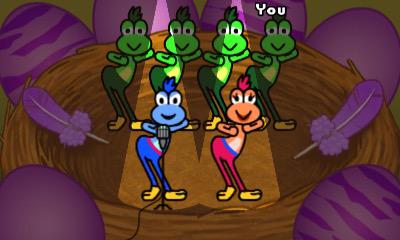 FEATURES:
Features updated rhythm games from the Game Boy Advance, Wii and Nintendo DS Rhythm Heaven games.
A combo of new rhythm games, fan-favorites, and U.S. debuts make this the ultimate Rhythm Heaven game
Rhythm Heaven Megamix includes more than 70 rhythm games, the most in the series.
Some Rhythm Heaven rhythm games found only in Japan make their North American debut with new music.
Soundtrack created with help from legendary Japanese music producer, Tsunku♂.
Encounter others with the StreetPass feature for a chance to match their punching robot's skills in a 1-on-1 battle.
Play with up to four players simultaneously and take on special multiplayer rhythm games to earn Flow Balls (additional systems and games required for multiplayer mode; sold separately).
Purchase additional rhythm games by spending Flow Balls.
Other 3DS announcements made at E3 include all new RPG Ever Oasis as well as Mario Party: Star Rush. New information on Pokemon Sun & Moon was also released. A recap of all the news from day 2 of E3 2016 can be found below.