It seems E3 2016 has come a little early this year, with one of Sony's most anticipated titles Horizon: Zero Dawn receiving an early trailer alongside an official release date and collectors edition. The new trailer titled Aloy's journey focuses on main character Aloy's back story, featuring some scenes of her as a child and questioning why the world is like it is. It also features sweet as robotic dinosaurs.
The Collectors Edition is confirmed for US and European/Oceanic regions and will contain:
9″ Aloy Statue sculpted by Gentle Giant
Steelbook Case including Horizon: Zero Dawn PS4 Game
The Art of Horizon: Zero Dawn Art Book
Exclusive PS4 Theme
DLC

Carja Storm Ranger Outfit and Carja Mighty Bow
Banuk Trailblazer Outfit and Banuk Culling Bow
Banuk Traveller Pack
Carja Trader Pack
Nora Keeper Pack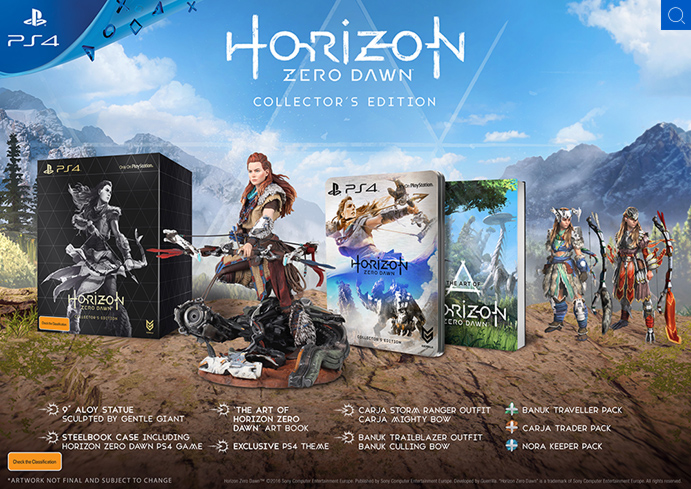 All this launches on February 28th (US) /March 1st (AU/EU) 2017, a fair delay on the previously stated 2016 release date. Be sure to let us know what you think of Horizon: Zero Dawn in the comments below. I was definitely impressed upon seeing this game last year at E3 and it easily became one of my most anticipated PS4 titles, hopefully the game will be better off after the delay.