To celebrate the release of the Deadpool movie on DVD, 20th Century FOX have commissioned an election campaign mural for Deadpool's 'No Pants Party'. In true Deadpool style, the political party's platform largely revolves around making various phallic jokes and sharing an intense love of chimichangas. The new mural can be found on the side of a building on the corner of Albion and Burke St in Surry Hills and features Deadpool's vandalism of fake Australian Liberal party and Labor Party campaign posters.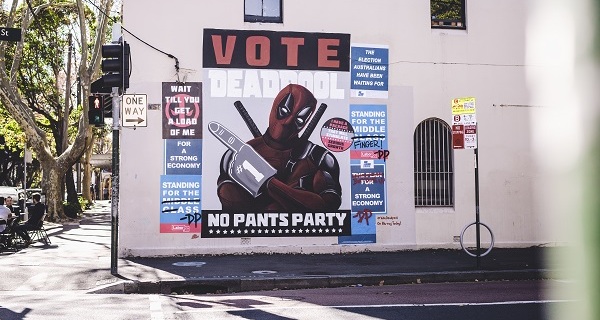 To quote the press release:
"Deadpool's policies include:

–No Pants #Freetheballs
–Double-dipping
-Frequent touching and fondling
-F***ing Chimichangas whenever and wherever possible
-Shoop to be played during the Olympic opening ceremony for the Australian team's walk out

Deadpool promises a Happy Ending for all of the above. His policies aren't the only thing bulging with extras; apparently there wasn't enough wall space to fit his awesome package… Or so we've been told.

So do yourself and Australia a favour and VOTE DEADPOOL."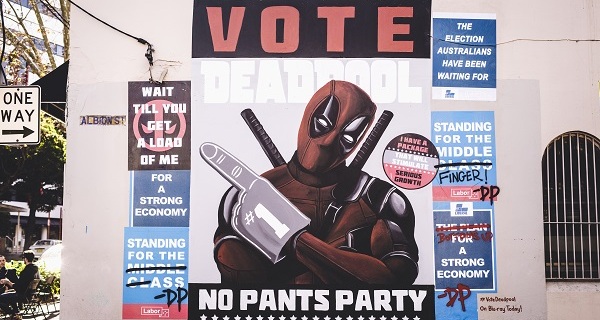 The DVD of the movie itself was released on the 25th of May and features Ryan Reynolds playing the part of the eponymous red-costumed anti-hero. This isn't Deadpool's first foray onto a screen, to check out our review of Deadpool's 2013 game click here!