ROCKET LEAGUE'S NEW HOOPS MODE TAKES TO THE COURT ON APRIL 26
SAN DIEGO, CA – April 20, 2016 – Independent video game developer and publisher, Psyonix, is pleased to announce that on Tuesday, April 26, Rocket League fans can download the highly-anticipated basketball-inspired Hoops mode for FREE as part of a regularly-scheduled game update. In addition, an officially-licensed "NBA Flag Pack," containing the logos of all 30 NBA teams represented as in-game flags, will also be available for sale as premium DLC.
Following the positive community reaction to the "Snow Day" Hockey Mode released late last year, Psyonix's new Hoops mode adds a dynamic basketball twist to the wildly-successful soccer-meets-driving concept. In addition to the mode itself, Rocket League Hoops will also come with a FREE new arena called "Dunk House," where the net itself can be used as a ramp for the ball, and Aerials and wall-play is the key to victory. The new Hoops mode update is FREE on Xbox One, PlayStation®4 computer entertainment system, and Windows PC via Steam and includes a NBA logo flag for all players.
For basketball fans eager to represent their favorite NBA team on the Rocket League hardwood, the NBA Flag Pack retails for $1.99 USD (or regional equivalent) and gives players immediate access to all 30 teams.
Watch the new Hoops mode on YouTube HERE: youtu.be/GcT706B4eZI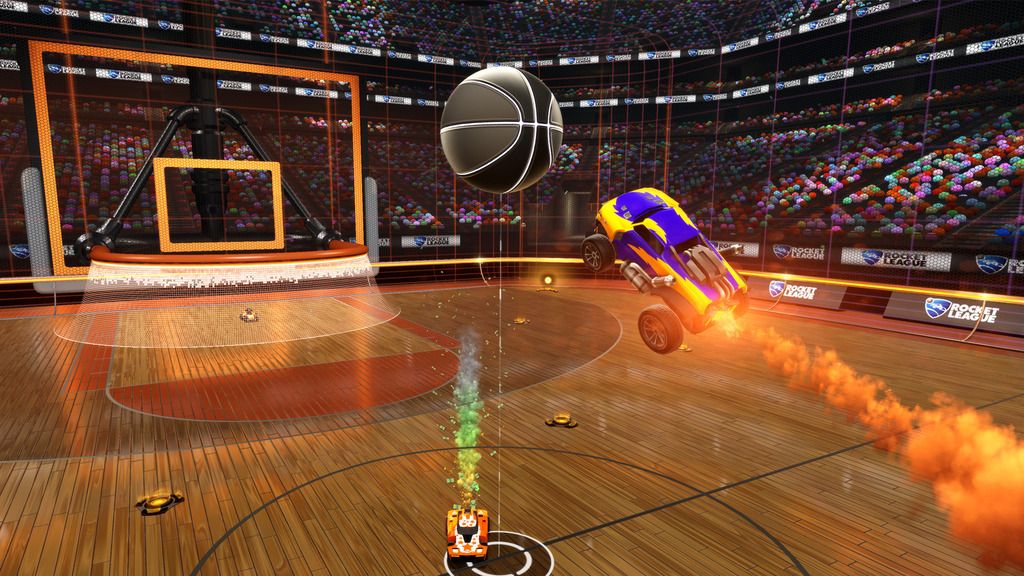 Winner or nominee of more than 100 game of the year awards, Rocket League is one of the most critically-acclaimed games of 2015. Boasting a community of more than 14 million players, Rocket League is a high-powered hybrid of arcade-style soccer and vehicular mayhem that offers easy-to-understand controls and fluid, physics-driven competition. Available digitally on Xbox One, PlayStation®4 computer entertainment system, and Windows PC via Steam, Rocket League includes more than 100 billion possible customization combinations, a fully-featured offline season mode, multiple game types, casual and competitive online matches, and special "Mutators" that let you change the rules entirely.
To learn more about Rocket League, please visit www.RocketLeagueGame.com, "Like" it on Facebook, and follow it on Twitter @RocketLeague for all the latest developer updates and news.
# # #
ABOUT PSYONIX
Based in San Diego, CA, Psyonix is a critically-acclaimed independent video game developer and leading experts in Unreal Engine technology. For more than a decade, the studio has been a driving force behind some of the most successful games in the industry, including Gears of War, Mass Effect 3, XCOM: Enemy Unknown, Bulletstorm, Unreal Tournament III, Unreal Tournament 2004, and the award-winning Sports-Action hit, Rocket League. 
For more information, visit www.psyonix.com.