ARK: SURVIVAL EVOLVED LAUNCHES OFFICIAL MOD PROGRAM AND DOUBLES GAME CONTENT
Studio Wildcard Celebrates More Than 1 Million Xbox One Copies Sold
Seattle, WA — April 22, 2016 — Studio Wildcard, the studio that never sleeps, announced today an official mod program for ARK: Survival Evolved that will see the best community mods and maps considered to become official content and added to the main game on Xbox One and PC. Next month will see the first new map, The Center, arrive in-game which will more than double the content within the dinosaur survival adventure, The popular Primitive Plus mod was also chosen for inclusion later this summer. While ARK players on Steam may already have played these popular community mods, this is a first for Xbox One gamers.
Check out the trailer on Youtube HERE: youtu.be/gpf0j_NVO3Y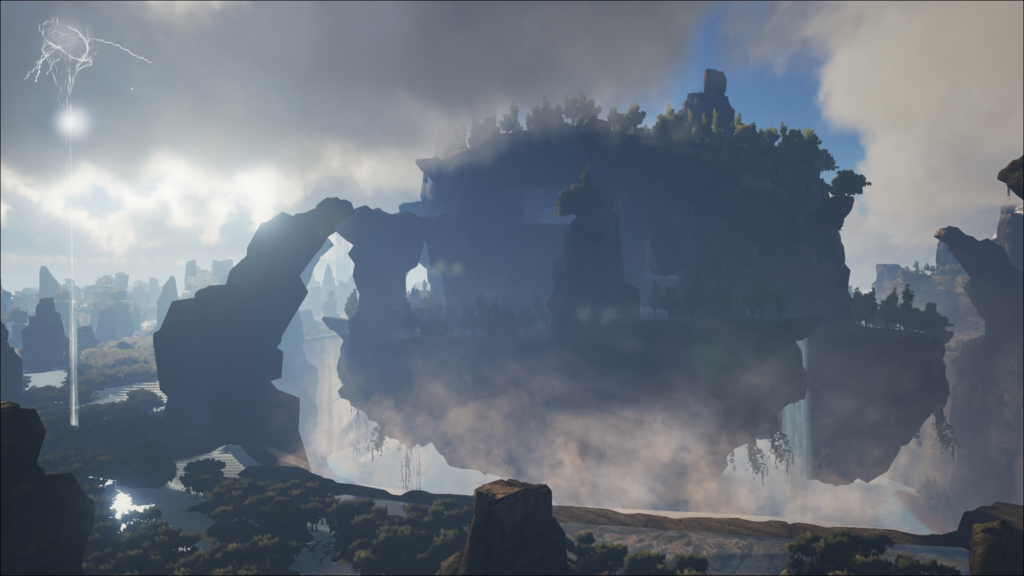 In combination with the Official Mods Program and the increased content, Studio Wildcard announced today that ARK: Survival Evolved has now sold more than 1 million copies since its December 2015 launch on Xbox One and nearly 4 million copies on Windows PC.  ARK is scheduled for a full release in holiday 2016 for all platforms (Windows PC, Xbox One and PlayStation 4).
"ARK's success has increased our content goals and Early Access players have helped us raise our ambitions with their invaluable feedback," said Jesse Rapczak, co-founder, co-creative director, Studio Wildcard. "When we first announced, we said 70 dinos, now we'll have over 100. We never anticipated adding modding, local multiplayer, split screen, or numerous other upcoming features. The game at launch will be far more robust than originally conceived, but it takes a little extra time to wrap it all up."
Designed by community member Ben Burkart, The Center adds an over-the-top, fantasy-themed map that doubles the size of the current game and is more varied than the original ARK map, with tons of new biomes, dungeons, floating islands, end-of-the-world waterfalls, massive ancient ruins, along with other wonders to explore and secrets to find. Drawn completely by hand without any auto-generated content, The Center is a massive increase in the game's official playable content and is free to both PC and Xbox One players.
In the case of Primitive Plus, players are challenged to use only wood and stone without the benefit of advanced metals to create weapons such as guns. A whole new set of items and detailed new mechanics focus the player on 'primitive' survival, which fits snugly in the world of ARK. Primitive Plus will be playable as a functionality mod on all official ARK maps.
Feel like riding a dinosaur? Join the ARK community forums HERE: steamcommunity.com/app/346110/discussions/

ARK: Survival Evolved will see its full launch this holiday season on Xbox One via the ID@Xbox program, PlayStation®4, and Steam PC. The game is currently playable in Microsoft's Game Preview on Xbox One and Steam's Early Access program, which includes Oculus Rift VR support and an integration of Steam community features such as Steam Economy and Steam Workshop for custom maps and mods. Players can host private/LAN servers and have access to a custom-built version of the Unreal Engine 4 Editor for creating mods. The world of ARK is designed to be modder-friendly and ever-expanding!
To join in the battle, follow us on Twitter, like us on Facebook, subscribe to us on YouTube, visit the website at www.playark.com and watch us tame and train leviathan dinosaurs on Twitch.TV.
# # #
ABOUT STUDIO WILDCARD
Studio Wildcard was co-founded in 2014 by Jesse Rapczak, former Technical Art Director at Microsoft Game Studios, with the mission of bringing AAA quality to ambitious indie productions that are designed for core gamers. With 12 years of industry experience across multiple independent and studio-backed titles, Jesse has teamed up with other veteran developers for a Seattle, WA-based development studio that also includes distributed team members across multiple continents. Wherever talented, driven developers may reside, Studio Wildcard intends to seek out and work with them!
ABOUT INSTINCT GAMES
Instinct Games is Egypt's leading game development studio. Started in 2011 by former Timeline Interactive co-founders, the Instinct Games team develops and produces video games on all major platforms utilizing its competent technical team. Its mission is to collaborate with world class partners to foster Egypt's video game development ecosystem and set a precedent of high quality, low cost, entertaining indie games with worldwide appeal.