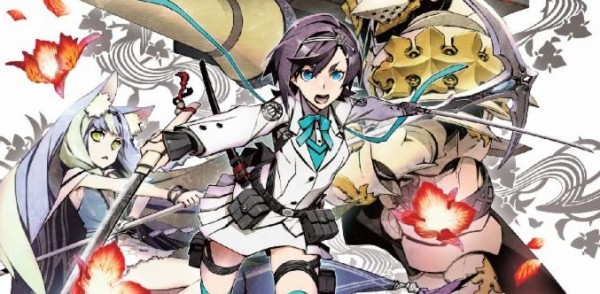 I'll be honest. I never heard of this game at all until I read the press release, but it looks like western audiences are in for a real treat. The dungeon crawler/RPG hybrid 7th Dragon III Code: VFD is coming to the 3DS from Sega, and this is huge news considering the franchise has never set foot in the west before. This is an imageepoch title, so if you trust the makers of Stella Glow, you should definitely look a little closer.
To give you a taste of what you'll be looking at when 7th Dragon III drops later this year, here's a quick look at what the game is about:
A bleak world and engaging story – The year is 2100, dragons have invaded Earth and are ravaging the human race. As the protagonist, players must team up with "video game company" Nodens Enterprises to become a dragon hunter and save the universe.
Unique settings and time periods – Fortunately for humanity, Nodens Enterprises has found the key to tip the scales in favor of mankind. The protagonist must travel through time to three different eras — the mythical kingdom of Atlantis, futuristic capital of the land of Eden, and present-day Tokyo — in order to defeat the True Dragons and stand a chance against the most powerful one… the 7th Dragon: VFD.
A deep party system and character customization options – All characters are completely customizable from the get-go. Players will be joined by two squad members in the field, and have up to nine characters in their party. With eight classes (such as Samurai, God Hand, Rune Knight, and more), 40 voice options, and 96 appearance options, gamers will have plenty of options to develop the perfect dragon hunting team.
Base building with Nodens Enterprises HQ – Fighting dragons is tough work, but at least the team can recuperate at HQ where they can develop skills, collect side quests, and even go on dates. In addition, more floors such as a library, skylounge, and cat café can be added in order to improve HQ. Yes, you read that correctly, it says cat café.
Lots of dragons! – Although there are a variety of enemies to fight, it would be wise to be prepared for the myriad dragons you'll face. It'll take careful planning and strategy to defeat these dragons, so choosing the right squad — and right look — is paramount!
A new trailer has also been released, and along with the screenshots, you can check it all out below! Oh yeah, this title slams out in the summer.