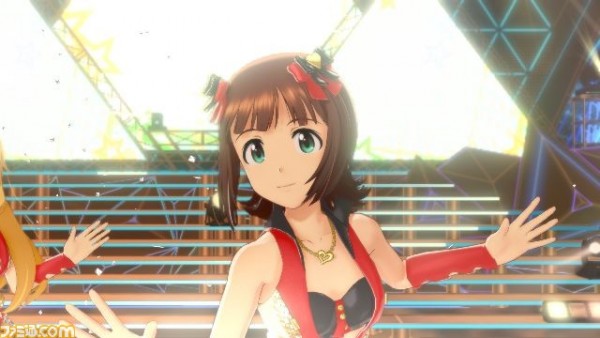 You may remember that back in 2013 Bandai Namco announced that they were working on a brand new "The Idolmaster" game for the PlayStation 4. Well after a few years of waiting it looks like they are finally ready to reveal some details about the title. Through this week's issue of Famitsu, with details courtesy of Esuteru, we now know that the game will be called The Idolmaster: Platinum Stars and will be released in Japan sometime in 2016.
So far the only official image of the game can be seen above showing Haruka Amami though scans (that you can click for a better view) featuring the entire regular cast, including from left to right, Haruka Amami, Chihaya Kisaragi, Yukiho Hagiwara, Yayoi Takatsuki, Ritsuko Akizuki, Azusa Miura, Iori Minase, Makoto Kikuchi, Ami Futami, Mami Futami, Miki Hoshii, Takane Shijou, and Hibiki Ganaha are shown below.
Bandai Namco has completely redone the character models and facial expressions in The Idolmaster: Platinum Stars, will feature a rhythm game for Live performances, and players will be stepping into the shoes of a new producer at 765 Production as he lives with the girls at a training camp in order to help them become top idols.