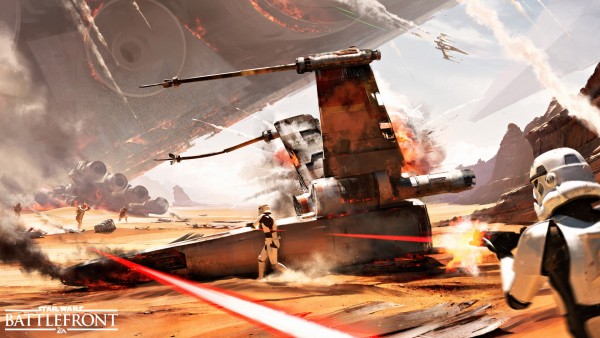 I sense a  great disturbance in the force, like millions of players cried out in joy and were suddenly moved to a brand new planet. Star Wars: Battlefront has been out for a little while now, and while we here at Capsule Computers have been enjoying it, there is definitely room for more. Enter EA's Battle of Jakku free update.
Set in the time between Return of the Jedi and The Force Awakens, the Battle of Jakku mission puts the new republic (formerlly rebel) soldiers against the last remnants of the Galactic Empire on the desert planet of Jakku.
Players who pre-ordered Battlefront have access to the new Battle of Jakku content now while everyone else will be able to join in on the action on December 8th. If you are stuck waiting then check out the launch trailer below, and remember to stay tuned to Capsule Computers for all the awesome Battlefront news as it becomes available.