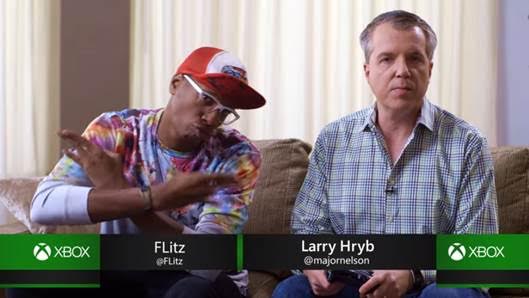 There's a really high chance you are busy playing Call of Duty: Black Ops III right now. If you manage to peel yourself away from the latest Call of Duty game, check out this week's Xbox news with Microsoft's Xbox Newsbeat.
---

A Closer Look at Xbox One Backward Compatibility with Major Nelson and Smosh Games' FLitz
Major Nelson and FLitz from Smosh Games' FLitz sit down to talk about Xbox One Backward Compatibility in a new video. The video covers all the frequently asked questions about the upcoming feature. Xbox One Backward Compatibility is arriving with the New Xbox One Experience launching on November 12.
---

Yeah Yeah Yeahs Frontwoman Karen O Writes and Records "I Shall Rise" for Rise of the Tomb Raider
Rise of the Tomb Raider's soundtrack will have a very big name attached to it. Indie rock band Yeah Yeah Yeahs' front woman Karen O has written and performed the song "I Shall Rise" for the game. The band is best known for songs like "Heads will Roll"and "Maps." The song can be heard on the game's launch trailer.
"They wanted an emotional song that captures the intensity of the moment Lara Croft transforms into the Tomb Raider, the theme of a young woman becoming an icon," said Karen O. "I was very intrigued by the challenge, and I guess I was amidst a significant transformation of my own being pregnant at the time I wrote it. Now that I have a brought a life into the world, I have no trouble relating to a character like Lara's – who pushes past her own limits to prevail under extreme circumstances. I love me some melodrama!"
The song is available for download and streaming on digital outlets iTunes, Apple Music, Spotify, and Amazon.
---
Here's a Closer Look at the New Xbox One Experience's Game Hubs
Seems like Major Nelson has been very busy with the Microsoft film crews. He has released another video, this time with Partner Group Program Manager for Xbox One, Richard Irving, about the upcoming New Xbox One Experience's Game Hubs. These hubs connects players to the latest news, online friends, and social features of their favourite titles.
---
Fallout 4 Owners Get Fallout 3 via Xbox One Backward Compatibility Next Week
Fallout 4 owners on Xbox One will have a great bonus waiting for them when the New Xbox One Experience launches next week. Players will get a free digital copy of Fallout 3, considered to be among the best RPGs ever made. If you can't wait for the release of the New Xbox One Experience, Fallout 3 will be immediately playable on your Xbox 360. All editions of Fallout 4 is eligible for this offer, but it is a limited time offer.
---
Forza Motorsport 6 Gets Pair of Halo 5: Guardians Inspired Mustangs, eBay Motors Car Pack and Two Special Edition Fallout 4 Cars
Microsoft is celebrating the launch of two of the biggest releases this year with a variety of new cars for Forza Motorsport 6. All gamers will be able to snag themselves a Halo 5: Guardians inspired Spartan Locke 2015 Mustang GT and a Fallout 4 inspired 1956 Ford F100, while Forza Motorsport 6 VIPs will also snag a Master Chief 2016 Ford Shelby GT350R and a Fallout 4 F100. Owners of Fallout 4 will also get a  Chryslus Rocket 69 coupe.
Additionally, a new car pack has launched. The eBay Motors Car Pack launched on November 3rd and contains the McLaren MP4/4, the #31 Lancia, the #35 MC Trofeo, the Holden Torana A9X, the Plymouth Prowler, and the Datsun 2000 Roadster. The pack and cars are available separately or as part of the Forza Motorsport 6 Car Pass.
---
Halo 5: Guardians Smashes Record with Biggest Halo Launch in History
Microsoft has racked in a couple of records with the launch of Halo 5: Guardians. The game broke an internal record for the fastest selling Xbox One exclusive, bringing in over $400 million in a week. The game is now the most played Xbox One game and Xbox Live game at 21 million hours of gameplay. Halo 5: Guardians also raked in a Guiness World Record title for the Halo 5: Live event for most watched video game launch broadcast. More 330,000 people tuned into the live stream and 5.5 million viewers in total watched videos from the broadcast.