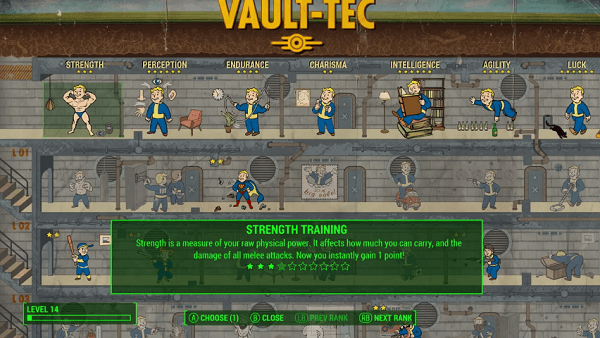 While Bethesda has been releasing a number of trailers introducing the seven S.P.E.C.I.A.L. stats (Strength, Perception, Endurance, Charisma, Intelligence, Agility, and Lucky) today the company opted to release a new Fallout 4 trailer that focuses on introducing the character leveling system for the game.
When the player levels up, they will be able to access a new Perks chart where they have the option to either level up one of their S.P.E.C.I.A.L. stats or select a rank for one of the perks. Each perk requires a certain level of one of those seven stats, meaning that the higher your strength the fancier the perks ranked under Strength will be.
Check out the video below where you'll see that there are seventy base perks with multiple ranks, offering over 275 different types. As for the game itself, Fallout 4 is set to be released worldwide on November 10th for the PlayStation 4, Xbox One, and PC.