Sentai Filmworks has announced two new license acquisitions: Fate/kaleid liner Prisma Illya 2wei Herz! and Gatchaman Crowds Insight.
Fate/kaleid liner Prisma Illya 2wei Herz! is the third season of the on-going spin-off series of Type-Moon's Fate/stay night series. It is adapted from Hiroshi Hiroyama's manga. Silver Link (Dusk Maiden of Amnesia, Non Non Biyori) has once again handled the animation production, with the key production staff returning from previous seasons of Fate/kaleid liner Prisma Illya. The chief director is Shin Oonuma (ef: a tale of memories) and the series director is Masato Jinbo (Kyo no Asuka Show). Series composition is handled by Kenji Inoue, the creator of Baka and Test. Nozomi Ushijima once again adapts Hiroyama's character designs. Music composition is once again handled by Terushige Yoshie (Celestial Method, Tokyo ESP). Sentai Filmworks provided a synopsis of the series:
Illyasviel von Einzbern's life has become ridiculously complicated since the Kaleidostick Ruby convinced her to become a magical girl and join the quest for collecting the seven Class Cards. Since then Illya's gained a new friend and partner in the form of Miyu Edelfelt and even encountered her own magical twin! One would think she deserves a little time off, but a trip to the beach quickly turns into a new quest and Illya instead finds herself in the middle of a magical feud!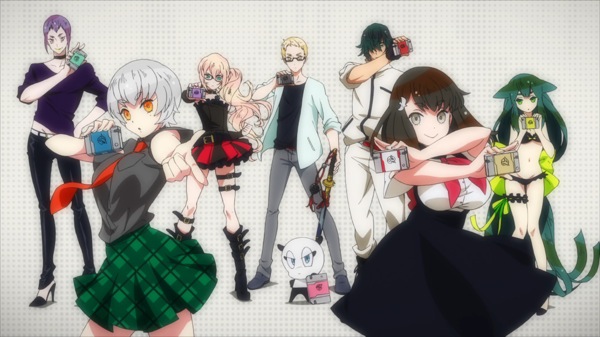 Gatchaman Crowds Insight iss produced by Tatsunoko Production. It is directed by Kenji Nakamura (Mononoke). The music composer is Toshiya Ono (Perfect Insider). Yuuichi Takahashi (Macross Frontier) returns as the character designer, adapting Kinako's original character designs. The music composition is handled by the team of Kazuhiro Watanabe and Takao Kondo, who previously worked together on Wolf Girl & Black Prince. Sentai Filmworks describes the series as follows:
Picking up where the hit Gatchaman Crowds left off, Gatchaman Crowds insight flips the premise of its predecessor to explore the more dangerous side of the same technology. After all, arch villain Berg Katze wasn't destroyed, so much as he was absorbed, and if globally connected networks of super beings can be used for great good, they can also be used for the purposes of evil. When the Prime Minister is attacked by a mysterious new organization, suspicions flare as to who is ultimately responsible, and who the public can actually trust.
Details about the eventual home video releases of both of these titles will be made available in the future.