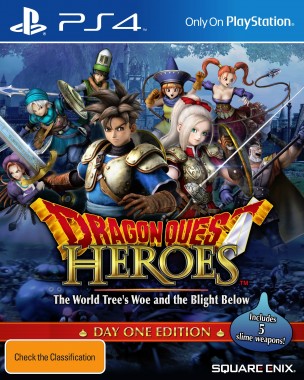 Dragon Quest fans, we have a date! Today Square Enix confirmed that Dragon Quest Heroes: The World Tree's Woe and the Blight Below will be hitting the Playstation 4 on October 13th. Yes, that is a long name – but Dragon quest always has a knack for adding a bit to the title.

The Day One Edition will feature five free Slime-themed in-game equipment items for those who pre-order, including: Slime Sword, Gooey Gloves, Goomerang, Squishing Rod and Gungenir.
Koei Tecmo and Square have been working on this beast for a while in terms of a translation, and we also now have a new trailer and information on the Day One Edition, which will come with five slime weapons (pictured above). I am quite ready to hop back in the world of Dragon Quest myself, and yet again, we see that we have a very busy release season later this year. Watch the new trailer and be happy.