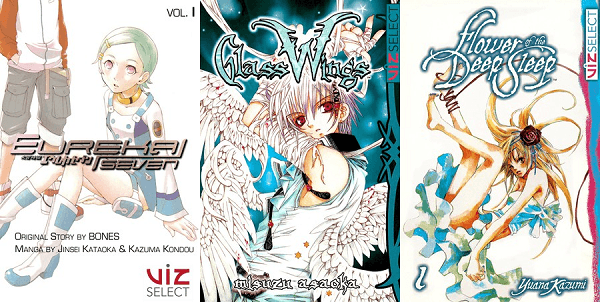 Now that we are halfway through May, Viz Media has released an update concerning various digital manga releases for the month and with this announcement comes a few new license rescues. First and foremost, Viz is planning on releasing new volumes for fifteen ongoing series this week including Kiss of the Rose Princess Volume 4, Ratman Volume 3, One-Punch Man Volume 7, Sgt. Frog Volume 9, the final volume of Rosario+Vampire Season II, and more.
The company is also planning on running digital manga bundle promotions for some of their fan-favorite titles such as Bleach, Naruto, One Piece, Yu-Gi-Oh!, and Shaman King where ten to twenty full volumes will be sold at a massive discount.
Onto those license rescues, Viz has announced that they have acquired the digital rights to Eureka Seven, Flower of the Deep Sleep, and Glass Wings, all of which were previously published by now defunct companies in the West. The first volumes of these series will be released this month while the older series Cheeky Angel and the prequel to Honey Blood, Honey Blood (Tale Zero) will also be released digitally during May.