Despite Marvel's Daredevil coming to Netflix tomorrow, we have still only seen the black costume inspired by Frank Miller and John Romita, Jr.'s Daredevil: Man Without Fear comics. Namely, this: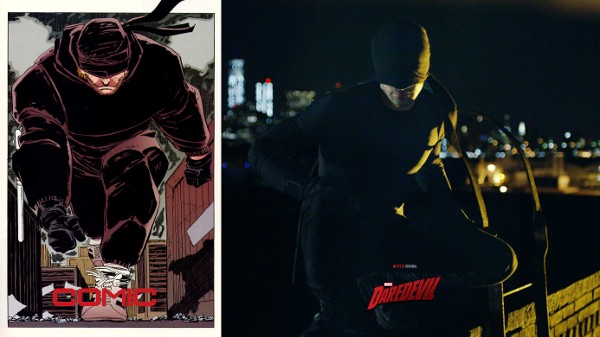 But now, thanks to a new YouTube teaser from Marvel and Netflix, we have our first glimpse of Charlie Cox in the infamous red suit for which Daredevil is most well known. If you want to wait until your Netflix binge to see the red suit, I'd advise skipping the video after the jump. For everyone else, check out the twenty-second teaser below:
I guess that answers the question of whether or not we will see good ol' Matt Murdock don the red leather in this first season with a resounding YES. I suppose the question now should be: What do you think of Marvel's new Daredevil costume? Which is better: the new Cox suit or 2003's Affleck suit?
Marvel's Daredevil premieres on Netflix tomorrow, April 10.