On January 14, 2015, the Australian Classification Board officially refused classification for Dennaton Games and Devolver Digital's action video game Hotline Miami 2: Wrong Number. A screenshot depicting an edited version of the scene that resulted in this ban is included below. Reader discretion is advised.
The game was refused classification because of the uncut version of the opening movie, which depicts a man implicitly raping a bleeding woman after he violently struck her to the ground as the words "finish her" appear on the screen. This depiction is under the guise of a what appears to be a movie shoot. Some have suggested that it may in fact be for a snuff film. Officially, the game was refused classification for the following reason:
The computer game is classified RC in accordance with the National Classification Code, Computer Games Table, 1. (a) as computer games that "depict, express or otherwise deal with matters of sex, drug misuse or addiction, crime, cruelty, violence or revolting or abhorrent phenomena in such a way that they offend against the standards of morality, decency and propriety generally accepted by reasonable adults to the extent that they should not be classified."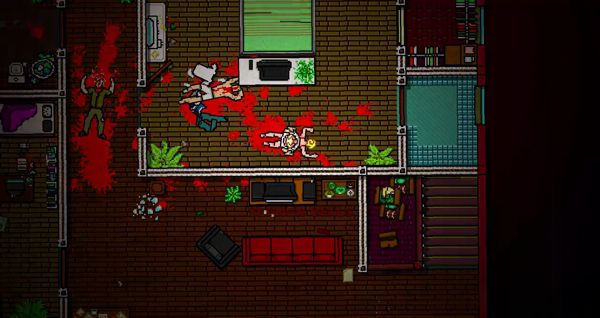 Players are given the option to disable all scenes alluding to or depicting sexual violence at the start, but the edited version is cut short by only a few seconds. It ends at the point when the man is standing directly over the nearly-dead woman who is attempting to crawl away, which shown in the screenshot above. Dennaton Games and Devolver Digital have no plans to challenge the Australian Classification Board's decision.