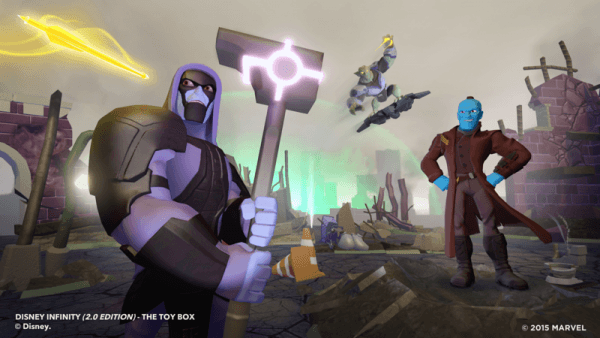 … Where they try to conquer, destroy and rob the Toy Box respectively. Ok I'm not always the best at jokes, but lets get real folks. Are you looking for some new Disney Infinity 2.0: Marvel Super Heroes figures? Well your wishes have been answered as Disney are bringing three new scoundrels to the game next week! So who are the villain, the accuser and the outlaw? Well…..
The villain is none other than Spider-Man's arch-enemy; The Green Goblin, ready to throw his pumpkin bombs all over the Toy Box and Spider-Man Play Set:
Ronan the Accuser steps out of his Dark Aster to reign judgement on the Toy Box and Guardians of the Galaxy Play Set:
Finally, the leader of the Ravagers and Star-Lord's mentor, Yondu Udonta swoops in to collect the goodies:
The three new figures will all be released down under on January 22nd. There are still more figures to come in the next few months like Jasmine, Loki, Falcon and a few others so until then make sure you stay tuned to Capsule Computers for all the hot Disney Infinity 2.0 news as it becomes available.