FUNimation has been announcing several acquisitions for the Winter 2015 simulcast season recently. Many new shows are premiering in January and many shows are returning for another season.
Rolling Girls was announced for simulcast at a to-be-announced date. A description of the series is provided below.
Gun your engines and get ready for the full-throttle adventure of The Rolling Girls, the first original anime from the studio that brought you Attack on Titan! In the wake of the Great Tokyo War, Japan, as the world once knew it, no longer exists. What remains is a fragmented network of independent nations ruled by heroes known as the Bests. Each Best commands an army made of the Rest as they seek to conquer anyone in their path. Enter Nozomi, Yukina, Ai, and Chiaya. These four intrepid and adorable girls are ordered by their Best to travel across the country by motorcycle, keeping a watchful eye on the field of battle wherever they encounter violence between warring nations!
Death Parade was announced with a premiere date of January 9, 2015 at 12:28pm ET. The episodes that follow will be broadcast on Fridays at 11:30am ET. A description of the series is provided below.
There is a place after death that's neither heaven nor hell. A bar that serves you one chance to win. You cannot leave until the game is over, and when it is, your life may be too. From Studio Madhouse (Death Note, Black Lagoon) comes a thrilling new series where the stakes are high and the rules are simple: your life is on the line.
Sequels and returning series include: Tokyo Ghoul √A, Fairy Tail, Shonen Hollywood, One Piece, Yona of the Dawn, Kamisama Kiss 2 and Garo the Animation.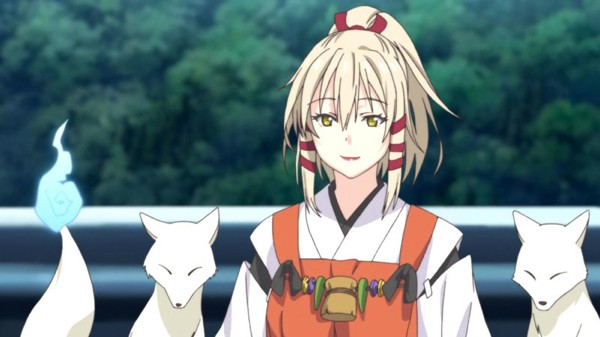 Lastly, a home video release was announced for Inari Kon Kon (Inari, Konkon, Koi Iroha), which will include the OVA episode. It has not been clarified if there will be a Blu-ray release, but it was confirmed that this will be a subtitled-only release, a rare decision for FUNimation. A free digital calendar featuring artwork from the series is available here. A synopsis is provided below.
Inari is a cheerful girl in Kyoto who has a crush on one of the coolest guys in her middle school, but she can't seem to confess her feelings to him. After saving a beautiful goddess's familiar, the deity blesses Inari with the ability to shapeshift—much to the chagrin to the rest of the spiritual world. Will love bloom for the newly empowered girl when the spirits intervene?
There are still more announcements to come from FUNimation in the near future.