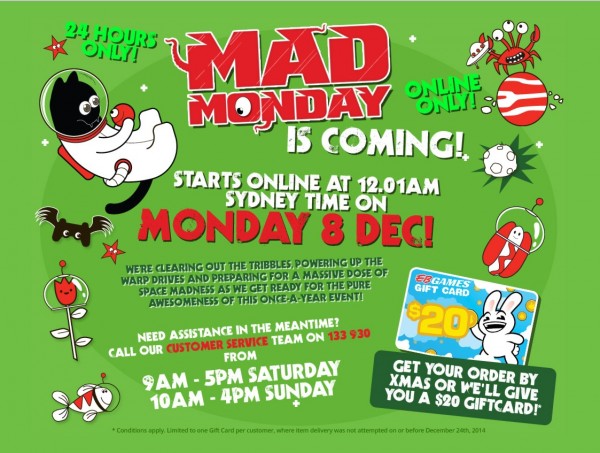 EB Games has announced that from Friday 4:00PM AEDT, the main EB Games webpage will be down to get ready for the annual Mad Monday sale. The giant sale will start at 12:01AM AEDT on Monday December 8th, and will last for just 24 hours. With over 5000 product on sale, it promises to be a major event for the company, much like their Mad Monday Sales of previous years.
This online sale is exclusively for Australian customers.
A new feature of this sale are "30 Minute of Madness" specials, which will last for a half-hour each, or while supplies of each item lasts. EB Games states that these will include some major titles, such as the new Pokemon Omega Ruby & Alpha Sapphire, as well as triple-A games like Middle Earth: Shadow of Mordor.
From EB Game's announcement:
Some of the top deals available throughout the day include:

Xbox One with Kinect + 7 Games + $20 Xbox Live credit for $599
PlayStation 4 Black + 8 Games for $698
GTA V Next Gen on PS4 & Xbox One $71 each – Very Limited, Save $28.95
Far Cry 4 from $53 – Save Over $30
FIFA 15 from $51 – Save Over $35
Also being offered is the guarantee that Mad Monday orders will be received by Christmas, going so far as to offer a $20 EB Games gift card should an order not make the deadline.
EB Games will also be running contents on Facebook, Twitter, and Instagram, using the hashtag #MadMonday.
All in, it looks to be like a promising deal for gamers and Christmas shoppers alike.