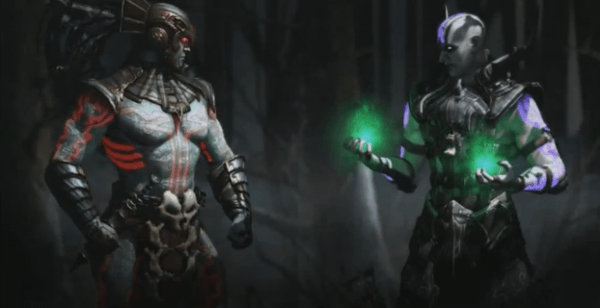 The team at NetherRealm Studios held their first 'Kombat Kast' live stream on Twitch earlier today. During the 45 minute session Community Specialist Tyler Lansdown and Designer Derek Kirtzic play many legitimate matches whilst 'special guest' John Edwards, Lead Designer on Mortal Kombat X, added some insight on what was happening on screen.
Unfortunately, after promising to let the intros before each fight play out for the viewers, Tyler and Derek proceeded to talk over them, preventing us from making out any of the dialogue between players. Anyone who read my hands-on preview of the title from EB Expo knows that I tried my hardest to hear and remember those, as they give us our biggest hints at the story and relationships within Mortal Kombat X. What was great, however, is finally learning what each of Kotal Kahn's totems and Quan Chi's spells do. Oh, and FINALLY we bare witness to Scorpion's full fatality, which is brutal! Not to mention, seeing a pro pull off amazing combos with the likes of Scorpion, Kano and more is kind of awe-inspiring.
Check out the new gameplay below! Mortal Kombat X releases on April 15 2015 for the Xbox One, Xbox 360, PlayStation 4, PlayStation 3 and PC.