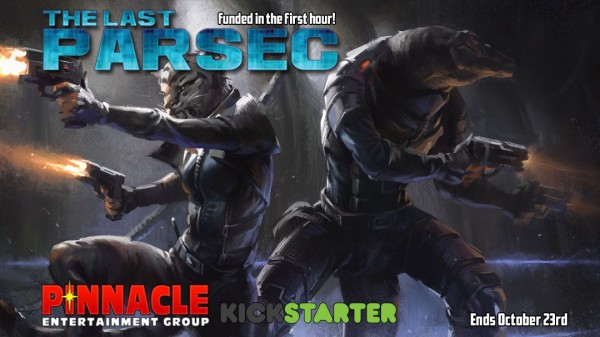 Pinnacle Entertainment Group president Shane Hensley, creator of tabletop role-playing games Deadlands and Savage Worlds, lead writer for City of Villans and executive producer for the MMORPG Neverwinter, is bringing another to market based on the system introduced in the latter. Called The Last Parsec, the sci-fi tabletop RPG was funded on Kickstarter within the first hour of its campaign!
The Last Parsec will see players explore the galaxy, finding new civilizations, battling enemies such a hostile aliens, space pirates and myriad other creatures. Characters do so under the banner of an intergalactic mega-corporation called JumpCorp, who contract out security, bounty hunting, transportation and all other manner of jobs. At this very moment, the project has received over 800% funding, with about 59 hours left to contribute. Looking forward to the remaining 2.5 days, there are three immediate stretch goals at $70K, $80K, and $90K that will allow Pinnacle Entertainment Group to create and provide miniature-tier backers with bonus tabletop figurines of the Florian, Saurian, and Rakashan alien races, respectively.
For more information and your chance to jump on board, visit The Last Parsec's Kickstarter page here. Check out some released artwork in the gallery below.