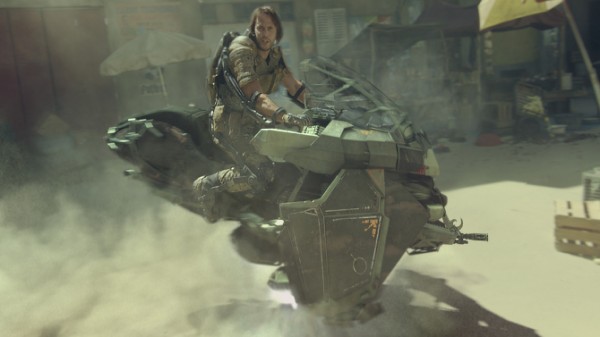 Less than a week from release, Activision have unveiled a Call of Duty: Advanced Warfare live-action trailer, starring Taylor Kitsch (John Carter, the upcoming season of True Detective) and Emily Ratajkowski (Gone Girl), directed by Peter Berg, whom Kitsch worked with on Lone Survivor. Tim Ellis, CMO, Activision Publishing, Inc., talked about it as part of the larger Advanced Warfare launch campaign;
Every year the launch of Call of Duty is more than just another product launch; it's a cultural event that draws millions of people together from all over the world. And this year, Sledgehammer Games has created a title that's bringing an all-new experience to the franchise. Our goal is to match that innovative approach with one of the most dynamic and far-reaching launch campaigns we've ever deployed. 'Discover Your Power' personifies the new ways that players can become the centre of their own epic action experience in Call of Duty: Advanced Warfare, with greater capabilities than ever before.
As mentioned previously, you can pre-order the Call of Duty: Advanced Warfare Day Zero Edition, allowing you to play a day early on November 3, with two custom weapons – the AK-12G Assault Rifle and Crossbow-B2 – along with a Double XP bonus for the day. Check out the live-action trailer below!