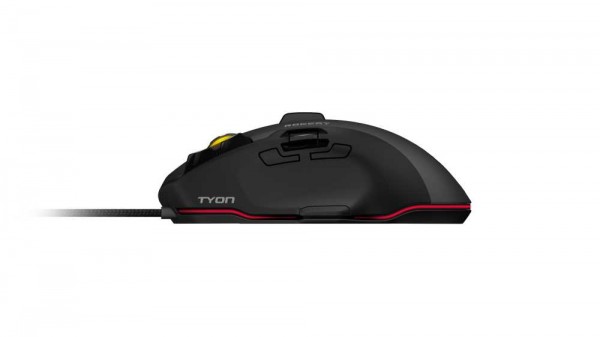 Roccat launched their newest gaming mouse today. The Roccat Tyon Gaming Mouse is a brand new mouse design that features a two way analog stick called the X-Celerator thumb paddle. The stick is ideal for vehicle-based games, where the stick can be assigned to handle throttle control or turret rotation. A dedicated EASY-SHIFT[+] button is in easy reach underneath the thumb, allowing players to multiply the number of potential macros that can be bound to the mouse. There are a total of 13 physical buttons on the mouse that can be bound.
The Roccat Tyon's heart and soul is an 8200 DPI laser powered with a 32-bit processor. 576kB of on-board memory will allow players to take their profiles with the mouse. Finally, the mouse is available in either black or white and is armed with LEDs capable of displaying 16.8 million colours.
Roccat will be bringing the Tyon to the EB Games Expo 2014 in Australia. Buyers can snag one for themselves there for only $169.95 AUD. Learn more about the Roccat Tyon at the product page.