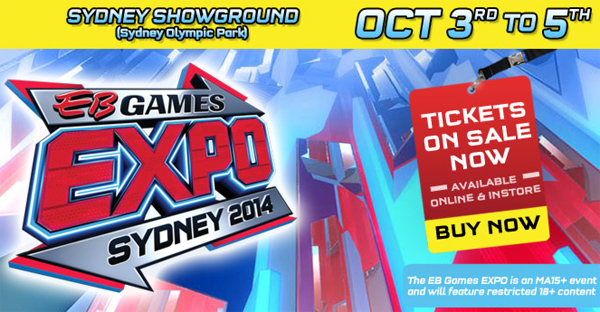 Everyone who's planning on going to the EB Expo, get pumped! EB Games has just announced their biggest line up ever for unreleased games. The EB Expo 2014 at the Sydney Showground, Sydney Olympic Park, will be held from October 3rd to the 5th.
The newest experiences that these latest games have to offer will be available for everyone who visits the EB Expo. Some upcoming releases that will be present at the huge event includes Assassin's Creed: Unity, Far Cry 4, Evolve, Sunset Overdrive, Super Smash Bros., Middle-Earth: Shadow Of Mordor, Battlefield Hardline, Halo: The Master Chief Collection, LittleBigPlanet 3, and much more.
You'll also have the chance to get some hands-on experiences with a few titles, like Forza Horizon 2, NBA 2K15, WWE 2K15, Kingdom Hearts HD 2.5 ReMIX, The Crew, Alien: Isolation, The Evil Within, and Borderlands The Pre-Sequel. There is also a bunch of family-friendly entertainment prepared on the Sunday of the event, which will feature a bunch of games for people of all ages. Just Dance 2015, SingStar: Ultimate Party, Disney Infinity 2.0 and LEGO Batman 3: Beyond Gotham are just some of the titles that kids can also enjoy on the Sunday of the event.
Tickets are being sold already, and trust me when I say that they are going fast. Make sure you pick up your set of tickets here and get hyped for one of the most exciting gaming expos this year!