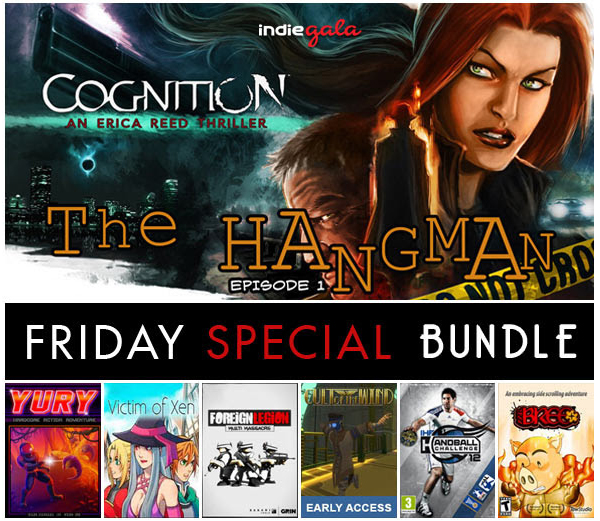 Indie Gala and Capsule Computers are kicking off the weekend on the right foot! Grab seven great indie games for a low price to keep you busy all summer long. The Indie Gala Friday Special Bundle contains the following games:
Foreign Legion: Multi Massacre brings friends to the original Foreign Legion: Buckets of Blood universe. Foreign Legion: Multi Massacre features both four player co-op and eight player competitive modes. All progression from the first game counts towards Foreign Legion: Multi Massacre!
Cult of the Wind is in Early Access, but pits players pretending to be airplanes against each other in intense dog fights. Players can design their own maps in the game's classy art deco style with the powerful level editor.
Cognition: An Erica Reed Thriller – Episode One "The Hangman" is a point and click adventure game starring FBI agent Erica Reed on the hunt for the serial killer that murdered her younger brother Scott.
Victim of Xen is a gender-bending RPG starring Wil, who has been turned into a girl by the witch Xen.
IHF Handball Challenge 12 pits up to five players in the team sport of handball. The game features some of the best league teams and major competitions from around the world.
Mr. Bree+ is a challenging platformer with a retro flair. The game features over 60 levels and an original musical score.
Yury is a retro platformer with graphics inspired by games from the 8-bit Era and the Game & Watch series. The game will challenge platform and arcade veterans with its devious level design. Be sure to vote for the game on Steam Greenlight.
For the first 24 hours of the sale, the Friday Special Bundle will be $1.49. After that, the price goes up! Grab your copy at Indie Gala.