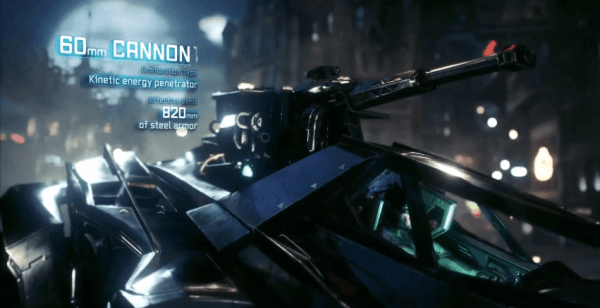 You thought the Batmobile was cool before right? Hah! Think again. Rocksteady Studios alongside Warner Bros. Interactive have today released a brand-new trailer for their upcoming "Batman" game "Arkham Knight", but the caped crusader isn't quite the star of this video…oh no, it's his greatest gadget; the Batmobile. This short trailer, which is actually more like a teaser, is entirely CG with no actual in-game footage shown.
It introduces audiences, once again, to Batman's most powerful asset; an automobile with the destructive and suppressive force of a small army. Watch as the Batmobile speeds into action, stopping momentarily simply to flaunt all of its attributes all of which come in the form of hyper advanced weaponry.

Batman has always been on the bleeding edge of technology but nothing in his past arsenal compares to that of the new Batmobile. Head down to the featured video section below to check out the short trailer and don't forget to hit up our comments section just under that to let us know what you think of it. "Batman: Arkham Knight" is set for a 2015 release on the Xbox One, PlayStation 4 and on the PC but you can expect to see more of the game at the 2014 E3 Expo so stay tuned for coverage on that!