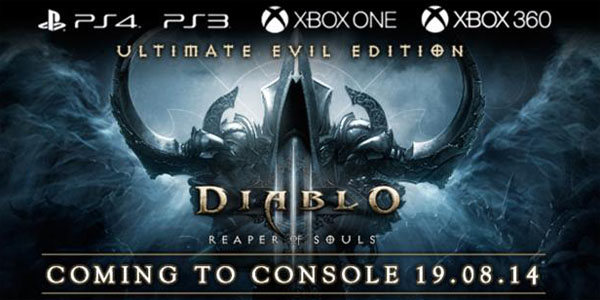 Prepare yourselves mortals, as the gates of hell are about to be open and it is up to you to stand against the armies of hell. Or, you to put it in a less dramatic way – Blizzard's Diablo III: Ultimate Evil Edition is making its way to consoles, and it is sooner than you might think.
The console-exclusive edition of the game will be bringing all of the content of the original Diablo III and the recently released Reaper of Souls expansion.This includes all the loot changes, and skill system upgrades that were changed when Reaper of Souls was released, to provide players with the ultimate Diablo III experience. Diablo III: Ultimate Evil Edition will be available on pretty much every console; PS3, PS4, Xbox 360 and Xbox One from August 19th, with owners of the PS3 and Xbox 360 versions of the original Diablo III able to transport their characters from one game to the next to continue their journey through hell.
So will you be continuing your character's journey or picking up the game for the first time? Or have you played it so much already that the thought of another playthrough makes you cringe? Let us know in the comments below and remember to stay tuned to Capsule Computers for all the Diablo news as it becomes available.