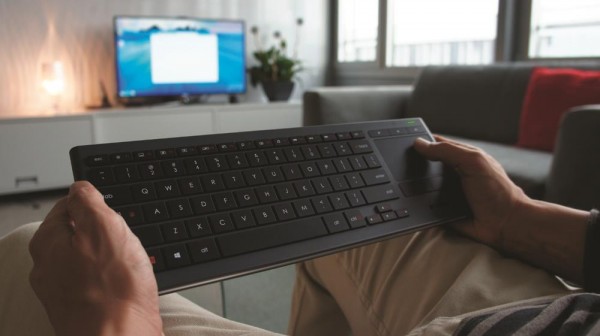 Logitech have just unveiled the Illuminated Living-Room Keyboard K830, the first of its kind from the leading innovator in gaming peripherals. Rechargeable with backlit keys, an integrated touch-pad, and advanced wireless connectivity, the K830 allows you to control your TV-connected PC in the darkness of your bedroom, or from the comfort of your couch. Marcus Fry, Managing Director at Logitech ANZ, said of the hardware;
More and more consumers want an easy way to access movies, TV programs, music and photos with their PC connected to a TV. Our new Illuminated Living-Room Keyboard K830 is designed with this setup in mind. Backlit keys and a premium aesthetic that blends into the living room make it a stand-out choice for people with connected TVs.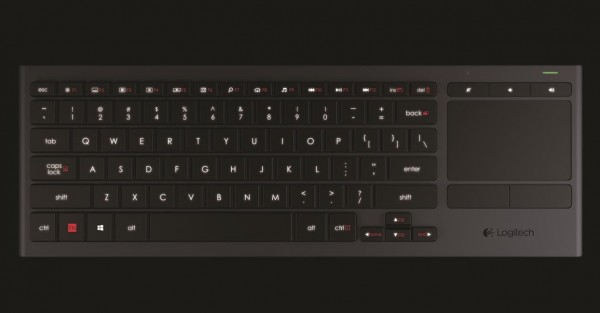 The Logitech Illuminated Living-Room Keyboard K830 sports many great features, including:
Backlit Keys: Keys automatically dim or brighten based on the amount of light in the room. If no typing is detected after five seconds, the backlight turns off to help you save power.
Living Room Design: The keyboard is designed for the modern living space, compact and lightweight, but made with a combination of premium textures, metal-like finish and soft-feel keys optimised for media and entertainment control. Its slim design also means it can be stored vertically to save space.
Navigate From a Distance: Lean back and browse with a fast, reliable wireless connection from up to 33 feet (10 m) away, thanks to the tiny plug-and-play Unifying receiver, delivering advanced 2.4GHz long-range wireless connectivity and allowing you to start typing immediately without installing software or having to pair devices.
Rechargeable: The micro-USB cable makes recharging easy. You can even use your keyboard while it is recharging. A full charge gives you up to 10 days of power. The On/Off switch and battery indicator light also help you manage the power.
Keyboard and Mouse All-in-One: By combining a traditional keyboard and a touchpad into one device, you get streamlined navigation for your connected TV. The touchpad is smooth and responsive with accurate cursor control and enhanced gesture functions for easy navigation.
The Logitech Illuminated Living-Room Keyboard K830 – compatible with Windows 7, Windows 8 and beyond – will be shipping in May for a RRP of $129.95, with a 1-year warranty. Check out the recently revealed Logitech G502 Proteus Core Tunable Gaming Mouse, also releasing in May.